How will the US midterm elections affect Asia?
If the Republicans control Congress, they can seriously inhibit the ability of President Joe Biden's administration - which is seen as more Asia-friendly - to push legislation through.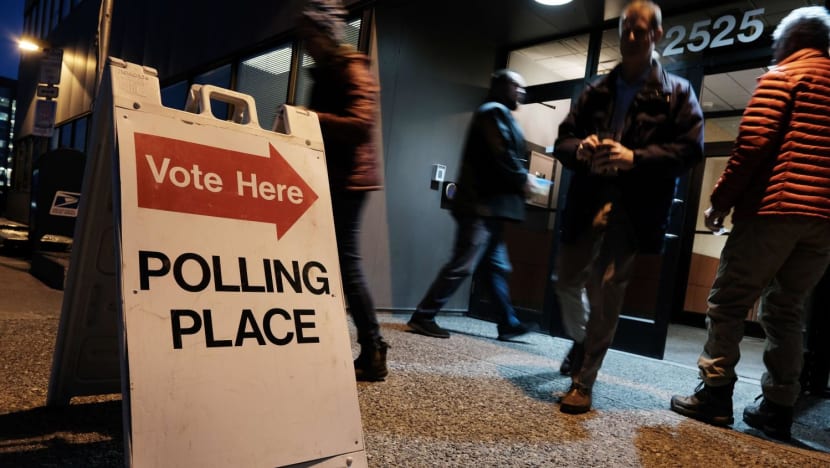 The US midterm elections are usually focused on domestic issues but analysts said that this particular election is "extremely consequential" from a foreign policy viewpoint, as a Republican win will have implications for Asia.
If the Republicans control one or both chambers in Congress, they can seriously inhibit the ability of President Joe Biden's administration - which is seen as more alliance-friendly and Asia-friendly - to push legislation through, said Professor Gordon Flake, chief executive officer of the Perth USAsia Centre at the University of Western Australia.
Furthermore, as this will undermine the Democrats' chances for the presidential election in 2024, allies in Asia might be doubtful about diplomatic and economic partnerships in the next two years pending the vote, he added.
"Facing economic headwinds and facing a very difficult global environment, if you have real political division over the next two years, that really will cause allies of the US in Asia to have growing anxiety about the future direction of the US post-2024," Prof Flake told CNA's Asia First on Monday (Oct 31).
HOW A REPUBLICAN WIN WILL AFFECT ASIA
The most recent Republican presidency under Mr Donald Trump between 2017 and 2021 took a very different tact from its traditionally pro-alliance diplomacy, said Prof Flake.
Under Mr Trump's administration, the US retreated from leadership in global trade and investment, most notably pulling out of the Trans-Pacific Partnership (TPP) just days after he took office, causing the deal to fall apart.
The TPP was a trade agreement among 12 countries including Australia, Japan, Malaysia, and Singapore, aimed at lowering tariffs among the nations and countering Chinese influence in the region.
"Trump individually, and his party following him, were quite hostile to alliances," said Prof Flake.
When the Democrats took Congress and the White House in 2020, there was "a bit of a snapback of return to normalcy in terms of US international and alliance relationships, in terms of US foreign policy," he added.
Hence, a Republican win in the midterms will cast a shadow on relationship with the US again, and allies might distrust the certainty of their pacts, said Mr Steven Okun, senior advisor of consultancy firm McLarty Associates.
This will "give pause" to allies in Asia, prompting them to ask why they should stick their neck out working with the US and making difficult choices on issues such as environment and labour if the US is going to walk away in two years' time, he told CNA.
GOP LOOKS SET TO WIN THE HOUSE, MAYBE SENATE
The Democrats currently control both the Senate and the House of Representatives by a slim majority, and losing either of the chambers will significantly reduce their power to effectively enact most legislation in the next two years.
The midterm elections are the first nationwide referendum on the president's performance. Historically, the president's party tends to fare poorly and lose ground during midterms due to voters' frustration with current issues.
Recent polling data from US media outlets show that the Biden administration is unlikely to buck that trend. Disapproval ratings for President Biden were high across issues including the economy, inflation and foreign policies. An average of 67.4 per cent of those polled felt that the country was on the "wrong track".
Analysts said that the Republicans are expected to win the House, with the Senate considered a toss-up.
"Right now, it seems like voters are more focused on inflation, economy, immigration and crime - issues that favour the Republicans. They are not as focused on issues that favour Democrats like … health care and gun control," said Mr Okun.
However, an unpopular ruling made by the Supreme Court to overturn abortion as a constitutional right in June, is one major issue that is expected to drive up Democratic votes and bring independent votes away from the Republicans, he said.
TRUMP-BACKED CANDIDATES CAN HELP HIM MAKE 2024 COMEBACK
Key battleground states for the Senate include Georgia, Arizona and Pennsylvania, where the margin of victory in the last election was close, said Mr Okun, adding that if the incumbent Democrats could hold on to their seats there, the party may get to keep the Senate.
However, Republican challengers in the three hotly contested areas, as well as several others, have the backing of Mr Trump, and winning seats in the Senate can set a strong foundation for the former president to run again in 2024.  
"If his hand-picked candidates win those seats, it gives Donald Trump more power in the Republican Party than he would have otherwise," said Mr Okun. "If he comes out of this on top, it makes him a much stronger candidate going into 2024."
Mr Okun said that a comeback by Mr Trump, or having a president with an "America-first" mindset in the White House, will be bad news for Asia, as it will see a repeat of pro-alliance policies in limbo.  
"Allies who work with the US, like for example, Singapore and the Indo-Pacific Economic Framework (IPEF) - the partnership agreement that the United States is putting forward to re-engage in Asia - that goes away under Donald Trump," said Mr Okun.  
"So this (midterm) election is so important, probably the most important midterm election the United States has had from a foreign policy perspective … it's extremely consequential."