Jets from France, missiles from Turkey: Indonesia races to renew ageing military hardware
Analysts said that the recent purchases are needed to renew the ageing equipment but there are also questions over whether they would work well in conjunction with each other.
JAKARTA: Indonesia's Defence Minister Prabowo Subianto has recently met his counterparts from various countries in a bid to finalise several military equipment acquisition deals. 
On Nov 25, Mr Subianto met with his French counterpart Sebastien Lecornu in Jakarta when they discussed the purchase of two French Scorpene-class attack submarines. 
Indonesia already ordered 42 of France's Rafale fighter jets worth US$8.1 billion in February.
Earlier in November, Mr Subianto welcomed his American counterpart Lloyd Austin to Jakarta.
They discussed Indonesia's plan to purchase F-15 fighter jets. The Indonesian defence minister described talks as being in an advanced stage. 
"The decision now is with the Indonesian government … Negotiations have advanced very well," he said at a press conference with Mr Austin on Nov 21.
On his part, Mr Austin said: "We certainly support the minister's efforts to continue to modernise their defence systems and capabilities and we want to continue to be helpful in any way we can."
Analysts told CNA said Indonesia's decision to renew its ageing military equipment is timely. However, a closer look at the country's defence procurement strategy suggests there might be potential pitfalls, including whether the equipment could work well in conjunction with each other.
Given the size of the Indonesian archipelago which stretches more than 5,000km from east to west and more than 1,700km from north to south, observers have said that its military equipment is insufficient. 
The sinking of Indonesian submarine KRI Nanggala 402 last year has also shown that the country's military equipment is ageing, said defence analyst Alman Helvas Ali from Jakarta-based defence think tank Marapi Consulting and Advisory.
"Actually the procurement of the equipment is to replace those that are already old. 
"Some equipment is 30 years old, some 40 years old, some are 50 years old. This is a very reasonable move," said Mr Ali.
KRI Nanggala 402, for instance, was built in Germany in 1981 and underwent a two-year refit in South Korea that was completed in 2012. 
Last year, it was taking part in a torpedo drill in north Bali waters when it suddenly went missing. 
After days of search efforts which included foreign assistance such as from Singapore, Malaysia and Australia, the military chief announced that it sank in Bali's sea, killing all 53 crew members on board.
In a bid to replace ageing equipment, Indonesia has increased its defence budget. 
Last year, the budget was 118.2 trillion rupiah (US$7.2 billion) and this year it went up to about 133 trillion rupiah.
Next year, the military will receive a budget of more than 134 trillion rupiah.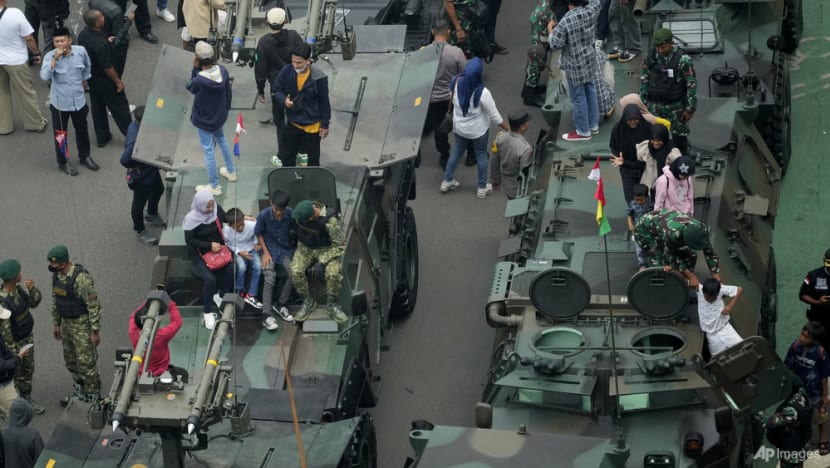 RECENT HARDWARE PURCHASES
Besides the Rafale fighter jets from France, Indonesia signed a contract last year to order two Airbus A400M aircraft.
The Airbus A400M is a multi-role aircraft that could enhance the air force's tactical capabilities, said Mr Subianto when he signed the deal during Dubai Airshow in November last year. 
"In addition to tactical and air-to-air capabilities, the A400M will become a national asset and play an important role in giving humanitarian assistance and disaster response missions," Mr Subianto reportedly said during the event.  
This is a crucial element given Indonesia's geographical position on the Ring of Fire which makes it prone to natural disasters such as earthquakes and volcanic eruptions. 
The A400M of the French air force was used to distribute aid to Lombok when it was hit by an earthquake in August 2018, while Malaysia's A400M was used when a tsunami and quake rocked Palu in October 2018.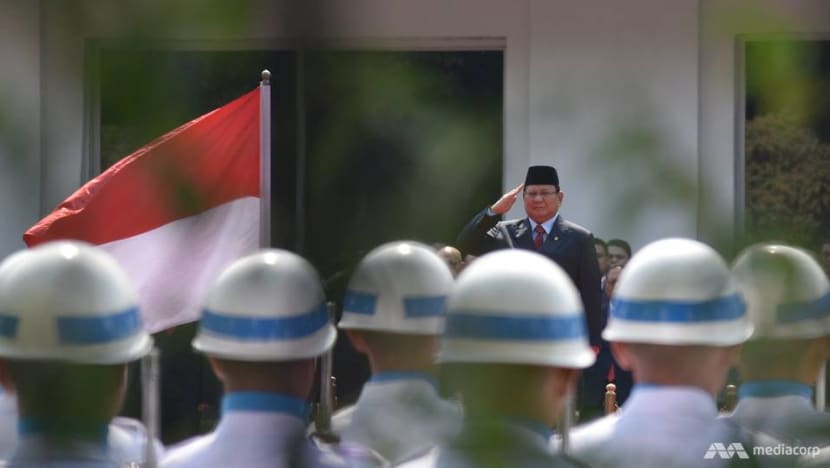 Mr Subianto also highlighted that the aircraft would play a role in other key missions including parachuting and heavy cargo transportation.
More recently in November this year, Indonesia signed a contract with Turkish missile-maker Roketsan during the Indo Defence Expo and Forum in Jakarta. The contract will see Indonesia purchasing Khan missiles.
The Khan missile can launch from a multi-barrel rocket launcher on an eight-wheel drive vehicle, said Roketsan on its website. 
It weighs about 2,500kg and its range is up to 280km. 
Indonesia is also working together with Turkey to develop shooting, parachute and flight simulators.
"This government-to-government and business-to-business cooperation is expected to increase the capability of Indonesia's defence industry," said Mr Subianto when he met the president of Turkish Defence Industry Agency Ismail Demir during the forum.    
CONTRIBUTION TO REGIONAL SECURITY
Indonesia's recent purchases came amid geopolitical tensions in the region, particularly in the South China Sea. 
Indonesia is not a claimant state in the disputed waters, but its Natuna waters are on the edge of the South China Sea and it has clashed with China over fishing rights around the area.
While the hardware purchases are meant to enhance Indonesia's defence and replace old equipment, Mr Ali of Marapi Consulting and Advisory said that they will contribute to regional security.
"In a sense, Indonesia could defend itself if there is an attack from outside.
"And indeed we have never officially announced country A, country B, as a possible potential threat. However, if we look at developments in the region, what is a potential threat in my view is China," he said. 
On several occasions, Chinese fishing boats and guards entered the Natuna waters, resulting in Jakarta deploying warships and fighter jets there as well as President Joko Widodo visiting the area. 
Mr Khairul Fahmi, co-founder of Jakarta-based defence think tank Institute for Security and Strategic Studies (ISESS), said that regional dynamics is not the only consideration.
"We (Indonesia) are not preparing forces for invasion or attacks on other countries. Our target is to strengthen our forts, our forts in the air, at sea and on land.
"So when there are regional dynamics, we can secure our fences. When there is an escalation, we can at least protect ourselves."
Mr Fahmi noted that it is actually not unusual to have a diversified defence procurement strategy, especially when it comes to developing countries. 
"The defence budget in many countries is not unlimited. Tight fiscal space often forces countries to consider prices when trying to complement their defence equipment," he said.
He added that defence procurement is also a way to maintain good relations between countries.
"Defence equipment spending is often an instrument that accompanies defence diplomacy. It is not uncommon for countries to set aside a small quota to spend on defence equipment from other countries just to maintain good relations or to prevent their national interests from being disturbed."
Sometimes, there may also be an offset scheme such as transfer of technology, co-production or providing support for maintenance, repair and operation, Mr Fahmi added.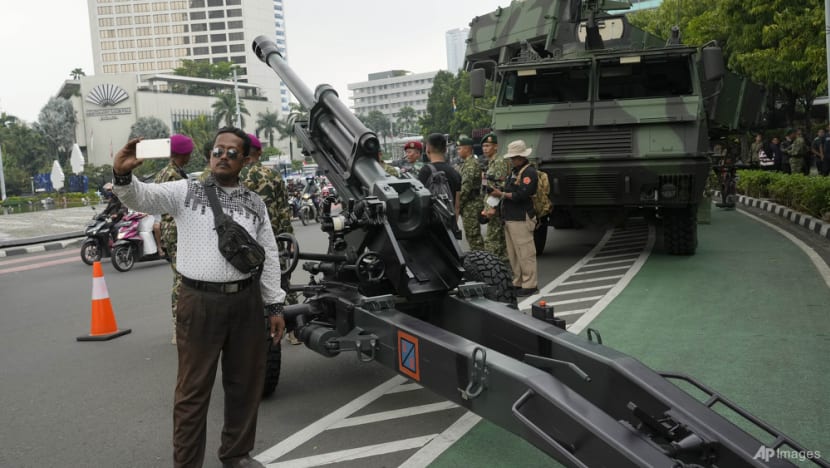 INTEROPERABILITY A POTENTIAL ISSUE
Mr Fahmi noted though that such purchases do have weaknesses in terms of synchronisation and interoperability.
"That's why it must be done selectively and be prioritised for defence systems that do not require alignment and interoperability," he said. 
Ms Diandra Megaputri Mengko, a researcher focusing on defence issues with Indonesia's National Research and Innovation Agency (BRIN), told CNA that history has played a part in Indonesia's diverse defence procurement strategy. This strategy could give rise to interoperability issues going forward, she added.  
In 1999, the United States and European Union imposed an arms embargo on Indonesia following its military intervention in East Timor. 
The EU lifted the ban in 2000 but the US only did so in 2005.  
During the embargo, Indonesia purchased Sukhoi warplanes from Russia.
Ms Mengko said: "The experience of being embargoed by other countries … has indeed led Indonesia to diversify its weapons, to minimise the impact of dependency. 
"The problem of interoperability is one of the consequences."
Mr Ali from Marapi Consulting and Advisory also pointed out that owning equipment from multiple sources could bring its own challenges. 
"This is a challenge in itself from an operational and logistical point of view. 
"There are plans to build a data link system, but the programme is still not running well."
Data link is a standardised communication system that would enable information to be used across different platforms. 
"Most important is how can the communication systems between the different defence equipment be connected. This is why we need a data link. 
"The French, American, or British defence equipment actually can use the same data link. The one that would be a bit difficult to connect with is the one from Russia because Western countries definitely don't want their devices to be connected to Russia's," said Mr Ali. 
He added that Indonesia's diverse defence procurement strategy is linked to foreign policy considerations. 
"Our foreign policy is non-aligned. We don't take sides. This can be a problem.
"Also there are some who are still traumatised by the US embargo. So, we purchase from the US, from France and others… Our non-aligned foreign policy is good on one hand, but it could also create challenges on the other hand." 
When asked to comment on potential interoperability issues related to Indonesia's recent purchases, Deputy Defence Minister Muhammad Herindra told CNA: "All purchases of defence equipment have gone through an in-depth process and study... and according to the needs of the military." 
The defence minister's spokesman Dahnil Anzar Simanjuntak said there are many reasons for the purchases. 
"Apart from technical reasons, buying defence equipment is also tied with geopolitical and geostrategic considerations as well as diplomacy etc.," he said, while declining to comment further.