Revoke visa-on-arrival scheme for Russians and Ukrainians: Bali governor
Indonesia currently grants visa-on-arrival for citizens from more than 80 countries.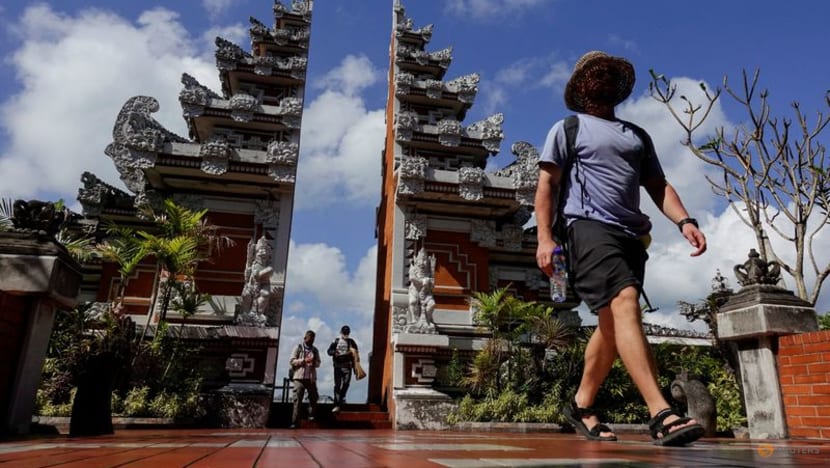 JAKARTA: Amid reports that Russian and Ukrainian nationals were found to be working illegally and overstaying in Bali, the governor of the popular holiday island has asked the country's central immigration agency to revoke the visa-on-arrival policy for the citizens of the two countries.  
Bali governor Wayan Koster told reporters at a press briefing on Sunday (Mar 12) that he has already asked the Ministry of Law and Human Rights as well as the Ministry of Foreign Affairs to tighten the visa requirements for tourists from Russia and Ukraine. 
"I have asked the ministry of law and human rights and the ministry of foreign affairs to revoke the visa-on-arrival scheme for Russians and Ukrainians who want to go to Bali," said Mr Koster.
He made the proposal after receiving complaints and reports about tourists from the two countries misbehaving. 
"Why these two countries? These two are at war, so it is unsafe in their country, and they flock to Bali. Some people don't travel for leisure, they go to Bali to find comfort, including work," he said.
Mr Koster, however, did not elaborate on the purported violations. 
On Monday, Minister of Tourism Sandiaga Uno said he would review the Bali governor's request to revoke the visa-on-arrival for Russians and Ukrainians. 
"The request to stop the visa on arrival policy must, of course, be reviewed … Maybe (the number of) those who are acting up and causing problems are not significant, but we will discuss this in detail with other stakeholders," said Mr Uno in his weekly press conference with the media.
In recent weeks, several cases involving Russians and Ukrainians in Bali have made headlines. 
A Russian was deported for working illegally as a photographer last week. He entered Bali with a visa on arrival in February but misused it by working as a photographer. 
Several other Russian nationals have also been deported for overstaying. 
Separately, one Ukrainian was deported for falsifying documents to purchase an Indonesian national identity card for 31 million rupiah (US$2,017).
Indonesia currently issues visa-on-arrival for citizens from more than 80 countries. 
Earlier in March, the Bali statistics agency said that more than 330,000 foreign tourists visited the Island of the Gods in January. 
Most of them were from Australia, followed by tourists from Russia, India, South Korea and Singapore.
Bali welcomed about 22,000 people from Russia in January, an increase of about 12 per cent compared to December last year.