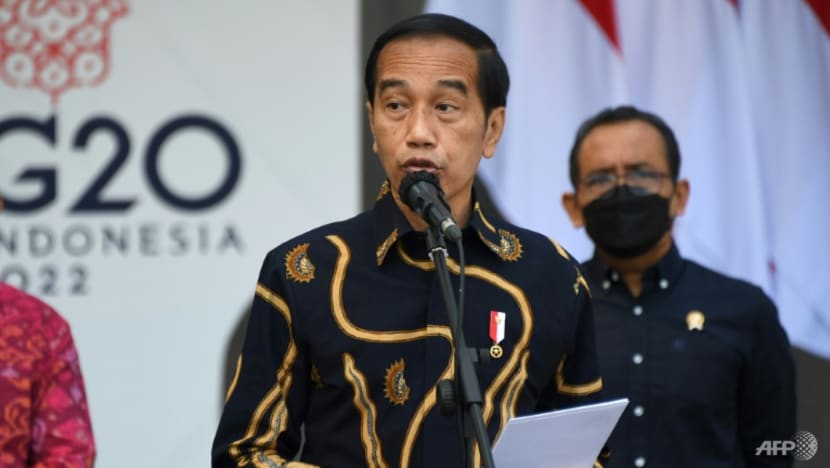 JAKARTA: Indonesian President Joko Widodo reshuffled his Cabinet on Wednesday (Jun 15) for the third time during his second term in office.
There are two new ministers. Zulkifli Hasan is now the Minister of Trade while Hadi Tjahjanto has been appointed as Minister of Agrarian Affairs and Spatial Planning.
Mr Hasan is the head of Partai Amanat Nasional (PAN). He was previously Minister of Forestry from 2009 to 2014 under former president Susilo Bambang Yudhoyono.
Mr Tjahjanto served as the country's military chief from December 2017 to November 2021. The Ministry of Agrarian Affairs and Spatial Planning, which oversees land reforms among other things, is separate from the Ministry of Agriculture. 
Jokowi, as the president is popularly known, also appointed three new deputy ministers. They include John Wempi Wetipo as Deputy Minister of Home Affairs, Afriansyah Noor as Deputy Minister of Manpower and Raja Juli Antoni as Deputy Minister of Agrarian Affairs and Spatial Planning.
The president was accompanied by leaders of the major political parties as he announced the reshuffle.
Commenting on the reshuffle, Mr Widodo said that the new ministers have been appointed based on their capabilities.
"We look at their track record, and also especially their managerial skills because they don't only have to work on macro (issues) but also micro," said the president.
Mr Widodo said that he had considered Mr Hasan's experience and track record before he was appointed.
"Because currently, food affairs related to the people require field experience, fieldwork that is directly involved and related, especially to the needs of the people," he said. 
"In terms of exports, I think it is also the matter of the Minister of Trade, but what is more important is the basic needs (of people) in the country, which we have to take care of."
On Apr 28, the government imposed an export ban on crude and refined palm oil products after months of cooking oil shortage domestically.
The scarcity had resulted in the prices of the commodity ballooning and affected the prices of food in Indonesia. The government lifted the ban on May 23 as the average price of cooking oil began to decrease.
Mr Widodo added that he has tasked Mr Tjahjanto to resolve matters related to land disputes and land certificates as soon as possible.
When asked if this would mean issues related to the new planned capital city in Borneo, Mr Widodo replied: "This includes land related to the new capital city."
The Indonesian leader has said several times during his tenure that he wants his government to solve land ownership problems, including how people have seized land parcels illegally.
According to the Indonesian constitution, Jokowi can only serve for a maximum of two terms, which will expire in 2024.
Indonesia's next presidential election will be in February 2024. The electoral process kicked off on Tuesday, with the election commission holding a ceremony to mark the occasion.
Jokowi's second term in office started in October 2019. He carried out the first reshuffle in December 2020, after stating that some of his ministers had not done enough to fight COVID-19 and were working as though things were normal.
At that time, he replaced the health minister. He also appointed a new social affairs minister and a new fisheries minister after both their predecessors were embroiled in corruption cases.
In April 2021, the Indonesian leader reorganised several agencies and created a new investment ministry.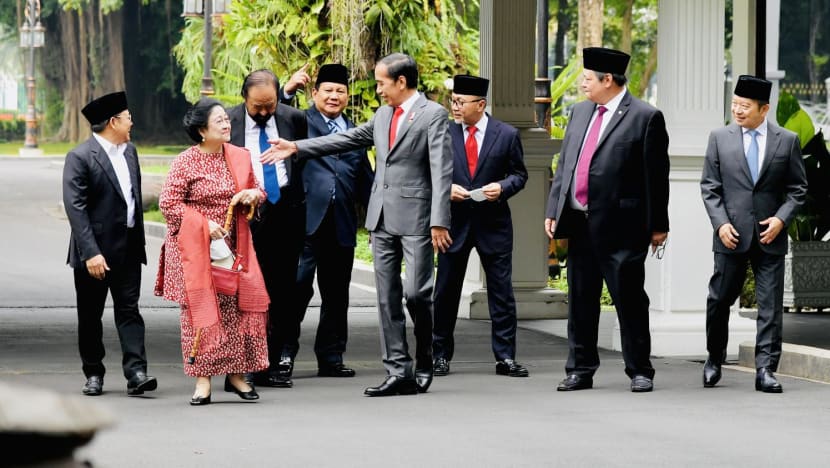 MOVE TO ENSURE STABILITY: ANALYSTS  
Analysts CNA spoke to said that today's reshuffle appears to be a move by Mr Widodo to ensure the stability of the existing political coalition. 
Political analyst Yunarto Wijaya from think-tank Charta Politika said that given the electoral process has already begun and political parties are starting to form their own coalitions, Jokowi wants to ensure that the current coalition under his administration remains solid. 
This can be seen from the appointment of figures who have political affiliations such as Mr Hasan from PAN, Mr Noor from Partai Bulan Bintang (PBB), and Mr Antoni from Partai Solidaritas Indonesia (PSI). 
"The main thing is that Jokowi wants to show that the coalition is still solid, there are no rifts in the coalition. All the issues related to 2024 (elections) do not divide the coalition," Mr Wijaya told CNA.
He pointed out that Jokowi has a close relationship with Mr Tjahjanto whom he knows when both were stationed in Solo about 12 years ago, while Mr Hasan's appointment would benefit the government's coalition in parliament.
Mr Wijaya also noted the presence of the political leaders at the swearing-in ceremony and before that at the lunch with Mr Widodo, as a signal that the president wants to strengthen the coalition. 
Concurring with the observation, political analyst Arya Fernandes also thinks that Mr Widodo's cabinet changes are meant to ensure the current political stability until the end of his term in 2024. 
"Jokowi wants to ensure political stability until the end of his term. So that's why he also added someone from a non-parliamentary party like PBB into the cabinet," said Mr Fernandes of the Centre for Strategic and International Studies (CSIS). 
He said this explains why the ministers who were removed from the Cabinet were those not affiliated with any political parties, to make way for those with political affiliations.  
"Jokowi wants to avoid political risks resulting from the reshuffle, that's why the ministers from the political parties have not been reshuffled," said Mr Fernandes.