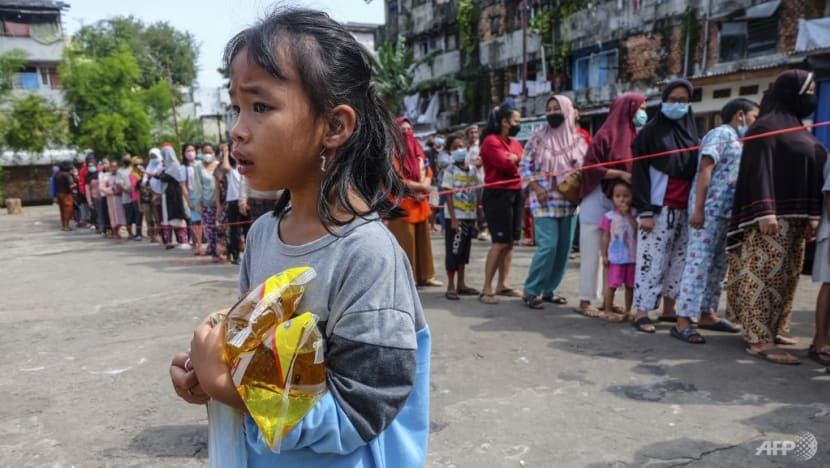 JAKARTA: Indonesia has been hit by an increase in cooking oil price and scarcity across the archipelago for the past few months, prompting President Joko Widodo and other officials to step in.  
Many Indonesians have been complaining that the commodity is nowhere to be found, or sold at a price that is out of reach for the lower income class which makes up a substantial bulk of the country's 270 million population. 
In recent weeks, local media have been showing images of people queuing for the essential commodity as well as empty shelves at mini markets and supermarkets. 
The shortage is an irony since Indonesia is the world's biggest crude palm oil (CPO) producer and the cooking oil produced and used by most people in the country is made from it, said Ombudsman member Yeka Hendra Fatika on Mar 15 during a webinar addressing the problem. Ombudsman is tasked to monitor public services.
Jakarta-based chicken soup and porridge seller Listiana, who goes by one name, told CNA that she has been facing difficulties in getting hold of cooking oil for the past few weeks. 
The 40-year-old Indonesian used to buy cooking oil at a mini market near her place but since it has become hard to find, she now is forced to buy bulk cooking oil which is available at a traditional market where CNA met her. Bulk cooking oil is oil sold in a plastic bag. It has no brand and it is not packaged.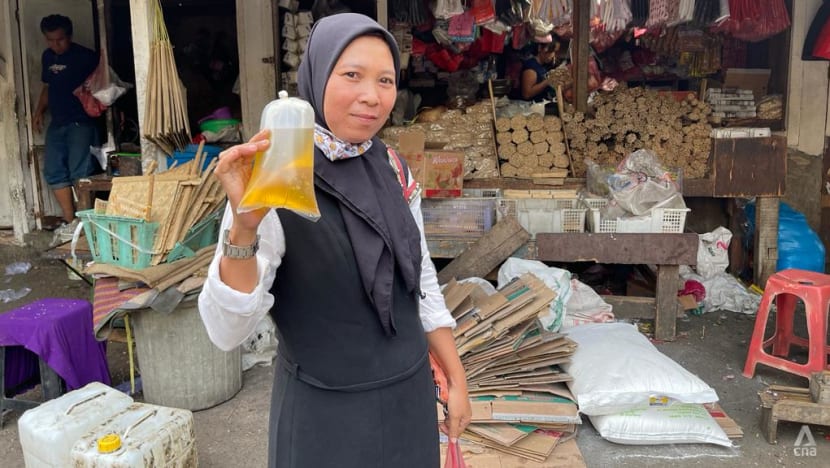 A shop owner, Mr Putra Jaya, 38, said he only has bulk cooking oil and cooking oil in simple packaging. 
"Premium packaged cooking oil has been gone for three weeks. Even if they are available, we have to compete with other sellers," said Mr Jaya. 
He has been a vendor at Kebayoran Lama traditional market in South Jakarta for 15 years and never experienced this problem before.
Some vendors at the same market told CNA they have given up on selling cooking oil as it has generally been difficult to get hold of.
Mdm Listiana, who bought the bulk cooking oil, said she did not know whether its quality is lower compared to the normal premium packaged cooking oil.
She decided not to make a huge fuss out of it because she needs cooking oil for her business and she just took whatever is available and affordable.
Fried snack seller Rudi Saputra told CNA the cooking oil scarcity conundrum has forced him to produce fewer snacks since he cannot increase the price as it would scare customers away. 
Meanwhile, at several Jakarta supermarkets, CNA could only find imported cooking oil made from canola, sunflower and corn that cost at least 72,000 rupiah (US$5) per litre. 
The cooking oil scarcity has also affected restaurants across Indonesia, head of the Indonesian Hotel and Restaurant Association (PHRI) Hariyadi Sukamdani told CNA. 
"Ultimately, some restaurants cannot serve dishes which need to be cooked using cooking oil," said Mr Sukamdani. 
Mr Widodo visited markets in Yogyakarta on Mar 13 to inspect the situation on the ground. 
He was met with empty cooking oil shelves at a mini market and sellers who complained about the scarcity and high price.  
Indonesia produced 47 million tonnes of CPO last year, according to the Indonesian Palm Oil Association (GAPKI), and its spokesman told CNA there is no shortage of supply.
How could this cooking oil scarcity then happen in a country which produces so much palm oil?
HOW IT STARTED
In November last year, the global CPO price was about US$1,300 per tonne. These days, it has gone up to around US$1,600 per tonne.
Cooking oil in Indonesia was usually sold at around 14,000 rupiah to 15,000 rupiah per litre, but its price started to increase late last year amid an increase in global CPO price. 
At the start of the year, cooking oil prices rose more than 40 per cent in most parts of Indonesia.
Authorities set out a policy that there must be only one price for cooking oil across the country, which was 14,000 rupiah per litre. 
But not everyone adhered to the regulation and at the end of January, the government introduced a new policy to prevent prices from skyrocketing. 
It set ceiling retail prices for the commodity - bulk cooking oil 11,500 rupiah per litre, cooking oil in simple packaging 13,500 rupiah per litre and premium packaged cooking oil, the ones sold in supermarkets and people are most familiar with, 14,000 rupiah per litre. 
However, the regulation did not deter retailers from selling the items above the prices and the government decided in early February that palm oil exporters must distribute 20 per cent of their CPO domestically in a policy known as Domestic Market Obligation (DMO).
However, the problem became more complicated.
The war in Ukraine affected the supply of other vegetable oils, resulting in higher palm oil prices. 
Soon, cooking oil became scarce in Indonesia and people started forming long lines of queues just to get hold of it. 
Some retailers decided that one person can only buy two litres of cooking oil maximum - if they even have the stock.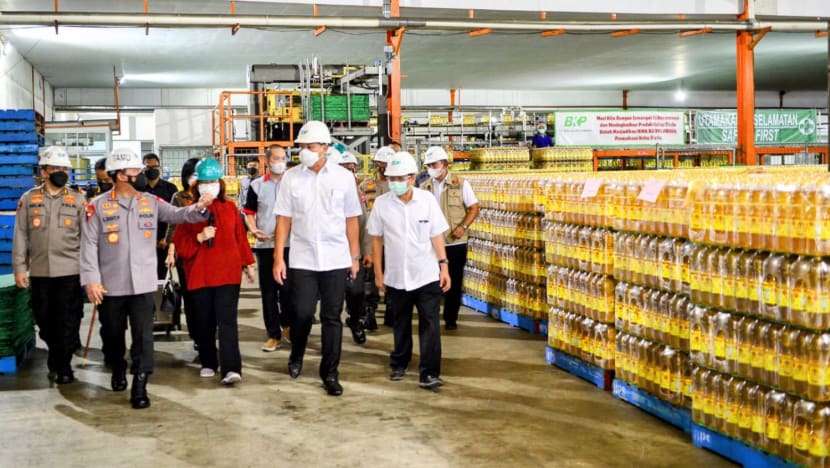 COOKING OIL "MAFIAS"
Amid growing frustration from the public, police conducted raids and found warehouses hoarding cooking oil. 
At the end of February, police in North Sumatra found at least three different warehouses stockpiling cooking oil. 
Two of them belonged to the country's most known mini markets namely PT Sumber Alfaria Trijaya and PT Indomarco Prismatama.
The third warehouse belonged to PT Salim Ivomas Pratama, which like Indomarco Prismatama is affiliated with Salim Group, one of the country's largest conglomerates that produces everything from cooking oil to Indomie.
Police also found stocks of cooking oil in other parts of Indonesia such as warehouses in South Kalimantan and Depok on the outskirts of Jakarta.  
Some people also noticed that although cooking oil was not found at the markets, it was available online.
This prompted some to flock to e-commerce sites to buy cooking oil. 
E-commerce site Tokopedia external communications senior lead Ekhel Chandra Wijaya said it has seen an increase in people buying cooking oil on its platform. 
"At this time we cannot share specific figures regarding the increase in the purchase of cooking oil products on Tokopedia, but we are ready to work together to follow directions and support the government's efforts in providing products for people's daily needs, including cooking oil," Mr Wijaya told CNA. 
Another e-commerce site Blibli saw a similar pattern.
"There was a fourfold increase in cooking oil purchase in February compared to January," its executive vice president of consumer goods Fransisca Krisantia Nugraha told CNA.
"In anticipation of the high demand, Blibli only allows users to purchase a maximum of two packages per transaction. We've also added a special category in Bliblimart namely Cooking Oil Fair to make it easy for customers to find a variety of cooking oil," she added. 
On Mar 9, the government announced that palm oil companies must sell 30 per cent of their planned exports domestically. 
Some palm oil producers object to the new policy and believe it will not solve the problem, said GAPKI's head of communications Tofan Mahdi.
Mr Mahdi told CNA that CPO supply in Indonesia has always been enough and the problem lies somewhere else. 
"We believe the problem stems purely from the production process and the distribution chain of it," he said.
Trade Minister Muhammad Lutfi went to check cooking oil stock in Jakarta with Police Chief General Listyo Sigit Prabowo on Mar 15 and said: "Today, we still think it's possible that due to the high (CPO) global price, people who previously did not think of cheating can cheat." 
"We are checking this, we want to warn the cooking oil mafias who are trying to gain a momentary profit that we are on it and we will stamp them out."   
CURRENT SOLUTIONS
Later in the day, the government announced that the new retail price for bulk cooking oil would be 14,000 rupiah per litre, higher than the previous ceiling price of 11,500 rupiah per litre.
It also said that it would subsidise bulk cooking oil.
The ceiling prices of packaged cooking oil, such as the simple and premium packaged oil, would be removed, said Coordinating Minister for Economic Affairs Airlangga Hartarto.  
The increase in prices was reasonable, said GAPKI's Mr Mahdi, adding that the middle and upper class can afford to buy cooking oil at multiple times the usual price. 
On Mar 17, the government announced a new measure to address the cooking oil shortage. 
Mr Lutfi said in a parliamentary hearing that the export restriction on palm oil products will be removed.
With the removal of the DMO and the ceiling prices of packaged cooking oil, it is hoped that producers will sell their products domestically instead of hoarding cooking oil.
Mr Sukamdani from PHRI as well as Mr Mahdi from GAPKI hoped that the new policies would stabilise the shortage problem though it may take a few weeks. 
"How high or low a price is, is debatable but if there is a shortage of items, then it becomes problematic," said Mr Sukamdani.
While Mr Prabowo, the police chief, pledged to continue to ensure sufficient cooking oil stock, Mdm Listiana, the hawker in Jakarta, hoped the problem would soon be solved. 
"This problem is very burdensome for us because we have needs to fulfil," she said.
"We can't make ends meet without it and we have children who need to go to school," the mother of two added.