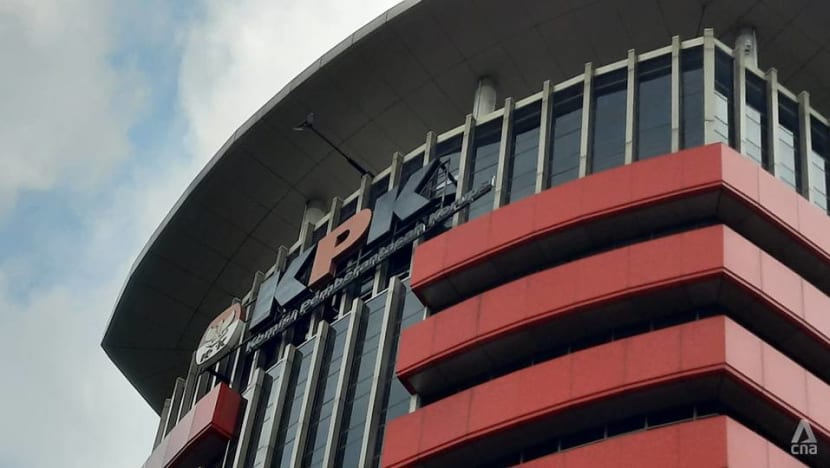 JAKARTA: The supervisory board of Indonesia's anti-corruption commission on Wednesday (Apr 12) questioned five leaders in the agency over alleged ethics violations in relieving a former investigation director of his duties. 
This came after Mr Endar Priantoro reported two members of the Corruption Eradication Commission (KPK) - chairman Firli Bahuri and secretary-general Cahya Harefa - to the supervisory board last week after he was dismissed. 
According to the Jakarta Post, KPK supervisory board member Albertina Ho said that all five commissioners - namely Mr Bahuri as well as KPK deputy chairmen Nawawi Pomolango, Nurul Ghufron, Alexander Marwata and Johanis Tanak - have been questioned.
"We questioned all the (leaders) from morning to evening," she reportedly said on Wednesday. 
Meanwhile, Mr Priantoro and Ms Harefa were already summoned for questioning on Monday. 
Following the report made by Mr Priantoro, the KPK insisted that his dismissal was in line with the ending of his employment contract on Mar 31, according to the Jakarta Post. 
However, the police, who appointed Mr Priantoro to his position in the KPK, insist that he remains part of the anti-graft agency. A letter signed by national police chief General Listyo Sigit Prabowo said that the police have decided for Mr Priantoro to stay with the KPK.
"Yes, Brigadier General Endar Priantoro is still with the KPK," national police spokesman Brigadier General Ahmad Ramadhan told reporters on Apr 1.
Local media speculated that Mr Priantoro was removed from KPK due to disagreements with Mr Bahuri on raising the status of a corruption probe to the investigation stage. The case is believed to be related to alleged financial wrongdoings involving former Jakarta governor and potential presidential election candidate Anies Baswedan. 
According to the Jakarta Post, Mr Priantoro also reportedly made two other reports regarding Mr Bahuri's behaviour to the KPK supervisory board.
He claimed that Mr Bahuri had allegedly leaked official documents to the Energy and Mineral Resources Ministry. The ministry is currently under KPK investigation for an alleged graft case involving employee performance allowances for 2020 to 2022 fiscal year. 
Mr Priantoro also reportedly accused Mr Bahuri of violating the criminal procedure law by forcing him to raise the status of a specific case to the investigation stage, though he declined to specify which case it was.
"I hope that the KPK supervisory body can proceed with my three reports so the truth can unfold," Mr Priantoro was quoted as saying by the Jakarta Post. 
KPK supervisory board member Syamsudin Haris reportedly said that the commission was set to file another summons for KPK leaders to clarify other issues. 
Mr Bahuri has in the past been investigated by the supervisory board on allegations of ethics violation. 
A Jakarta Post report cited a 2020 incident involving a helicopter ride. The board's panel declared Mr Bahuri guilty of an ethics violation for displaying a "hedonistic lifestyle" and he was handed a written reprimand for his first ethics violation. 
Another investigation in 2018 reportedly found that Mr Bahuri had committed gross ethical violations for meeting with then-West Nusa Tenggara governor Zainul Majdi who was at the time a witness in a corruption case.