'People are now afraid to eat meat': Indonesia cow farmers caught off guard as foot and mouth disease re-emerges
JAKARTA: Indonesian cattle farmer Dio Nurdin Setiawan, 30, noticed something unusual in one of his cows in early May.
Besides a high fever and a runny nose, it was breathing fast and displayed a lack of appetite. Its saliva was also foamy, said Mr Setiawan, who is based in Gresik, East Java. 
Within days, his other cows exhibited the same symptoms, and their hooves started to blister and fester, he told CNA.
Mr Setiawan, who has been a farmer for seven years, has never seen his cattle suffer so much. 
"On May 5, officers from the livestock agency came to my farm and found out that all 20 of my cows tested positive for foot and mouth disease (FMD). 
"The disease spreads fast, and so after one contracted it, the others in the stall got it too," he said.  
Indonesia was declared free of FMD in 1986, so when officials announced in early May that the contagious disease has spread among cows in East Java, it came as a shock.
Soon after, the authorities said some cows in Aceh also suffered from FMD.
On May 9, President Joko Widodo ordered the agriculture minister to impose a regional lockdown for cows to prevent the disease from spreading to other areas.
He also requested the national police chief to keep a close eye on the movement of livestock from areas where FMD cases have been found. 
"Form a task force, so that it is clear who will be in charge," said Jokowi, as the president is popularly known.
But the disease eventually spread to 16 out of 34 provinces, infecting at least 20,723 cows as of May 22. These provinces have 5.4 million cows in total.
Farmers whose cows have been infected by FMD suffered losses as they had to slaughter the infected animals. In some rare instances, the cattle have died.
There are now also concerns that there may not be enough livestock for Idul Adha, an important Islamic fest where Muslims slaughter animals and share the meat with the poor. 
This year, the festival falls in early July.  
WHAT IS FOOT AND MOUTH DISEASE? 
FMD is a highly contagious viral disease of livestock that has a significant economic impact, according to the World Organisation for Animal Health (WOAH).
It is not to be confused with hand, foot, and mouth disease found in humans.
FMD affects cattle, swine, sheep, goats and other cloven-hoofed ruminants.
Animals infected by the disease typically show signs of fever followed by blisters between the toes and on the heels, mammary glands and the lips or tongue, disabling them from walking or standing, feeding and eating, the WOAH says.
In general, FMD is not readily transmissible to humans.
It is caused by an Aphthovirus of the family Picornaviridae, which is transmitted by direct contact between infected and susceptible animals, especially by inhalation of infectious aerosols.
Other means of transmission listed by the WOAH include direct contact of susceptible animals with fomites such as hand or clothing, consumption of untreated contaminated meat products, ingestion of contaminated milk, artificial insemination with contaminated semen and long distance airborne spread.
Humans can also harbour the virus in their respiratory tract for 24 to 48 hours.
According to the WOAH, deaths are uncommon except in young animals, and most adults would recover in two to three weeks. 
The WOAH estimates that FMD circulates in 77 per cent of the global livestock population in Africa, the Middle East, Asia, as well as in a limited area of South America.
It further says that FMD is a transboundary animal disease that deeply affects the production of livestock and disrupts regional and international trade in animals and animal products. 
Head of the Indonesian Cattle and Buffalo Breeders Association (PPSKI) Nanang Purus Subendro, who is also a veterinarian, said the incubation period is usually between three and 14 days, and the symptoms are quite easy to recognise.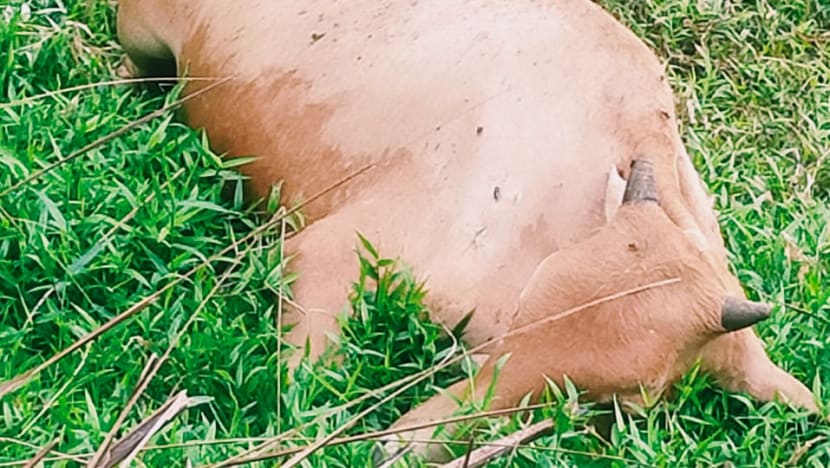 HOW IT SPREAD IN INDONESIA
Authorities have yet to identify the origin of the disease, but according to East Java Governor Khofifah Indar Parawansa, the first case this year was found in her province in Gresik on Apr 28.
It was then found in other East Java regencies such as Lamongan, Sidoardjo and Mojokerto, said Mdm Parawansa during a visit to a farm in Lamongan regency on May 8.
The second province to have reported the outbreak was the country's westernmost province Aceh. 
Farmer Abdurrahman Wahid in Kuala Simpang, Aceh, told CNA he noticed his cattle were sick on Apr 30. 
"It was two days before Hari Raya. My cows were sick but I didn't know what the disease was. 
"They were constantly drooling but didn't want to eat. They immediately lost weight and their bodies became thin. They then started limping and their hooves were blistering," he added. 
"I was frantic, I was anxious looking at the cows because all this time taking care of cattle, mine never got sick," said Mr Wahid, who has been a farmer for 30 years. 
All 25 of his cows were infected, and two died.
"The young ones died. The mothers were sick and had no milk, and the calves didn't eat. Their mouths hurt, so two died." 
Cow trader Jubairi in Pangkal Pinang, Bangka Belitung province, said his cows started to display symptoms of FMD on Idul Fitri, but officials only had the chance to check on them a week later after the Hari Raya holiday was over.
"I was suspicious something wrong was going on because fellow traders in my neighbourhood had the same complaints. 
"And those who bought my cows also complained later that the animals had fallen ill," said Mr Jubairi who goes by one name.
Mr Jubairi procured the livestock from East Java.
About 150 of his cows contracted FMD, he said, and six died.
"Because they were not taken care of. Too many of them were sick, so they died," he said.
Other than disinfecting the stalls every day, Mr Jubairi gave his cows vitamins and antibiotics, as prescribed by the livestock agency. 
Most of them have recovered and only about 10 per cent were still sick, he added. 
FINANCIAL LOSSES
The disease has resulted in financial losses for the farmers.
"This is the first time I have ever experienced something like this," said Mr Jubairi, who has been in the business for 16 years.
Normally, he could sell about 20 cows every day and make a daily profit of about 20 million rupiah (US$1,375) one-and-a-half months before Idul Adha, when livestock prices are higher. 
"But now that is impossible because we are imposing a cattle lockdown. I also cannot buy cows for resale, meaning there is no trading.
"And a lot of people are now afraid to eat meat," he said.
Mr Setiawan, the farmer in Gresik, concurred. 
"First of all, it's clear that farmers are losing money because the cows that contracted FMD don't want to eat, so they lose weight. This means they would be priced cheaper, not to mention the cost of maintenance."
He said the worst situation is when cows weighing more than 600kg contract the disease, because their hooves are damaged but they have to support their weight. 
"Farmers are (then) faced with two choices: sell them at a cheap price or treat them with the risk that the cows would get thinner or even die."
Mr Setiawan said to treat his 20 cows for 15 days, he had to fork out 10 million rupiah, in addition to operational costs.
Mr Wahid, the farmer in Aceh, had similar complaints. 
"I have to pay for their medicines, their value has decreased, and they are now thin." 
PPSKI estimated the FMD outbreak could cause US$1.37 billion in annual losses to the national economy. 
SHORTAGE OF COWS FOR IDUL ADHA

 
Farmers are now also worried that there may not be enough cattle stock for Idul Adha, which is also known as the Day of Sacrifice.  
"This (outbreak) will have a very big impact. 
"According to my calculations, there will definitely be a shortage of cows for the Day of Sacrifice, which will increase the price of sacrificial animals," Mr Subendro of PPSKI said. 
The Indonesian Ulema Council issued a fatwa on Tuesday (May 31) which said that animals that are mildly infected by FMD can be slaughtered for Idul Adha, while those which are heavily infected are forbidden to be sacrificed.
The fatwa, a formal legal opinion, explained that if the animal has mild blisters in the nail gap, is in a lethargic condition, has no appetite and drools more than usual, it is considered as showing mild clinical symptoms of FMD.
Animals which have blisters on the nails that fall off, which cause them to limp or unable to walk, and are very thin, cannot be slaughtered for the Islamic celebration.
In the meantime, the government is also speeding up the development of a FMD vaccine to prevent the disease from spreading further. The vaccine is expected to be ready in August.
Farmers like Mr Setiawan in Gresik hoped the government would provide assistance to the farmers and rein in the spread of the FMD. 
"I just hope the government immediately intervenes, supplies the medicines, provides maximum service to farmers and immediately carries out mass vaccination."