'I couldn't breathe': Fan safety under spotlight after Indonesia football match chaos kills 2
The match between Bandung Persib and Persebaya on Jun 17 was marred by overcrowding and ticketing issues.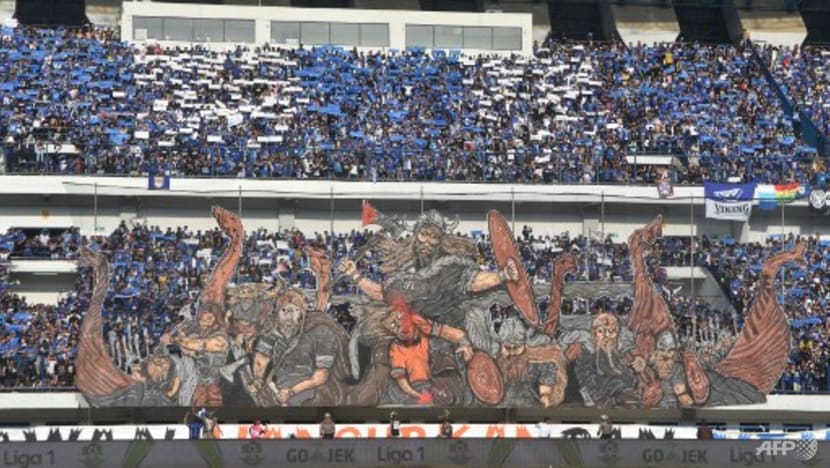 JAKARTA: It was the big football match Raihan Fauzi, 25, had been waiting for.
His hometown club Bandung Persib was about to play Surabaya's Persebaya on Jun 17. The match took place at Gelora Bandung Lautan Api (GBLA), which is Persib's homeground.
As a hardcore Persib supporter, Mr Fauzi went to the game with his distant relative and fellow hardcore fan Asep Ahmad Solihin, 29, whose nickname is Ahmad. 
They arrived at the stadium at about 6pm, more than two hours before the pre-season President Cup game was scheduled to start.
"The situation was still under control at 6pm. But at about 6.30pm to 7pm, officials closed the entrance gate apparently because the stadium was already full," Mr Fauzi recounted in an interview with CNA.
Many were unable to enter the stadium although they had purchased tickets through official channels.
People became angry and aggressive, as they pushed each other in order to enter the stadium, he added.
"I couldn't breathe. People were pushing me and I couldn't move.
"I surrendered my life to God," said Mr Fauzi.
The night ended in chaos. Two people died, including Mr Fauzi's relative Ahmad and another die-hard Persib fan.
They are among 78 people who have died in football-related accidents in Indonesia in the last 28 years, the special staff of the minister of youth and sports Gatot Dewa Broto told CNA.
The tragedy in Bandung has again put the safety of football fans in the country under the spotlight.
Since 2019, there have been no football-related deaths in Indonesia, as the matches were held without spectators amid the COVID-19 pandemic.
But as most COVID-19 restrictions have now been lifted and football matches are able to be held with spectators for the first time in more than two years, there are concerns that the Bandung tragedy will not be the last.
Analysts interviewed by CNA said authorities must take immediate action if they want to prevent further deaths.
"PEOPLE JUST STEPPED ON US"
Prior to the match, Mr Fauzi said that he and his 29-year-old relative had purchased official tickets via Persib's mobile application.
He believed that the number of people at the stadium was more than the number of spectators allowed to watch the game, as some had managed to enter the venue even though they did not have valid tickets.
He claimed that he saw a group of around 10 people from government agencies entering the stadium without having to show their tickets.
In order to enter the stadium, fans would need to scan the barcodes on their tickets at the entrance. But Mr Fauzi said that was not enforced strictly by those who were manning the gates.
"There were even people who used tickets from previous games. I don't know why the officials did not scan all the tickets.
"Some had their tickets on their mobile phones, but others had them printed. While queueing, I saw a person holding a ticket for Persib versus Bali United (a previous match) but the match on that night was against Persebaya," Mr Fauzi said.
When the gates were closed, those who could not get in broke down an entrance gate and people began pushing each other, Mr Fauzi recalled.
"I stood in front of Ahmad and he held on to me from behind so we would not be separated from each other," said Mr Fauzi.
"Suddenly the person in front of me fell. So automatically, I also fell because I was pushed from behind and had nothing to hold me back."
Mr Fauzi, his relative and another person were pinned down by a fence which collapsed.
"But nobody helped us. Instead, people just stepped on us.
"I remember someone stepped on me. After that, I passed out and I don't remember what happened afterwards," he said.
He woke up at a Red Cross station near the stadium at around 9pm. Mr Fauzi then began searching for his relative but did not find him.
He decided to go to his friend's place where he had parked his motorbike and asked for help to search for Ahmad.
Mr Fauzi also took to Twitter to find his missing relative. At around 1am, he learnt that Ahmad was at a local hospital. But he was dead.
"Apparently, he ran out of oxygen. He ran out of breath because people were jostling," said Mr Fauzi.
OVERCROWDING, TICKETING ISSUES PINPOINTED AS CAUSES
While the police are still investigating what transpired, their spokesman for West Java province, where Bandung is located, told CNA that overcrowding and ticketing problems were encountered that night.
"There was an overload of visitors, not spectators," said Mr Ibrahim Tompo, the spokesman. 
Taking into account current COVID-19 protocols, the match was supposed to accommodate 15,000 spectators, but 40,000 people showed up at the stadium, he said. 
About 3,000 personnel were on duty for the match, Mr Tompo added. 
He explained that there were some people who could not enter because they did not have tickets.
"Because they couldn't enter, they tried to push themselves into the stadium and provoked others.
"It was this pushing that led to the casualties," he said, while adding that investigations are ongoing.
Meanwhile, the Indonesian Football Association (PSSI) has also looked into what happened.
It concluded that the stadium was too dimly lit and there was overcrowding.
In a statement issued on Jun 23, PSSI noted that the match organisers did not anticipate the big crowd. People without tickets had managed to enter the stadium, according to the statement.
"There was a lack of information given to the supporters of Persib about the entry ticket quota of 15,066. Therefore, Persib supporters continued to arrive at the stadium exceeding the number of tickets available."
Responding to CNA's queries, the head of PSSI's disciplinary committee Erwin Tobing said that Persib has since been sanctioned.
He said that the football club has been fined 50 million rupiah (US$3,370).
Additionally, Persib is not allowed to host matches at the GBLA for the time being.
"The stadium was really bad, there are many things they (Persib) need to fix for the safety and comfort of people inside and outside the arena," said Mr Tobing.
The GLBA has been operational for around 10 years.
Persib's manager and commissioner Umuh Muchtar said that the football club will comply with the sanctions. 
"This is a lesson. So now the die-hard Persib supporters can learn from this accident. Hopefully, they know if they want to support Persib, they must be well-behaved and follow the organisers' rules," Mr Muchtar told CNA.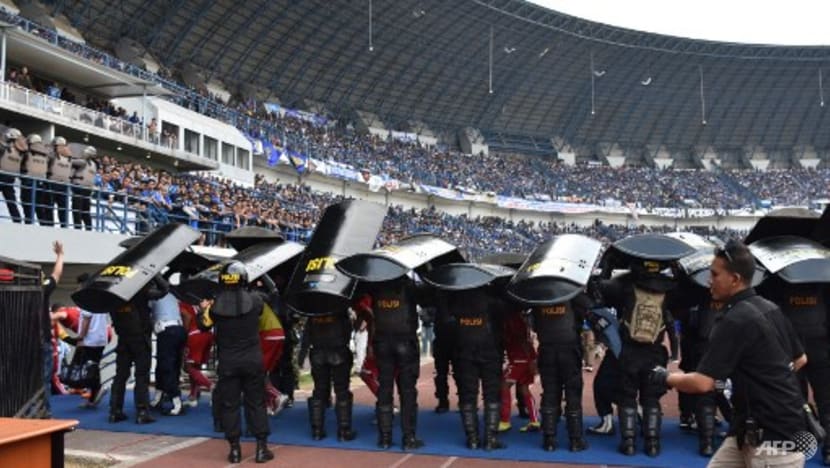 WHY HISTORY HAS REPEATED ITSELF
Despite the investigations carried out and sanctions imposed, analysts and stakeholders believe the measures are too lenient and authorities are not taking the problem seriously. 
According to Save Our Soccer (SOS), a football community-based watchdog in Jakarta, 78 people have died in Indonesia since 1994 due to football-related accidents. 
Fights between supporters of different clubs are a major cause of death as well as people being crushed. 
Supporters falling from open-air vehicles when they wanted to go to a match together or after attending a game together is also another factor. 
Coordinator from SOS Akmal Marhali said deadly accidents continue to happen because after every accident, there was limited action taken and the punishments were too lenient. 
"There is no law-based solution, so there is no deterrent effect and it is not raising awareness among supporters," Mr Marhali told CNA. 
He also said there is minimum education on safety regulations and the international football association regulations. Therefore, supporters lack the needed knowledge to protect themselves. 
Sports lecturer from Bandung Institute of Technology Tommy Apriantono concurred. 
"The organisers, security officials and supporters need to evaluate together. And this should be the responsibility of the government. The youth and sports ministry should be the main driver because this cuts across sectors," he said.
Ideally, psychologists and sociologists should also be involved because they understand the thinking and motivation of the supporters, he added.
"The characteristics between Persib's supporters and Persebaya's are different, but there is a common characteristic which is total fanaticism.
"They are ready to fight (for their team)."
Mr Apriantono noted that in the past, a few clubs were known for their aggressive supporters. But they managed to educate their fans over time.
Sports analyst Anton Sanjoyo added that the problem of counterfeit match tickets is a long-running one. 
"So when we say there is a problem with the tickets, this has been happening for decades because we don't have a proper system," he said.
"There are many counterfeit tickets. Perhaps half of those who show up (at matches) have counterfeit tickets … Especially now that tickets are sold online, it is easy to make counterfeit tickets because we don't have a secure ticketing system." 
Acting secretary with the Ministry of Youth and Sports Jonni Mardizal told CNA that there have been efforts to tackle the problem. 
Before every football match, the ministry holds meetings with various stakeholders on safety and other issues, he said.
"So we have mitigation measures, we remind everyone to follow the regulations," said Mr Mardizal.
"If something happened anyway, it was beyond our ability. Maybe on the field, there were too many supporters. Hence, they outnumbered the number of security officers," said Mr Mardizal.
However, he maintained that there were sufficient security officers on duty on Jun 17 in Bandung.
While Persib for now is not allowed to host games with spectators, the President Cup continues and this is something football fan Mr Fauzi regrets.
"For PSSI and the others, perhaps they should improve their management … The football matches in Bandung should be stopped for now because no victory (on the pitch) is worth people's lives," he said.