'I thought I was going to die': Lured by jobs, Indonesia migrant workers risk illegal journey to Malaysia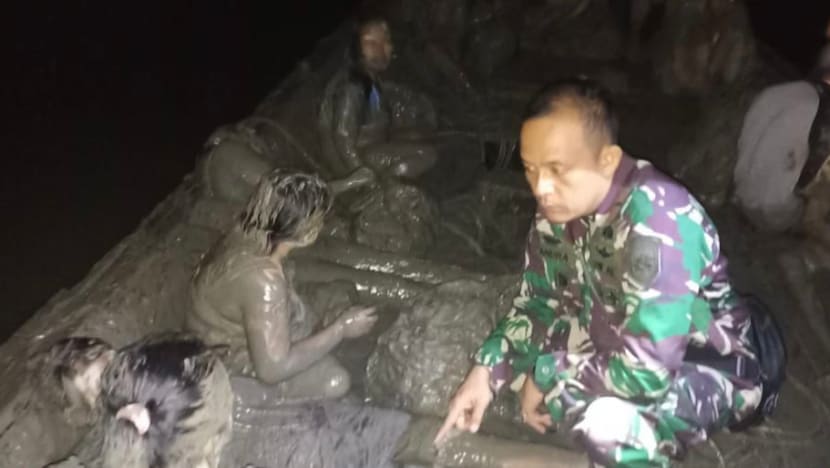 According to the authorities, there are cases of Indonesians being smuggled to Malaysia almost every day
On Feb 7, the Indonesian military intercepted 34 illegal migrants off Sumatra
When interviewed by CNA, those in the group said that better-paying jobs, as well as COVID-19 disruptions, were among the motivating factors
But little did they know that a harrowing journey might lay ahead
JAKARTA: It was pitch-dark when 28-year-old Andika Pramono and 33 other Indonesians waited at the shore in Tanjung Tiram, North Sumatra in the wee hours of Monday (Feb 7).
They were waiting for a specific instruction, one they believed would lead them closer to their dreams of working in Malaysia for higher pay.
After about an hour, someone told them the boat which would bring them illegally to Malaysia had arrived.
"We were told to quickly go to the boat some 200m offshore. But we didn't know that the water was muddy," Mr Pramono told CNA.
The water was only about 1.3m deep but the mud made it difficult for them to walk, forcing them to swim instead, Mr Pramono recounted. 
Some of the women who were below 1.6m in height were having difficulties. "So we helped each other. If we didn't help each other, some of the women might have died due to exhaustion," he said.
Eventually, 30 of them managed to reach the wooden motorboat while four people stayed onshore as they did not dare to swim in the muddy water.
But that was not the end of their ordeal.
The boat had technical problems. While waiting for it to be fixed, military and police personnel suddenly arrived, preventing the group from leaving. 
All 34 migrant workers were detained but the boat captain managed to flee. 
Attempts of Indonesians trying to leave for Malaysia illegally is not uncommon, according to the authorities.
There are cases of Indonesians being smuggled to Malaysia almost every day, Indonesia's police chief General Listyo Sigit Prabowo reportedly said during a meeting with his Malaysian counterpart Inspector-General Acryl Sani Abdullah Sani in late January when they discussed migrant workers issues.
Navy spokesperson First Admiral Julius Widjojono told CNA that in the last three months, authorities intercepted at least four attempts of migrant workers trying to cross to Malaysia illegally.
There was one raid in Batam and three others in Sumatra, including the Feb 7 boat case.
Illegal journeys are also prone to boat accidents. Between December last year and January this year, there were at least five boat accidents resulting in the death of dozens of Indonesians, head of government agency for the protection of migrant workers BP2MI Benny Rhamdani told CNA.
Why do people undertake these illegal and unsafe journeys? It usually begins with a desire for better-paying jobs in Malaysia, according to those interviewed. But a harrowing journey may soon follow.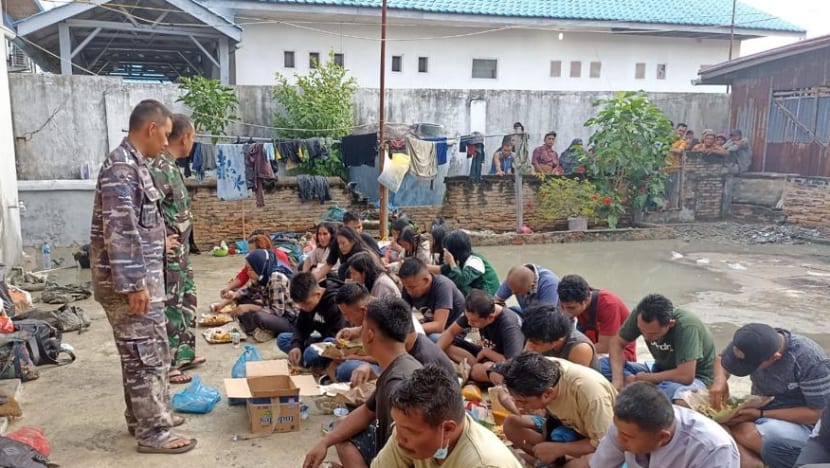 HOW THE JOURNEY UNFOLDED
In the case of Mr Pramono, he completed junior high school but was forced to abandon his dreams of progressing to shipping school, due to financial difficulties in his family.
Prior to COVID-19, he was a driver for a wedding decoration company earning 1.5 million rupiah (US$105) per month. 
Living in North Sumatra's provincial capital Medan, the salary was below the provincial minimum wage of about 3 million rupiah. But at least it was a fixed income and he could have some savings, he told CNA.
The pandemic meant that wedding receptions were forbidden and he lost his job.
Over the past two years, he worked as a construction worker earning a daily wage of between 80,000 rupiah to 90,000 rupiah. 
When he learnt that some of his friends were earning more in neighbouring Malaysia, his interest was stirred. 
A friend then referred him to a man named Baasyir. The latter told Mr Pramono that he could help him to go to Malaysia illegally by boat, where he would work as a cleaner earning a monthly wage of RM2,000 (US$478). 
Mr Pramono paid Baasyir 4.5 million rupiah to make the arrangements.
Baasyir told him to go to a designated point in downtown Medan on Sunday, where he was picked up by an unknown person driving a van. 
After leaving the city, he was asked to switch vehicles twice. By then he was seated in a minivan full of other passengers he did not know.
Mr Pramono also said that he did not know that they would be taken to Tanjung Tiram district, about 130km southeast of Medan.
They arrived at a forested area on Sunday evening. After walking through the area, the group arrived at the shore. 
He felt that he had been "tricked'', after paying to go to Malaysia only to end up in detention.
"I am upset … It hurts. I'm sad. I've lost 4.5 million rupiah, that's not a small amount," he said, adding that he borrowed the money from his mother. 
Among the 34 people caught by the authorities on Monday is 32-year-old Tanjung Balai native Ismail.
He had worked in Sekinchan, Malaysia legally from 2017 until 2019. He then returned to Tanjung Balai to visit his family.
When the pandemic struck in early 2020, he could not return as the border was shut. Additionally, Putrajaya imposed a temporary freeze in the hiring of foreign migrant workers.
Mr Ismail, who goes by one name, continued to work as a fisherman in his hometown. 
But since he only earned 2.5 million rupiah per month, half of what he used to earn in Sekinchan, he decided to try his luck and cross over again illegally. 
Through recommendations, he got in touch via phone calls with a man he never met but claimed could take him to Malaysia.
The fisherman followed his instruction to go to Menara Lima Mosque, where someone picked him up in a car.
After handing the person 1.5 million rupiah, he was taken to the shoreline. 
"I have never taken an illegal route before, so I didn't know the water was so muddy. 
"I became sad. I thought I was going to die," he told CNA after being questioned by the police.
There were also illegal migrant workers from beyond Sumatra. 
Mdm Eliati, who goes by one name, left her two children in Salatiga, Central Java to return to Malaysia as a domestic worker.
When her husband died in 2018, she went to Pahang through an agent and worked as a caregiver earning about RM1,500 per month.  
When her mother passed away in 2020, she had to return to Salatiga. Amid the pandemic, she could not go back to Pahang.
The 51-year-old earns about 2.5 million rupiah every month operating a laundromat. But she is only left with 200,000 rupiah after paying her employee and other expenses.
She contacted the same agent who arranged for her employment in 2018. The latter said that she could return to Malaysia illegally and work as a domestic worker. 
The agent bought her an air ticket to Medan. She was informed that all travel expenses would subsequently be deducted from her first three-month salary. 
Once she arrived at Medan's Kualanamu airport on Saturday evening, a taxi came to pick her up. She was taken to a lodging and asked to get ready by 6pm the following day.
"When we saw the boat coming, we were told to quickly get onboard. But I didn't know it was muddy, I thought it was just water," said Mdm Eliati when interviewed by CNA.
"I was confident though that I could make it because I kept thinking about my children and their needs."
WHAT HAPPENS NEXT?
All 34 boat passengers are now with the local police for questioning. 
Lieutenant Candra, the commander of Tanjung Tiram district, North Sumatra who oversees the waters where the group was found, said that they are unlikely to be charged. 
"They are victims. We need to catch the real perpetrators," he said. 
After being questioned, they would be handed over to BP2MI, who would then return them to their hometowns, added the lieutenant who goes by one name.
"Because most of them don't know those so-called agents. It is a word-of-mouth thing. They talk on the phone, they get picked up by someone. And if they manage to get to Malaysia smoothly, that's it."
He added that the military conducts patrol every other day but it is hard to catch illegal migrants.
The intercept in the early hours of Monday was his first since he was stationed at Tanjung Tiram last year.
"Considering the length of our coast, our patrol area differs from one day to the other.
 "That's why we also don't know if a fisherman is actually a spy informing the perpetrators of our presence," he pointed out, adding that they managed to intercept the group on Feb 7 thanks to a tip-off from locals. 
Looking ahead, Indonesian Ambassador in Kuala Lumpur Hermono told CNA that the smuggling of migrant workers can only be eradicated by strengthening the prevention and prosecution of the perpetrators.
"I suggest the formation of a task force that works intensively and continuously with the support of adequate personnel and budget," said the diplomat who goes by one name.
The Indonesian government is currently also working to finalise a Memorandum of Understanding (MOU) to prevent illegal migrations and ensure workers rights, Mr Anwar Sanusi, the secretary general with the manpower ministry said when asked by CNA.
But whatever regulations authorities will sign and implement, to low-wage workers like Mr Pramono in Medan, only one thing matters.
"I just want a decent job. One that pays well."