Nursing a persistent cough, Jokowi calls for air pollution measures in Jakarta as locals complain of respiratory issues
Since June, Jakarta has consistently ranked as one of the world's most polluted cities, according to a senior environment and forestry official.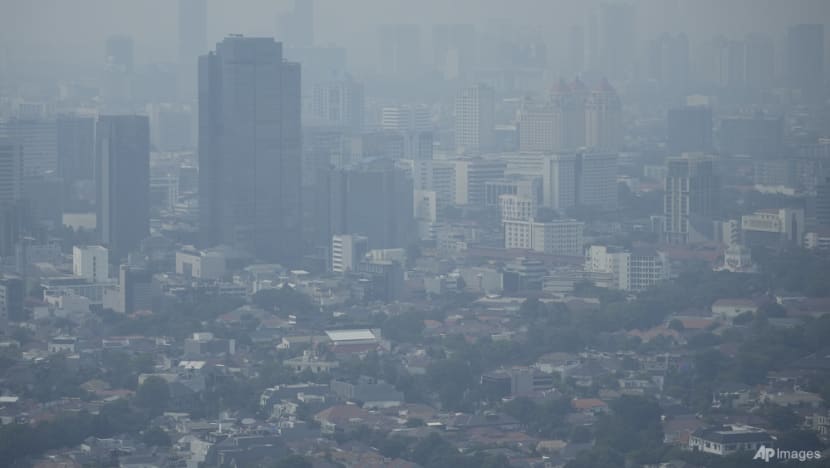 SINGAPORE: Amid the El Nino weather pattern, air pollution has worsened in Indonesia's Greater Jakarta region, with President Joko Widodo - nursing a persistent cough caused by the poor air - stressing the need for government intervention to tackle the issue.
On Tuesday (Aug 15) morning, Jakarta recorded the second worst air quality in the world on the IQAir air quality monitoring site, rising from the fourth position the day before, according to Kompas. 
Since June, Jakarta has ranked as one of the world's most polluted cities, a senior environment and forestry official told local media last week. 
"If needed, we must encourage many offices to implement hybrid working consisting of work from the office and work from home," Mr Widodo - better known as Jokowi - was quoted as saying by Antara at a meeting with several ministers on the air pollution issue in Jakarta. 
Tourism and Creative Economy Minister Sandiaga Uno said on Monday that Mr Widodo has been coughing for four weeks due to Jakarta's air pollution, adding that the president "has never felt like this", according to Katadata.
In the short term, Mr Widodo reportedly ordered relevant ministries and non-ministerial government agencies to intervene in improving the air quality in Greater Jakarta. 
Greater Jakarta, or Jabodetabek, is a large metropolitan area covering Jakarta, Bogor, Depok, Tangerang and Bekasi.
According to Antara, the president outlined several short-term interventions that include weather engineering to induce rainfall in the area as well as regulations to accelerate the implementation of emission limits.
"The long dry season for the past three months … and emissions from transportation and industrial activities in (Greater Jakarta), especially those that use coal in the manufacturing industry (has led to an increase in high pollutant concentrations)," he reportedly said. 
Mr Widodo also instructed for an increase in the number of green open spaces in the Greater Jakarta area and requested a budget for the provision of those spaces to be immediately prepared.
In the medium term, the government will implement policies to reduce the use of fossil fuel-based vehicles and encourage a switch to mass transportation, Mr Widodo added.
And for the long term, climate change mitigation and adaptation actions should be strengthened, he said.
"Supervision must be carried out in the industrial and power generation sectors, especially around Greater Jakarta. We must also educate the public (to reduce emissions)," said Mr Widodo, according to Antara. 
After the meeting on Monday, Environment and Forestry Minister Siti Nurbaya said that the government is also working on an environmental pollution tax to reduce Jakarta's worsening air pollution. 
According to CNN Indonesia, she said that the formulation related to the pollution tax is still being prepared by the National Research and Investment Agency as well as her ministry. 
During the meeting, the government also reportedly agreed that ministries, agencies and local governments must impose random emission tests on all motorised vehicles entering their office facilities.
"Then, (they can) include the requirement to pass the emission test for the STNK (vehicle registration certificate) extension and vehicle tax payment," Mdm Nurbaya was quoted as saying by CNN Indonesia.
LOCALS DOWN WITH ACUTE RESPIRATORY INFECTION 
Greater Jakarta residents whom CNA spoke to complained of health problems caused by the air pollution in the region. 
Ms Nurul, a 29-year-old public servant residing in Jakarta, said that she has been suffering from acute respiratory infection (ARI) and fits of coughing for a month. 
"(The) coughing never ends," Ms Nurul said, adding that her allergies have been easily triggered as her immune system is down. 
According to Kompas, citing the Jakarta Health Office, the Indonesian capital city sees 100,000 cases of ARI each month out of 11 million residents. 
To combat the air pollution, Ms Nurul said that she wears a mask, consumes healthy food, and also takes vitamin C tablets to restore the body's immunity.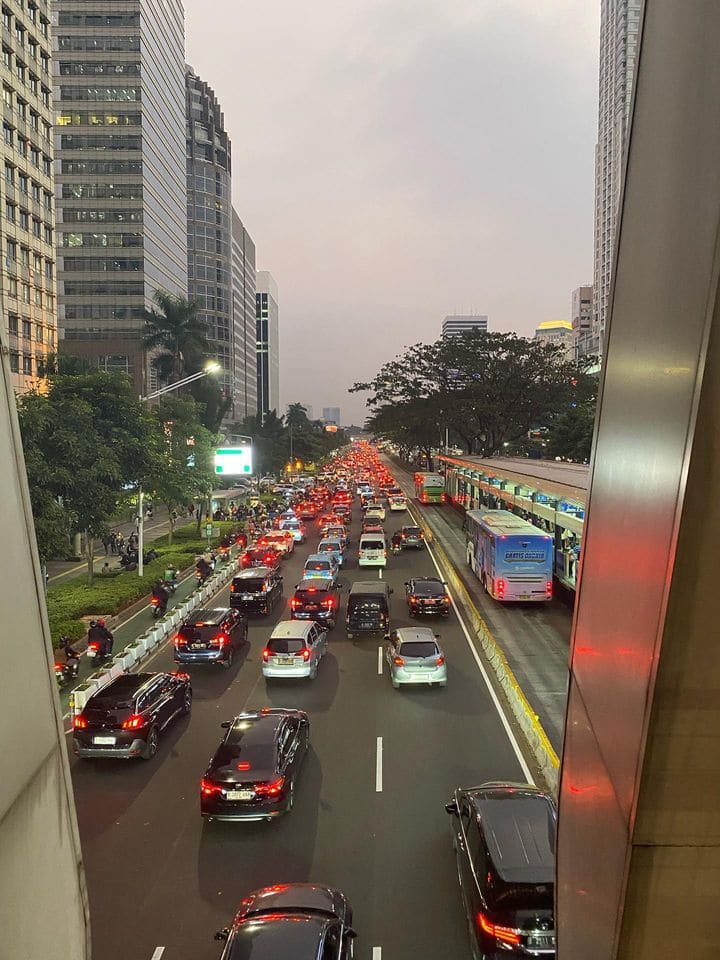 Another resident within Indonesia's Greater Jakarta region also found herself and her son down with ARI. 
Ms Anggraini Puspita Sari, a 37-year-old resident of Bekasi, told CNA: "Last Sunday night my son and I went to the doctor. The doctor said we both had ARI. The symptoms are a cough that is difficult to heal, sore throat, weakness and my child also has a fever.
"I have been feeling these symptoms for a long time. At first, it was like a common cold, until I finally decided to seek treatment because my throat hurts so much that it disturbed my sleep, and my body temperature also started to rise." 
She observed that some neighbours near her house were also beginning to fall sick. 
"It could be due to pollution, it could also be due to the rapid change in weather - between rain and sudden heat. I went to Jakarta two weeks ago, but there were also many motorcycles and cars near my house," said Ms Sari. 
An expert whom CNA spoke to advised individuals to plan their activities accordingly, such as avoiding outdoor activities during high PM2.5 levels especially for those with chronic respiratory conditions. 
"When going out, individuals should wear a N95 mask to reduce their exposure to the particles in the air.
"If individuals stay in an indoor environment, it would be useful to turn on an air purifier with a high-efficiency particulate air (HEPA) filter and a proper clean air delivery rate," said Dr Steve Yim, an associate professor at Nanyang Technological University's (NTU) Asian School of the Environment. 
He added that Indonesia's health services should also be prepared for an increase in hospital admissions amid Jakarta's pollution issue. 
"The health sector should ensure sufficient medical resources for the sudden increase in hospital admission during an episode," Dr Yim told CNA. 
At the same time, Dr Yim said the Indonesian government should also provide regular health advice for the public, based on the latest air quality development and prediction. 
Explaining the pollution problem in Jakarta, Dr Yim said that the air quality could have deteriorated due to El Nino and the positive Indian Ocean Dipole (IOD), coupled with a phenomenon known as the Madden-Julian Oscillation (MJO). 
El Nino is a climate pattern in the Pacific Ocean that can affect weather worldwide while a positive IOD event, which suppresses cloud formation over certain parts of the tropical Indian Ocean, typically brings drier and warmer conditions to many parts of southern Southeast Asia.
The MJO is an eastward moving disturbance of clouds, rainfall, winds and pressure that travels through the global tropics and returns to its initial point in 30 to 60 days.
"Under the influence of El Nino and positive IOD, the background climate over the region is drier and warmer. The (shifting of the MJO) to phase 1 made the climate over Jakarta and its surrounding area even drier," Dr Yim told CNA. 
"(These) were favourable to air pollutant accumulation. Combined with the emissions in Jakarta, air pollution can be caused." 
Dr Puji Lestari, a professor at the Bandung Institute of Technology's (ITB) Faculty of Civil and Environmental Engineering told CNA that while the measures proposed by the Indonesian government to reduce pollution could help, solving the issue at its root is important. 
"The current regulation may be on track but (there is) further potential (for more to) be done in order to have better air quality," she said. 
She noted that other measures could also be taken, such as shifting from private to public transport as well as imposing a more stringent emission standard and monitoring for the power industry. 
Dr Yim echoed a similar sentiment and said that similar to other cities, Jakarta should reduce its emissions as much as possible
"From the long-term perspective, for example, their government can consider phasing out vehicles with old European emission standards and using cleaner fuels for power generation. 
"From the short-term perspective, for example, the government may consider controlling the operation time of dirty industrial activities," Dr Yim told CNA.
Additional reporting by Denny Armandhanu.