Indonesian student millionaire who sold selfies as NFTs redeems US$2,700 for now, plans more digital assets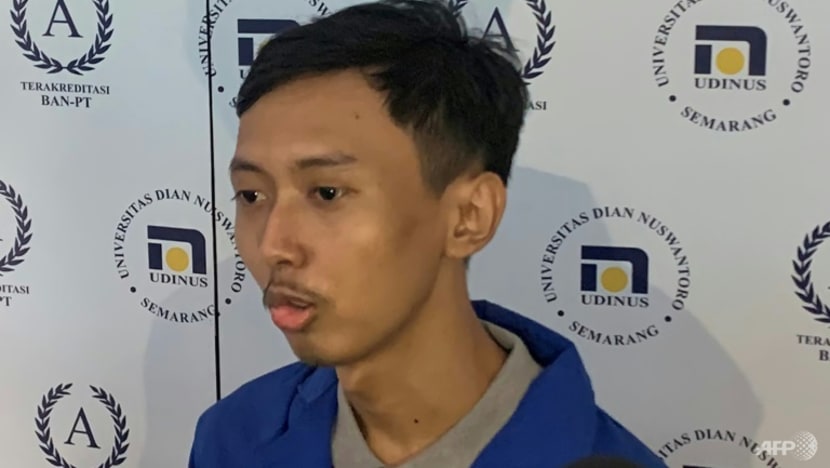 JAKARTA: Indonesian college student Sultan Gustaf Al Ghozali, who took pictures of himself everyday for five years and sold them as non-fungible tokens (NFTs), has been having a packed schedule over the last few days.
After fetching more than US$1 million on a platform for his NFT selfies, Mr Ghozali has become an overnight internet sensation in Indonesia and many people want to know more about his story.
He has received numerous invites to appear on talkshows hosted by celebrities and politicians which required him to travel from his hometown Semarang in Central Java to Jakarta. 
"This year has been very memorable for me because I am able to meet a lot of great new people," said Mr Ghozali in a written statement to CNA provided by his family.
Among those he has met so far are Speaker of the People's Consultative Assembly Bambang Soesatyo and popular podcast host Deddy Corbuzier.
However, the 22-year-old Mr Ghozali revealed that he has yet to redeem all the money he has made.
"It is still in the form of Ethereum, I have only exchanged a bit," he said.
The exact amount is 39 million rupiah (US$2,700) as of Thursday (Jan 20), according to the statement.
While Mr Ghozali initially only wanted to make a timelapse video out of his selfies for his graduation day and did not think they were worth a dime, he now believes that he will continue to thrive in the NFT world.
"NFT is a digital asset based on blockchain technology that is already popular in the crypto world. In other words, NFT is a digital asset that represents a valuable item with a value that cannot be exchanged or replaced. 
"In the future, it is possible that all assets, be it works of art, (or even) business, will be in the form of NFT. God willing, I will continue to be involved in the NFT world," he said.
He is known in Indonesia by his selfie NFT name Ghozali Everyday. 
NFT is based on blockchain technology where each NFT buyer receives a unique certificate. It can be bought by cryptocurrencies such as Ethereum and Bitcoin.
Various digital objects, including images, videos, music and even tweets can be bought and sold as NFTs. However, buying the NFT of an image or video does not usually mean that the buyer owns the copyright of the item. 
Together with Mr Ghozali, there are many others who are now creating NFTs. However, experts have cautioned that there are risks involved.
JUMPING

ON

THE

BANDWAGON
Paulus Agus Setiawan, a graphic designer in Purwokerto, Central Java, is among the NFT creators. 
The 43-year-old learned about NFT in September last year and two months later decided to open up an account at marketplace Opensea.
He is interested in NFT because of its copyright model, new technology and how it might enable him to earn extra cash.
"NFT is good for content creators who uphold the principle of originality and are not followers," he said.
Although he has yet to sell any NFT so far, Mr Setiawan told CNA that patience is needed in order to succeed. He said that Mr Ghozali has been lucky.
"He is the luckiest guy in the world because he does not use specific skills and creativity but manages to earn money."
Although Mr Setiawan is interested in NFT, he stated that he will only believe in it if he has gained some benefit from it.
"What is happening right now is a hype," he said, adding that he spends about three to four hours daily working on his NFT fruits and plants designs.
Bekasi-based freelance photographer Rade Nugroho is more optimistic about the future of NFTs.
Having just started to sell NFTs this month, Mr Nugroho decided to join the bandwagon after he studied it thoroughly and joined an online community of NFT enthusiasts to broaden his horizon.
"I already have basic digital art skills. Perhaps there are some who are lazy (to study NFT) and don't know what it is. 
"So how can they even join a community if they don't know what NFT is," the 21-year-old said.
Another NFT creator, Mr Fendy Pratama, who works in the manufacturing sector in Bogor, opined that imagination is needed to create a worthwhile NFT.
"Don't give up easily and you have to have lots of ideas," was the message he had for fellow NFT creators. 
Both Mr Nugroho and Mr Pratama have yet to find buyers for their NFTs.
EXPERTS EXPLAIN RISKS

INVOLVED
Attempts by Indonesians to profit from NFT have brought about potential risks.
This week, authorities warned people not to create an NFT from their personal identification card, highlighting the risks involved when their data is made public.
The information and communication ministry also reminded people not to upload unlawful content on NFT platforms.
Economist Bhima Yudhistira, who is the executive director of Jakarta-based Center of Economic and Law Studies (CELIOS) said that in Indonesia, there is no single law that regulates NFT matters such as the protection of intellectual property rights and taxes.
"Since there is no legal umbrella, NFT is vulnerable to being used as an illegal investment, even for cross-border money laundering.
"In addition, personal data that is uploaded to the NFT platform is vulnerable to being misused for criminal acts, for example selfie photos with ID cards which can be misused as collateral for illegal loans," said Mr Yudhistira.
He noted that some people are creating NFTs because they have a fear of missing out.
Meanwhile, head and founder of Indonesia Cyber Security Forum (ICSF) Ardi Sutedja said that many people do not understand the risks involved in NFT transactions.
"As with everything online or on the Internet, everything can be hacked. Anyone who knows the access keys to certain accounts will be able to easily open them.  
"So if there are parties who do not have permission to enter our account but have the access key, they will easily enter and steal the digital assets that we have and will also easily sell them," Mr Sutedja told CNA.
Despite the uncertainties when it comes to NFTs, Mr Ghozali said that he will continue to create them. "Just wait for my next NFT. And thank you for your support," he said.