Spotlight on COVID-19 management, venues in Indonesia's Papua province ahead of national games in October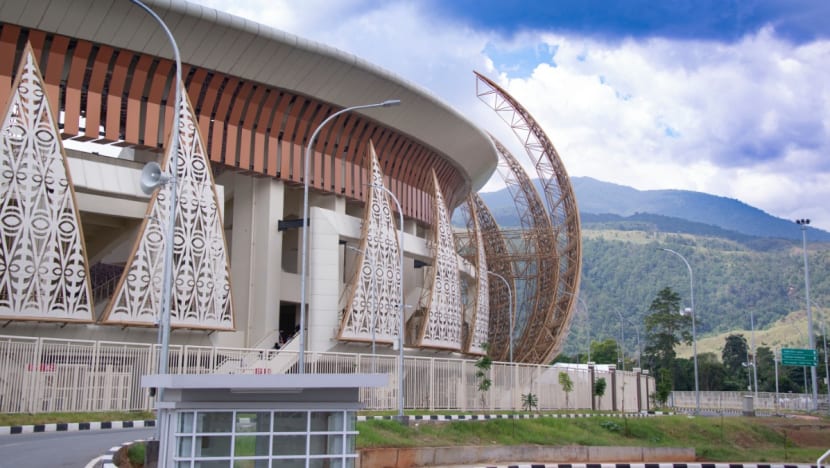 JAKARTA: In the lead-up to Indonesia's national games scheduled to be held in Papua next month, the issues of COVID-19 management and venue preparedness in the impoverished province have come under the spotlight.
Initially scheduled to take place last year but postponed due to the coronavirus, Indonesia's 20th National Games (known by its abbreviation PON) will run from Oct 2 to Oct 15 in four regions of the country's easternmost province. 
At least 6,4000 athletes from all 34 provinces will compete in 37 sports in Jayapura city as well as the regencies of Jayapura, Mimika and Merauke.
While the daily COVID-19 cases in Indonesia have now fallen after peaking in early August, the country has yet to fully contain the coronavirus outbreak. A low vaccination rate in Papua also raises concerns on whether the event could be a breeding ground for the virus.
There have also been concerns over whether the newly-built venues are ready for the occasion.  
Complicating the preparations were recent deadly attacks in neighbouring West Papua province, the latest violent event of the continuous low-level insurgencies since Papua became part of the republic in 1969.
Despite these challenges, experts interviewed by CNA believe it is vital to hold the games in Papua as it would give a much needed social and economic boost to locals. Strict health protocols and vaccination are among measures that will ensure that the event runs smoothly, they said.
VACCINATION RATE A CONCERN
First held in 1948 in Solo, Central Java, the quadrennial games have so far mainly taken place on Indonesia's main island Java.
Papua will become one of the six provinces outside Java island that have hosted the games. It edged out Bali and Aceh and emerged as the host during an Indonesian National Sports Committee meeting in 2014.
Social and political expert from Papuan Customary Council Weynand Watory expressed his worries that the games could create new COVID-19 clusters in Papua.
"The vaccination rate in Papua is very low, only about 16 per cent and PON is forced to be held in October 2021.
"Does this not have the potential to become an arena for transmission to the Papuan people who will be involved in watching the games and other activities. If that happens, who will be responsible, the central government or the local government?" he said when interviewed by CNA. 
Mr Edward Sihotang, Jayapura regency health agency secretary, admitted that the vaccination rate there was low. 
He cited low literacy and the fact that Papuans have managed to live with malaria without getting vaccinated as challenges in implementing COVID-19 vaccination and health protocols.
"We are dealing with people who have low literacy so they easily believe in hoaxes.
"Education has to be done within communities or even smaller groups to explain (to the locals) that vaccination is good and not harmful," Mr Sihotang told CNA.
For the games, the aim is to jab about 70 per cent of people with the first dose in the regions where the event will take place.
As of early September, all four regions have vaccinated between 48 per cent and 56 per cent of people with one dose of the vaccine.
In addition, everyone involved in the games directly must be fully vaccinated.
Coordinating Minister for Economic Affairs Airlangga Hartarto, who also heads the COVID-19 Handling and National Economic Recovery (KPCPEN) Committee, pointed out on Sunday (Sep 5) that Papua still has about 12,000 active COVID-19 cases, making it the province with the second biggest active caseload outside of Java. 
As of Thursday, Papua has more than 32,000 cases and 360 deaths, while Indonesia has recorded more than 4.1 million cases and 138,000 deaths. 
"According to the president's direction, spectators who have not been vaccinated cannot enter the venues. Therefore, people must be ready to be vaccinated immediately," said Mr Hartarto. 
Mr Gatot Dewa Broto, secretary of the Ministry of Youth and Sports said that to prevent new COVID-19 cases from emerging, they would adopt standard operational procedures (SOP) similar to the ones imposed at the Tokyo Olympic Games. 
These include mandating the contingents to arrive and depart on different days and imposing mandatory polymerase chain reaction (PCR) tests on them before departure and on arrival. 
All athletes taking part in the competition must also be fully vaccinated, Mr Broto noted. 
He said it has yet to be decided whether spectators would be allowed.
VENUE AND SECURITY PREPARATION
Mr Broto also claimed that although the venues were still being worked on, they were ready to be used.
He said that work was still ongoing to prepare the parks at the venues and he was confident they would be ready in time.
Over the weekend, when inspecting the Lukas Enembe Stadium in Jayapura regency which will be the main venue of the games, Mr Hartarto said he was fascinated by it as it was built according to the International Federation of Association Football (FIFA) standards.
The stadium, which was inaugurated last year, has the capacity to sit 40,000 spectators. 
It is also located in the same compound as other sports centres such as basketball, volleyball, and swimming.
But Mr Hartarto stressed that venue readiness must also incorporate COVID-19 prevention facilities such as isolation centres.
Apart from venues, another area of concern in holding the games in Papua is the overall security situation.
Papua became part of Indonesia in 1969 after a United Nations-backed referendum known as the Act of Free Choice.
However, some people argue that the outcome - to join Indonesia - is invalid because only about 1,000 handpicked Papuans took part.
Since then, a low-level separatist movement fighting for independence has continued to claim lives on the island.
Just last week, four Indonesian soldiers were killed by guerrillas in neighbouring West Papua province.
In a meeting with Coordinating Minister for Political, Legal and Security Affairs Mahfud MD last Friday, head of Papua's military chief Major General Ignatius Yogo Triyono said that they would increase security measures from Sep 18 to Oct 18.
When visiting Papua at the end of August, Indonesia's military chief Air Chief Marshal Hadi Tjahjanto and police chief General Listyo Sigit Prabowo asked all military and police personnel to prepare a security strategy.
"The military and police personnel must prepare the implementation of security and maximise their existing strengths," said Gen Prabowo.
A Presidential Instruction was issued in August on the games, instructing the military and police chiefs to secure the areas involved.
Mdm Adriana Elisabeth, an expert on Papua at the Indonesian Institute of Sciences, was not overly concerned about the security of the event. She believed that the authorities would have a strategy in place.
She highlighted that so far, most insurgencies have occurred in specific regions in Papua. 
Extra attention must be given to Mimika regency, home to the world's largest gold mine Grasberg where violence has erupted over the years, she added. 
IMPORTANT FOR DEVELOPMENT AND EXPOSURE
Locals are excited by the games next month.
A university student in Jayapura city, Ade Melani Iwanggin, is among those who can't wait.
"As a resident of Jayapura city, I am very enthusiastic about welcoming the 20th PON which will be held in October at the Lukas Enembe Stadium. I am also happy and proud because this is the first time it will be held in a Papua city and district so they can be widely known by people outside Papua," she said.
Entrepreneur Arifin, 47, who goes by one name, has similar views. 
"Even though it will be held in the midst of a pandemic, I am very enthusiastic about PON 2021 in Papua. I hope with Papua being the host of this event, people can know more about Papua," said the resident of Mimika, one of the regencies in Papua. 
Mdm Elisabeth of the Indonesian Institute of Sciences opined that the event is vital for Papua's economic growth as it could enhance the livelihood of locals such as those selling souvenirs. 
"Surely this PON will encourage economic activity in Papua, especially the local entrepreneurs, contractors, those in the creative economy and so on."
Moreover, holding the PON in Papua entails broader messaging, she said. 
"Of course to hold PON in Papua, the effort is bigger (than in other parts of Indonesia) and clearly, it is to show that it is fine in Papua.
"In Papua it is safe, we can also hold events like in other places, that's definitely the message. In Papua things are not always bad," she said.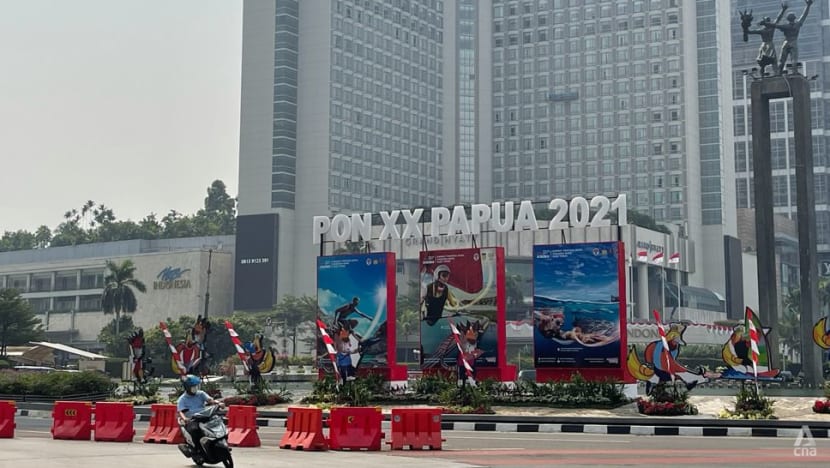 Epidemiologist from the University of Indonesia Pandu Riono shared the same view, saying that the event would be the pride of Papuans.
He acknowledged that there will be risks involved as COVID-19 is still raging. But if everything is well-prepared the risks can be minimised, he said.
"Life is full of risks. It is a matter of using the right strategy," he said, adding that vaccination in the four regions remains key.