TANGERANG, Banten: Distraught family members of those incarcerated in Tangerang prison gathered outside the overcrowded facility for updates on Wednesday (Sep 8), after a fire tore through a cell block, killing 41 people. 
Mdm Opi Hartati, 44, said: "I just went to the crisis centre and they told me that my son is among the 41 (dead)."
Her son, Rizki Hairi, 23, had been in Tangerang prison for about four months. He was sentenced to five years and three months in jail for a drug-related crime and was transferred there after initially being held for a year in another prison.
She recounted: "He called me last night and asked me to send him some phone credits. And I gave it to him, I always do. Even when he asked his father for money, we always gave him."
"There's nothing I can do now. This has been destined."
Accompanied by her husband, the pair said that they planned to travel to the police hospital in Jakarta for identification purposes.
CNA saw dozens of people arriving at a crisis centre set up outside the prison to seek updates.
South Jakarta resident Lilis Nurhayati, 35, rushed to the prison after she heard from her neighbours about a fire in prison block C2, where her brother was incarcerated. 
"The police told me my brother is a victim of the fire in block C, but I don't know whether he is alive or dead" she told CNA.
"He was my only older brother," she said while wiping away her tears.
Mdm Nurhayati said that her brother Mashuri, 41, has been incarcerated for about seven years for a drug-related crime.
 
She added: "I haven't seen him for a long time due to COVID-19. The last time I saw him was about two years ago before the pandemic."
According to her, the police said that her brother was in a local hospital in Tangerang. They first asked her to wait outside the prison for further updates, before transporting her away in a bus together with others. 
Prison staff said some of the family members would be driven to Jakarta, without elaborating.
Also among those who were at the crisis centre was Tan Soei Tai, 70.
"I came here because I saw that earlier in the day, there was a fire here in the narcotics block … So I decided to check how my son here is doing," he told CNA.
His son Daniel Martanto who is in his 40s, was sentenced to six years jail in Tangerang for drug offences. He has served four years of the sentence. Mr Tan was told that his son was safe as he was not in the block that caught fire.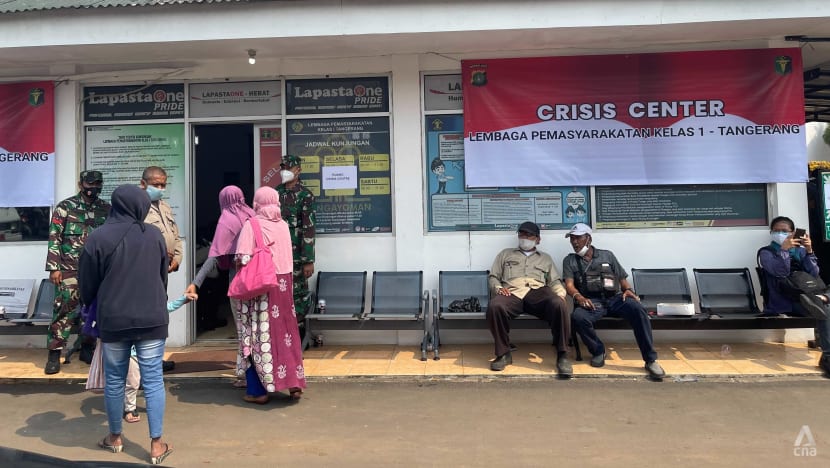 The fire at the overcrowded Indonesian prison block in the early hours of Wednesday had killed 41 people and injured dozens of others. 
The fire broke out between 1am to 2am at Tangerang Prison Block C, which housed prisoners jailed on drug charges. It was extinguished at around 3am. 
"Forty-one inmates died, eight were badly injured and 72 others sustained minor injuries," Jakarta police chief Fadil Imran told a press conference. 
Authorities were still investigating the cause of the incident but suspected an electrical fault may have been to blame.
The penitentiary department's website showed that the jail had more than 2,000 inmates, more than three times as many prisoners as it was designed to hold.
The block where the fire broke out had a maximum capacity of 40 inmates but housed 120, penitentiary directorate general spokesperson Rika Aprianti told local media.
Indonesian law and human rights minister Yasonna Laoly said two of the dead were foreign nationals, one each from South Africa and Portugal, according to Reuters.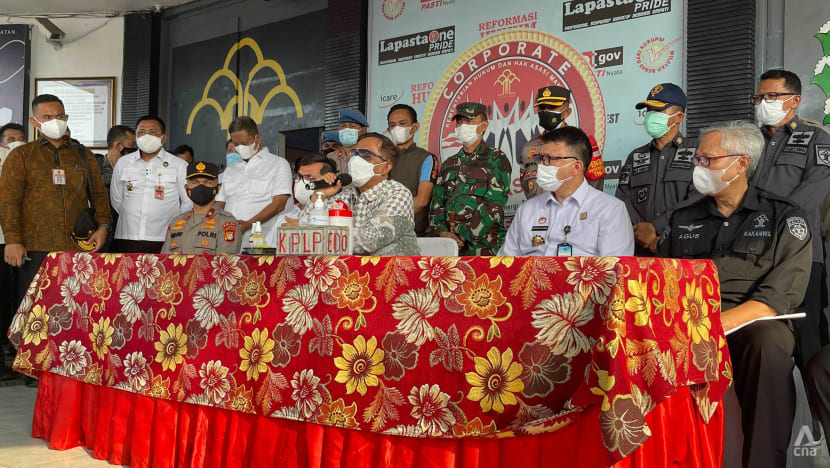 BUILDING OF NEW PRISONS TO BE ACCELERATED: MINISTER
Speaking in a press conference after visiting Tangerang Penitentiary, Mr Mafhud MD, the coordinating minister for political, legal and security affairs acknowledged that there is an overcrowding issue in the prisons. 
"I have visited several prisons in regions, they are not conducive anymore," he said.
"We are planning to immediately build new penitentiaries," the minister stated, while noting that lack of budget has hitherto hampered such efforts.
 
He added: "This accident is going to accelerate our plan (to build new penitentiaries)."