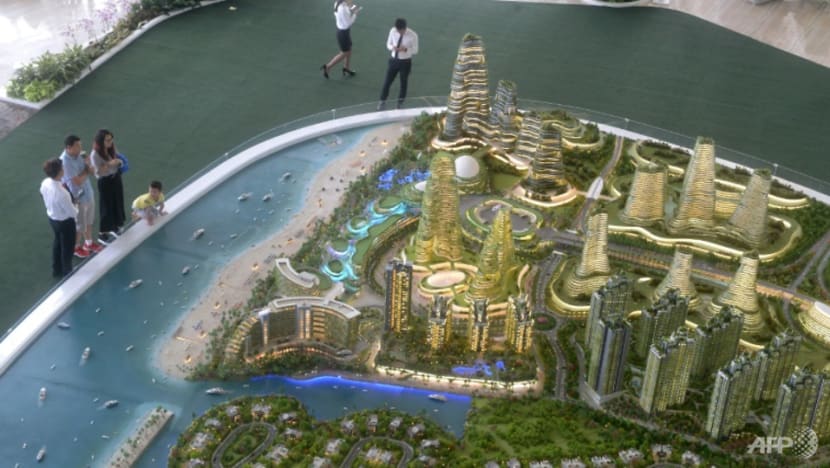 SINGAPORE: Chinese property developer Country Garden said on Monday (Aug 27) that the comments made by Malaysian Prime Minister Mahathir Mohamad objecting to the US$100 billion Forest City project in Johor may have been taken out of context in certain media reports. 
Earlier on Monday, Mahathir said at a press conference in Kuala Lumpur that Malaysia will not allow foreigners to buy residential units in Forest City. 
"We are not going to give visas for people to come and live here," he said, adding: "Our objection is because it was built for foreigners, not built for Malaysians. Most Malaysians are unable to buy those flats."
But Country Garden said Mahathir's comments contradict what he had said in a meeting earlier this month with Yeung Kwok Keung, the chairman and founder of Country Garden Holdings.

"During the meeting, Tun Mahathir reiterated that he welcomes foreign investments which could create employment opportunities, promote technology transfer and innovations that could benefit Malaysia's economic growth and job creation," Country Garden said in a statement.

The property developer said it is seeking clarifications from the Prime Minister's Office in Malaysia. 

The Forest City project has been roiled by uncertainty since Mahathir's Pakatan Harapan coalition scored a shock victory at the general election in May.
Opposition to the project helped drive Mahathir's election campaign, during which he called it, and other Chinese-backed projects, evidence of his predecessor selling Malaysia to China.
Malaysians living in Johor complained of large numbers of Chinese people snapping up properties in Forest City, besides concerns of environmental damage, a glut in the property market, and the impact of land reclamation on fisheries.
Country Garden has developed just a fraction of the planned reclamation of 20 sq km, where Chinese nationals accounted for about 70 per cent of apartment buyers last year. 

Source: CNA/reuters/na(ra)