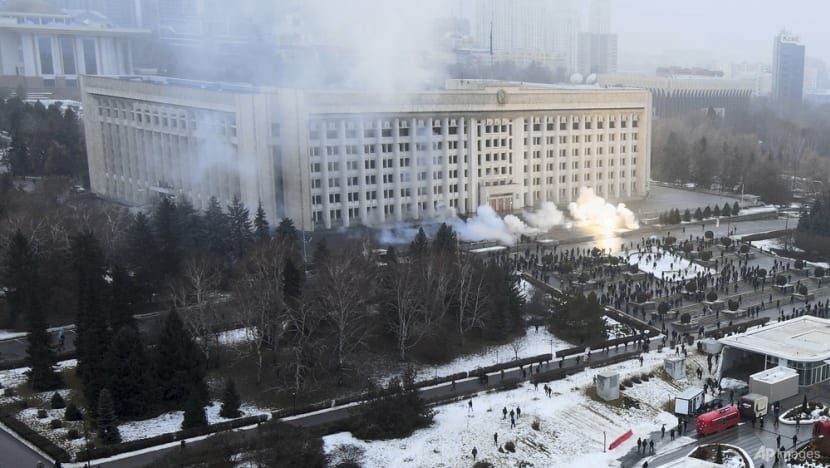 Fuel-price increases in Kazakhstan sparked a wave of deadly protests in early January that drew thousands of people onto the streets, posing the biggest threat in decades to the central Asian country's leadership.
A Russia-led military alliance sent troops to help quell the violence, after dozens of protesters and security forces were killed in clashes. President Kassym-Jomart Tokayev imposed a nationwide state of emergency, with phone and Internet access cut across much of the country. 
ARE THE PROTESTS JUST ABOUT FUEL PRICES?
They began that way following a government attempt to move to market prices in 2022 that resulted in a twofold increase in the cost of liquefied petroleum gas, used widely for cars in Kazakhstan as well as for cooking and heating.
But they quickly ignited wider general discontent over soaring inflation and the authoritarian political system in the oil- and mineral-rich nation, where many people struggle to get by and have complained for years of widespread official corruption.
In Almaty, both the city hall and the president's residence were set ablaze after protesters stormed the buildings on Jan 5, according to Interfax. Tokayev said several police were killed.
WHAT IS THEIR AIM?
The protests have produced any clear leaders and no opposition party has emerged with a list of demands.
But an early focus of public anger was former President Nursultan Nazarbayev, 81, who installed Tokayev as his successor when he stepped down after three decades in charge in 2019 while retaining key powers for himself as Kazakhstan's so-called "leader for life".
Many Kazakhs blame him for letting corruption flourish and for denying them political freedoms. They also point the finger at members of Nazarbayev's family who have grown rich through stakes in important businesses in the country of 19 million that is the size of western Europe.
WHAT IS THE GOVERNMENT DOING ABOUT THEM?
Tokayev fired the government and agreed to lower fuel prices as he sought to appease the protesters initially by pledging to consider "all legal requests and demands" in a television address. He also took over from Nazarbayev as head of Kazakhstan's security council and replaced officials seen as loyal to the former president.
As the protests intensified, Tokayev quickly changed tack, blaming the unrest on unspecified outside "conspirators" and appealing to the Russian-led Collective Security Treaty Organization (CSTO) to send military forces to help him put down the protests in what he called an "anti-terrorist operation".
Russia and other former Soviet states in the CSTO said they were assisting with "peacekeeping forces".
WHY IS KAZAKHSTAN IMPORANT?
The country is the world's biggest uranium miner, producing more than 40 per cent of the radioactive metal. Uranium prices jumped on the unrest, surging almost 8 per cent to US$45.25 a pound on Jan 5, according to UxC data.
The turmoil could lead to more reliance on suppliers outside Kazakhstan, boosting shares of uranium companies in North America and Australia.
While uranium prices were rising on potential supply disruptions, there isn't an immediate shortage and Kazakhstan's Kazatomprom said on Jan 6 that all delivery deadlines are being met.
Unlike facilities that run on oil or natural gas, nuclear power plants can continue operating if shipments are delayed, as many have built up stockpiles. At least some mining operations were continuing as well.
Kazakhstan also accounts for about 2 per cent of global crude production and any disruption to its oil industry could be significant if it lasted. 
WHAT IS THE POLITICAL SIGNIFICANCE?
Kazakhstan is strategically positioned between its former Soviet master, Russia, and its giant neighbour, China, which are both vying for dominance in energy- and mineral-rich central Asia.
Until now, it has been an island of stability and relative openness to foreign investors in central Asia since the Soviet collapse. A descent into chaos could have a ripple effect across the region, where leaders are already concerned about the potential risk from militants in nearby Afghanistan following the Taliban's takeover.
Russia's military assistance to Kazakhstan follows its backing for another beleaguered neighbour, Belarusian President Alexander Lukashenko, after a disputed election in 2020. It offered him loans, energy supplies and, if needed, police support. 
HOW BIG A THREAT TO TOKAYEV ARE THE PROTESTS? 
He took a big gamble in asking Russia and other members of its military alliance for help, risking accusations of weakening Kazakhstan's sovereignty to retain power and allowing foreign forces to suppress his own citizens.
Tokayev came to office promising to allow greater political freedom and to crack down on corruption, but those hopes have largely been disappointed so far. The danger for him is that he emerges from the crisis dependent on Russian support to retain power over an increasingly angry and resentful population.