'It's a downward spiral': Labour crunch hampers recovery of Malaysia's hospitality sector despite border reopening
KUALA LUMPUR: Malaysia's hospitality sector is facing a labour crunch, with many hotels saying they are finding it difficult to fill positions even after the reopening of the country's international borders since Apr 1.
Industry players who spoke to CNA said that the issue, which had been slowly growing since the lifting of interstate travel in late 2021, has intensified due to the pent-up demand for travel by locals and foreigners alike.
"Over the past two years, the hospitality industry has gone through pay cuts, retrenchments and also temporary hotel closures, because there was generally zero income during the lockdowns and restrictions on travel," Malaysian Association of Hotels (MAH) president Christina Toh told CNA. 
She said that during the COVID-19 lockdown period (between March 2020 to October 2021), many hotel employees who were made redundant had to resort to alternative sources of income.
"Some joined the gig economy and drove for Grab or did deliveries, or they started home-based businesses because we were not getting any business."  
But many of them had not returned to their previous jobs in the hospitality sector even after the reopening of the economy since late last year, said Mdm Toh, who is also the area general manager for the Dorsett Grand Subang in Selangor. 
"There might be many reasons, they might be getting better income in their current positions or endeavours, or they enjoy the flexibility and setting their own working hours," she explained. 
Moreover, before the COVID-19 pandemic, the hospitality industry also relied heavily on foreign contract workers to carry out the 3D (dirty, difficult and dangerous) jobs and menial tasks such as housekeeping and cleaning, which locals were reluctant to take up. 
"When Malaysia's international borders closed for most of 2020 and 2021, this resulted in many foreign workers returning home," said Mdm Toh. 
"Some were redeployed by their agencies to sectors which were still running, like the glove manufacturers during 2020 who were actively recruiting more workers," she added. 
HOUSEKEEPING MOST CRITICALLY HIT
The housekeeping department has been the worst hit by the labour shortage, according to the hotel operators interviewed by CNA.  
Mr Wilfred Yeo, the senior general manager of Sunway Putra Hotel, a part of Sunway International Hotels and Resorts, said this had affected cleaning and turnaround times for hotel rooms. 
With a staff-to-room ratio requirement of about 0.5 or 0.6 to a room, Sunway Putra Hotel, which has 650 rooms, needs between 300 and 400 employees, he said.  
However, the hotel now is running at a 0.28 ratio, which is less than half than what was required during the pandemic, said Mr Yeo.
"Previously, a room attendant would clean an average of 15 to 16 rooms a day, using 25 minutes as the industry standard, longer if the guests left a mess," he said. 
Now, the same attendant might have to clean up to 23 rooms because the department was understaffed, resulting in long  delays for the guests to check-in to their rooms, he added.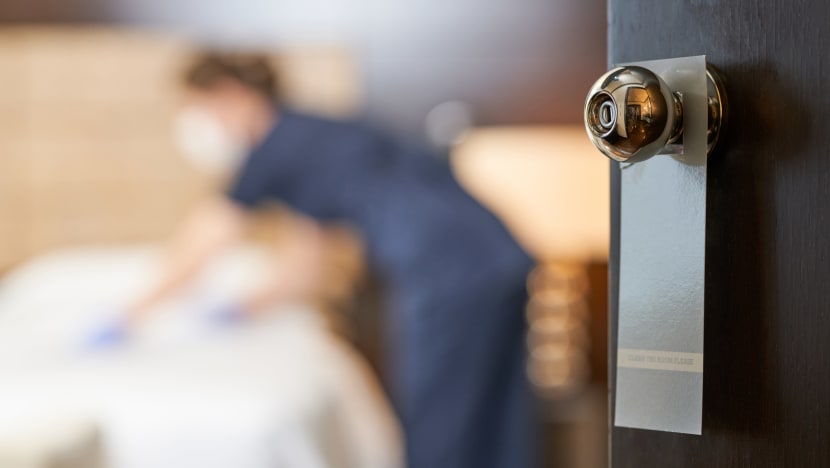 In some situations, the delays could generate unpleasant scenes in hotel lobbies where disgruntled guests were forced to wait three to four hours beyond the normal check-in time. 
"This is a situation no hotel wants to be in, because this represents a service failure on the hotel's part," said Mdm Toh, the MAH president.   
As such, she said, some hotels had decided to reduce the number of rooms available and thus missed out on potential revenue. However, by doing so they were then able to keep the room turnaround  time within manageable limits.
Besides Klang Valley and Johor, Mdm Toh said that popular resort areas such as Port Dickson, Langkawi and tourism states such as Penang and Melaka were also not spared from the manpower challenge. 
In fact, she said, these places have been made worse off by the understaffing issue. 
"They need more staffing in order to fully operate the activities and guest experiences offered by the resort," she said, adding that other parts of their operations such as culinary, dining and even room service have also been negatively affected.
"The problem is a downward spiral. A lot of hotels cannot fully open with some in-house experiences or services closed because of the labour shortage, (and thus) missing out on potential revenue," Mdm Toh said. 
LOSING MANPOWER TO SINGAPORE
Mr Kelly Leong, senior general manager of Sunway Hotel Big Box, noted one critical factor which impacted the hospitality sector's ability to address the manpower crunch is the loss of skilled workforce to Singapore. 
This is largely due to the pay difference and the high exchange rate of the Singapore dollar. 
"It's a remuneration issue where highly skilled talents are attracted to Singapore for work, and this has been an ongoing concern, even before the pandemic," he said. 
Sunway Hotel Big Box was opened in October 2021 amid the reopening of interstate travel in Malaysia.  
Mr Leong said that as the National Recovery Plan Phase 4 (the general reopening of Malaysia's economy) kicked in, his team had made the provisional plans to get their workforce into multi-tasking mode in anticipation of the uncertainties in recruiting fresh manpower.  
From the perspective of  Legoland Malaysia in Johor, labour migration to Singapore has been an ongoing phenomenon for the past couple of decades, and the situation is more acute now due to the ringgit's depreciation against the Singapore dollar.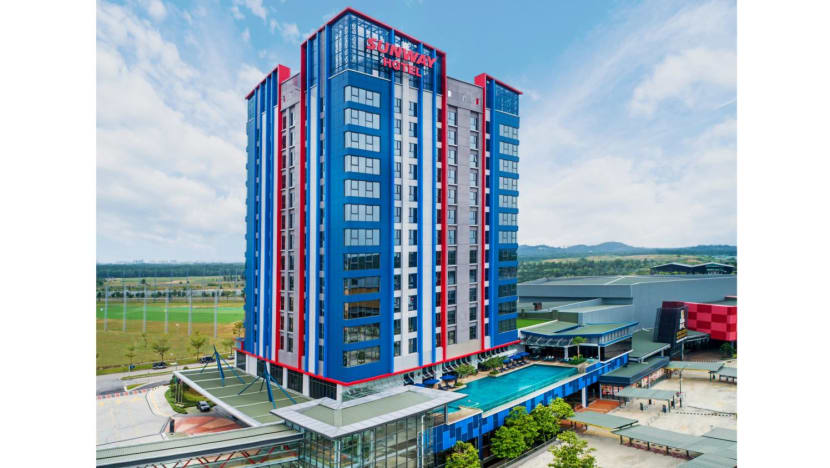 "We have read about instances where Singapore establishments are willing to increase pay to attract people for 3D jobs, but we have no way of knowing whether this is a one-off or not," said Legoland Malaysia divisional director CS Lim to CNA. 
He was referring to a media report where a Japanese restaurant along Orchard Road had offered up to SGD3,500 or RM11,000 monthly for a dishwasher position. 
While some hotels, especially major chains, had tried to solve the labour crunch by offering higher basic salaries or part-time pay for extra work, the hotel operators said Malaysian hotel chains could not compete head-on with their Singapore counterparts over pay issues. 
Mr Leong of Sunway Hotel Big Box said that staff engagement and career progression was also key to retaining staff.  
"Training and upskilling have always been a part of our identity, and the sense of belonging and teamwork has been vital in deploying support and assistance to departments in need," Mr Leong said. 
Mr Lim said that besides monetary means, local hotels had tried other ways of attracting new employees and retaining the current ones by making themselves more attractive via work culture and better accommodation.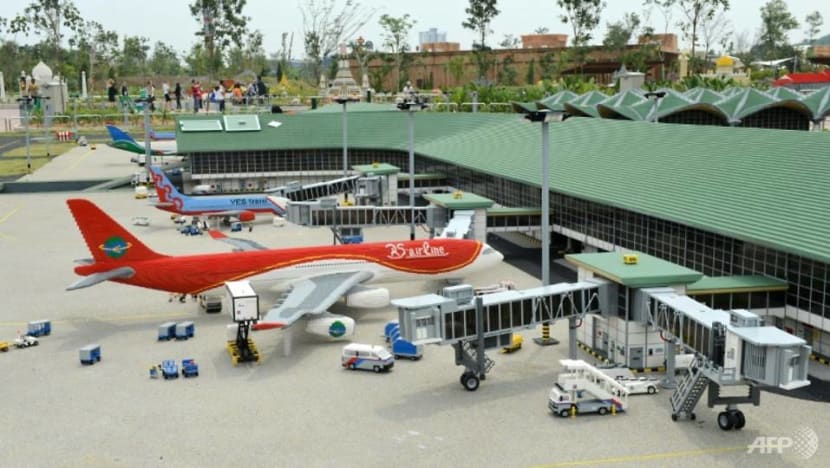 According to Mr Lim, it was through this approach that Legoland had managed to emerge relatively unscathed from the pandemic, with most of its staffing intact. 
"We are pretty fortunate because generally, we knew of a number of tourism venues that were badly affected by staff leaving," he said. 
Mr Lim said that this meant that the resort was able to cater for peak periods, including Singapore's current school holidays from end of May to end of June. 
"We were able to run a full week to cater for the influx of tourists and visitors," he added. 
FUTURE RECOVERY
Industry players interviewed by CNA said they did not expect the manpower crunch to be resolved by the end of 2022. 
"This competition for manpower is a global issue, we (the Malaysian Association of Hotels) have met with our travel and tourism counterparts from other Southeast Asian countries, and they are facing the same problem," Mdm Toh said.
The best hope, she added, was for the situation to be stabilised by the second quarter of 2023, depending on whether the number of international flights and the number of foreign arrivals to Malaysia would increase. 
She said that only this could help in a faster recovery of the tourism and hospitality sector. 
Mdm Toh also said that MAH, together with the Malaysian Budget Hotels Association (MBHA) and the Malaysian Association of Hotel Owners (MAHO), had recently reached out to the Tourism, Arts and Culture Ministry (MOTAC) and the Human Resources Ministry over the labour shortage issue. 
MAH had also met up informally with Tourism, Arts and Culture Minister Nancy Shukri to voice concerns about their industry, including its manpower situation. 
"I understand that MOTAC is working with other ministries to search for solutions, including allowing more foreign workers to be recruited to relieve some of the manpower crunch in the sector," Mdm Toh told CNA. 
"I can say that the hotels are waiting on the Human Resources Ministry regarding visa approvals for foreign contract workers," she added.