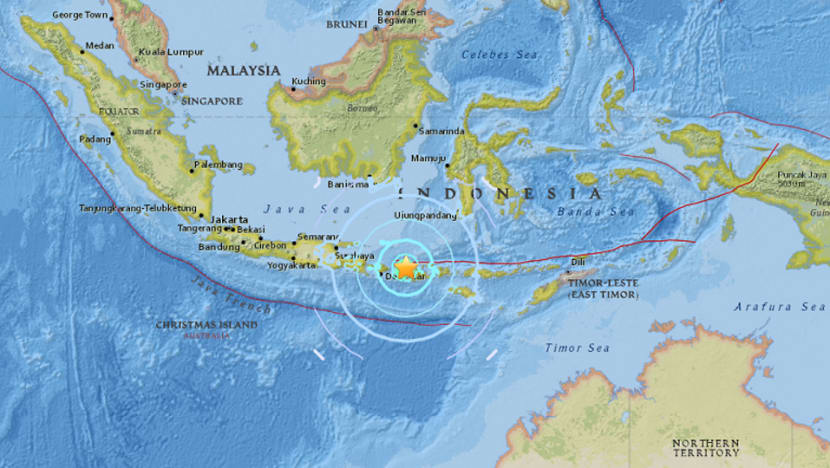 JAKARTA: A 6.3-magnitude earthquake rocked the Indonesia's Lombok on Sunday (Aug 19), just two weeks after a powerful quake shook the island.
According to the US Geological Survey (USGS), the tremor was centered west-southwest of Belanting town in East Lombok at a relatively shallow depth of 7.9 kilometres.
There were no immediate reports of deaths or injuries from the latest tremor.
"The earthquake caused people to panic and flee their houses," national disaster agency spokesman Sutopo Purwo Nugroho told Metro TV.
"We are still checking."
He added that landslides were reported in a national park where hundreds of hikers had been trapped on a volcano after a quake in late July. The park has been closed since then.
Local disaster mitigation agency spokesman Agung Pramuja said several houses and other structures in the district of Sembalun, on the slopes of Mount Rinjani, collapsed on Sunday after being damaged by the previous two quakes.
The structures included checkpoints once used by trekkers climbing the mountain, Pramuja said, adding that the exact number of damaged buildings was still being checked.

Residents said the quake was felt strongly in East Lombok.

"I was driving to deliver aid to evacuees when suddenly the electricity pole was swaying. I realised it was an earthquake.
"People started to scream and cry. They all ran to the street," East Lombok resident Agus Salim said.
The tremor was also felt in the island's capital Mataram and on the neighbouring resort island of Bali.
It comes two weeks after a 6.9-magnitude quake in the same area, in which more than 400 people have died.

Since then, hundreds of aftershocks have followed. 
Thousands of tourists have left Lombok since the Aug 5 quake, fearing further earthquakes, some on extra flights provided by airlines and others on ferries to the neighbouring island of Bali.
Indonesia sits on the Pacific Ring of Fire and is regularly hit by earthquakes. In 2004, the Indian Ocean tsunami killed 226,000 people in 13 countries, including more than 120,000 in Indonesia.