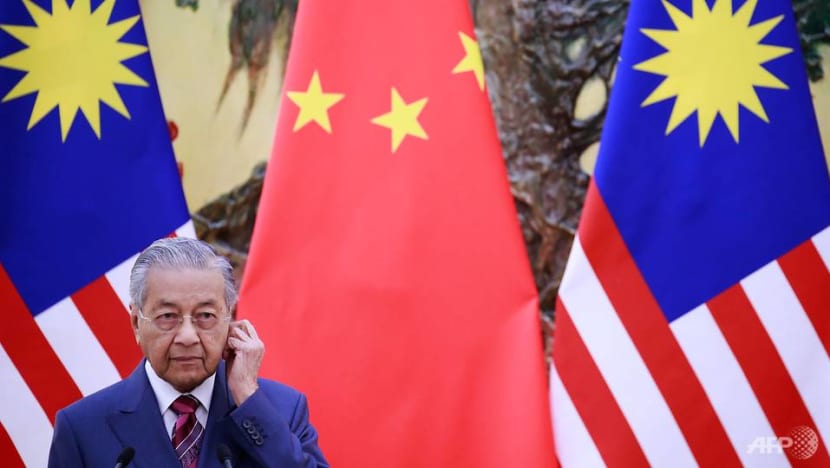 KUALA LUMPUR: Malaysian Prime Minister Mahathir Mohamad said on Tuesday (Aug 21) that the Chinese-funded US$20 billion East Coast Rail Link (ECRL) project and a natural gas pipeline project in Sabah will be cancelled for now. 
Mahathir made the comments while addressing the media in Beijing during his five-day trip to China. He said the projects will be cancelled until Malaysia can afford them.
The prime minister said Chinese President Xi Jinping and Premier Li Keqiang understood the reasons behind the cancellation of the two Chinese government-backed projects.
"I have explained to them and they understood the situation and accepted them," Mahathir told journalists.
"I believe China itself does not want to see Malaysia become a bankrupt country," the New Straits Times quoted him as saying during a press conference marking the end of his China trip. 
Mahathir suspended unpopular Chinese projects in Malaysia after he returned to power in a stunning election victory in May that ended the decade long rule of former premier Najib Razak.

The ECRL project was the centrepiece of China's infrastructure push in Malaysia but work has been suspended pending discussions over pricing and graft accusations.

The 688km rail linking Port Klang and Kota Bharu was launched last year and slated for completion in 2024. 

Mahathir said the projects involved huge amounts of money and Malaysia does not really need them at the moment amid the country's financial situation with high debt left by the previous government.
"The projects (will) not go on. Our priority is reducing our debt. For the moment, they are deferred until we can afford," said the prime minister, but when clarified further by journalists, he said, "Yes, they are cancelled at the moment."

Meanwhile, the Sabah gas pipeline project, which has been suspended since July, involved building a 662km gas pipeline from Kimanis to Sandakan and Tawau.
The Mahathir government had also previously said that the terms of the contracts given to Chinese companies were not beneficial to Malaysians.
Prior to his China visit, he had vowed repeatedly to discuss what he called "unfair" Chinese infrastructure deals authorised by former premier Najib Razak.
Mahathir also told the press on Tuesday that he did not bring up Low Taek Jho, the Malaysian financier wanted for his role in the multi-billion-dollar scandal at state fund 1MDB, in his dialogue with the Chinese leaders, local reports said.
The Wall Street Journal reported on Friday that Malaysia believed Low was being harboured in China and that a request to extradite him would be high on Mahathir's agenda during his five-day trip. Reuters could not verify the report.