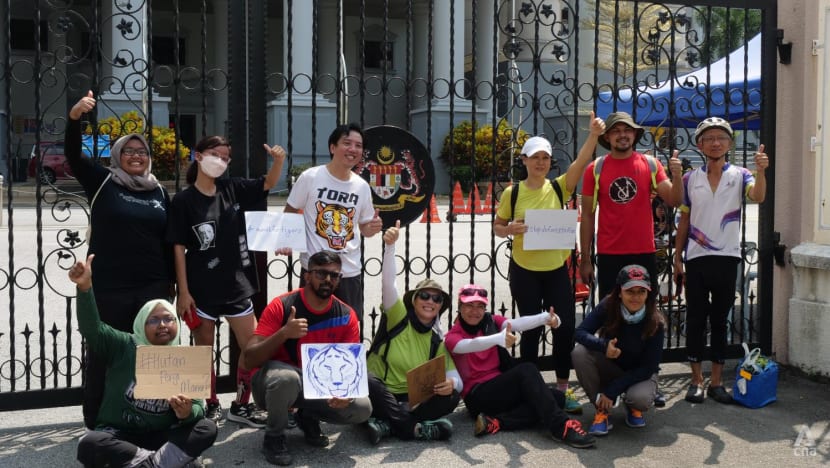 BENTONG, Pahang: Mdm Sharifah Sofia Syed Hussein, 36, winced as she placed a melting ice pack under her knees and calves to cool down her inflamed limbs after walking for 12km non-stop. 
She and her comrade-in-arms Rafizah Mat Zin, 46, have another 5km to reach Bentong town, famous for its Musang King durians, and check in with the local police station to record their safe arrival, before trekking on to reach their destination for the day. 
Both Mdm Sharifah and Mdm Rafizah have walked about 120km by this point since they started their journey from Malaysia's national park Taman Negara in Pahang on May 6, with the target to reach Kuala Lumpur Courts Complex about a week later.
The purpose of their 235km walk was to shine a spotlight on the dwindling number of Malayan tigers in Malaysia, and call for better protection for the country's national animal. 
Dubbed "A Walk For Tigers", the journey was in conjunction with a court application to declare protections for the subspecies. The Ministry of Energy and Natural Resources has been named as a respondent. 
The court application, filed by environmental non-governmental organisation Hak Asasi Hidupan Liar Malaysia (HIDUP) earlier this month, aims to stop deforestation that has caused habitat loss for wildlife, especially tigers. 
There are fewer than 150 Malaya tigers in the wild, and a number of initiatives led by the government and the civil society has been put in place to conserve the big cat.  
Malaysia was a participant at the 13-country Global Tiger Summit at St Petersburg, Russia in 2010, which set the aim to double wild tiger numbers in the world from 3,000-odd to over 7,000 by 2022. 
Factors such as poaching, habitat loss and human-tiger conflict remain the greatest threats to the tigers' existence in Malaysia as they hinder the conservation of both tigers and the tigers' prey, according to the World Wide Fund for Nature-Malaysia (WWF-Malaysia).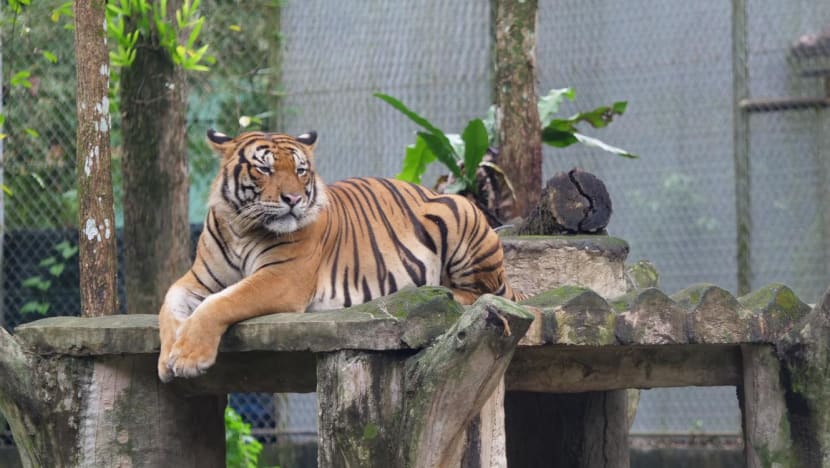 DIMINISHING TIGER NUMBERS
Mdm Sharifah, who is active in showbiz and acting, said she got into environmental work and education after her marriage ended and she took some time off to do some soul searching.
She recounted how she moved to Perhentian Island, a popular travel destination off Terengganu,  and worked with children's activities at a resort for one year. 
"There, I met a lot of amazing people in environmental work, scientists, researchers. This resort was bringing students in from around the world as well." 
After leaving the island, she ventured into outdoor education as her full-time job in Kuala Lumpur, taking children on hikes and trips to expose them to nature. 
A reason for highlighting tigers, Mdm Sharifah said, was the importance of the animal in Malaysia's national imagination. 
The national football team is called "Harimau Malaya" (the Malayan Tiger) and the current logo of Proton, which was established as the country's national badged car company, also bears a tiger.
Previously, Minister in the Prime Minister's Department for Parliament and Law Wan Junaidi Tuanku Jaafar had informed the parliament in November last year that the Malayan tiger population, based on the first National Tiger Survey from 2016 to 2020, was below 200.
This is a far cry from the 1950s when there were over 3,000 big cats estimated to be roaming Peninsular Malaysia's forests, a claim in a 1954 book The Tigers Of Terengganu by A Locke. 
In response to an MP's question on efforts to protect the tiger subspecies from extinction, Mr Wan Junaidi said the species would be entirely extinct within five to 10 years if drastic action was not taken immediately. 
In March this year, Environment and Natural Resources Minister Takiyuddin Hassan said in the parliament that there were fewer than 150 tigers remaining in the wild.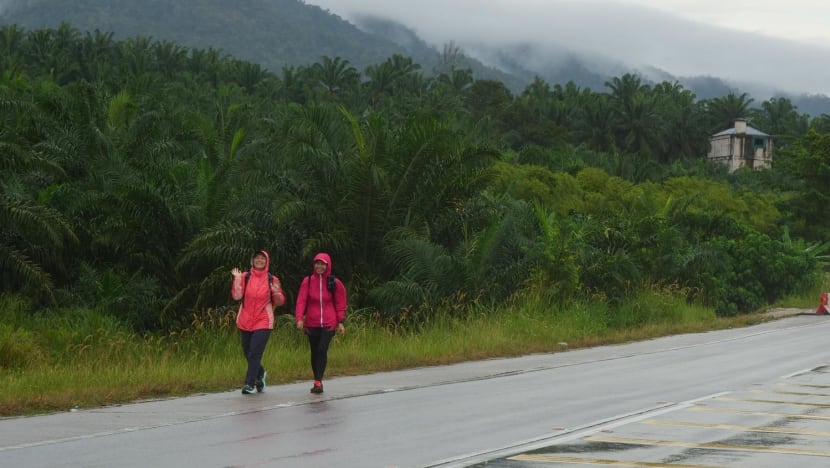 Mdm Sharifah was concerned that the extinction may be sooner than that if no extra measures were taken to protect the tigers. 
The legal suit, she explained, was a demand for a legal declaration to protect the Malayan tigers from deforestation.
"If we manage to get that done, we can help to stop deforestation from happening in known habitats of Malayan tigers," she said. 
According to 2020 statistics by Peninsular Malaysia's Forestry Department, 43 per cent of  Peninsular Malaysia is under forest cover while Malaysia's total forest cover is at 54 per cent. 
Since the 1950s, forest cover has been fragmenting, said Mr Christopher Wong, the lead person for WWF-Malaysia's tiger conservation programme. 
"Where forests are fragmented and small in size, tigers no longer have the natural space to survive and hence come into contact with human settlements," he said.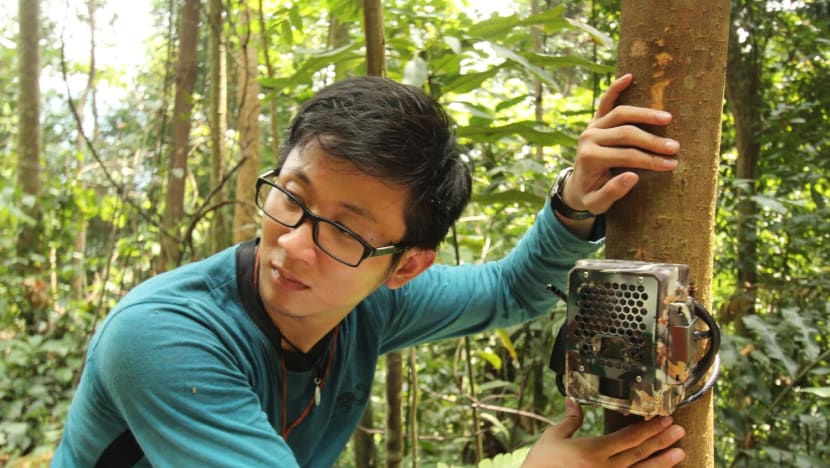 The largest blocks of contiguous forest remaining are Taman Negara and the surrounding northern Titiwangsa Range, including the Belum-Temengor forest complex, and to some extent, the Endau-Rompin forest complex in southern Pahang and part of Johor.
CNA has reached out to the natural resources ministry for comment on HIDUP's court application. 
INITIATIVES TO REDUCE TIGER LOSSES 
The decline in tiger numbers has prompted the natural resources ministry to launch multiple programmes to conserve tigers left in the wild and prevent the species' extinction in Malaysia.
According to harimau.my, a website launched by the ministry, the tiger conservation aspect includes the rehabilitation, rewilding and release efforts at the Malayan Tiger Conservation Centre in Lanchang, Pahang. 
There is also a tiger breeding programme at Perhilitan's National Wildlife Rescue Centre in Sungkai, Perak, where prey animals are bred as wild tigers' food source.
Under the enforcement aspect, Perhilitan launched Ops Belang to control and patrol known tiger habitats against poachers in 2019.
Similarly, an operation called Ops Khazanah, jointly staffed by Perhilitan and the Royal Malaysia Police, has been ongoing since 2019. 
A total of 303 snares have since been removed and 133 criminals arrested. 
WWF-Malaysia's Mr Wong said these major government-led initiatives were "a glimmer of hope".  
"Results from the National Tiger Survey have really pushed the government to take action, and they are undertaking several major initiatives."
"On top of that, WWF-Malaysia's camera-trap recorded a mother with three cubs, also in 2020. The threats we removed have made the forest a more conducive habitat for tigers to breed," he said. 
Currently, WWF-Malaysia has installed over 100 camera traps in the Belum-Temengor complex for long-term monitoring to keep track of resident tigers and individual animals' movements.  
It also partnered with Malaysian banking giant Maybank to launch Project Stampede in 2018.
"Patrol teams were formed by local indigenous communities to remove snares and collect data on poaching."
"Our expert jungle trekkers have covered more than 33,000 km from 2019 to 2021 and the constant presence resulted in a massive 90 per cent decrease in snares, compared to 2017," Mr Wong told CNA. 
THE FIGHT GOES ON 
Mdm Sharifah chose to mark the start of her walk at Taman Negara's Merapoh entrance on the Kelantan-Pahang state border as the national park is heavily symbolic for Malaysia's tiger population.
"Taman Negara is where most of our tiger population is, the other being the Belum-Temengor forest complex in Perak."
From there, she and Mdm Rafizah journeyed on to the Sungai Yu forest reserve, which connects Taman Negara to the peninsula's central Titiwangsa mountain range and the mountain forests.
"That's the most important one, because a lot of other places are just forest islands, cut off by human development like highways, towns, plantations, so wildlife cannot easily migrate to other food sources and spaces," Mdm Sharifah said. 
A single tiger, she added, needs between 60 and 80 sq km to subsist. 
"We need that space to enable them to actually survive. If we do not have that, there is no point trying to breed them and conserve them when there is no habitat for them to grow in," she said. 
The duo had to brave the heat and blisters from constant walking for their walk. On the fourth day, Mdm Sharifah had to see a doctor for her sore leg muscles and seek refuge in the safety car trailing behind them on and off the next day. 
Joking that the pair would need to have their foot arches checked after the feat, Mdm Rafizah said the toughest aspect was their endurance.
"We hit the wall at 40km, because you are walking on flat tarmac, there is not a lot of variation and it is repetitive," she said. 
After reaching the court complex in Kuala Lumpur safely with a small group of supporters on the morning of May 14, Mdm Sharifah said she would continue with outreach and environmental education for the public while waiting for the legal application to move through Malaysia's court system. 
"Knowing previously that we lost the Sumatran rhino in Malaysia (the last one went extinct in 2019), and next it is the tiger?" 
"There are so many animals and species going extinct every day that we do not know about, but to see our megafauna disappearing before our eyes? There is something very wrong with our environment," she told CNA.