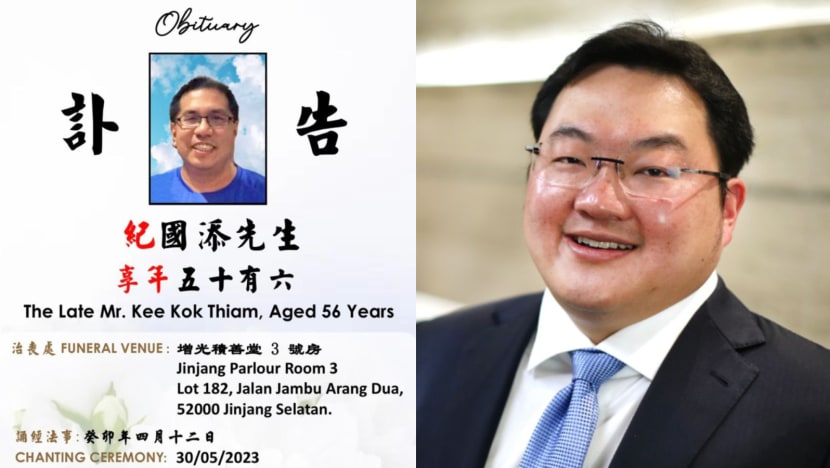 KUALA LUMPUR: A 56-year-old man who was questioned by Malaysian graft-busters about the whereabouts of fugitive financier Low Taek Jho, or Jho Low, has died. 
According to a statement issued by lawyers representing the late Mr Kee Kok Thiam and his family on Wednesday (May 31), Mr Kee died on Monday "of a sudden massive stroke" in a hospital. 
"We urge all parties not to entertain any speculation on this unfortunate event and allow the family the space to grieve on his passing," said the statement. 
CNA understands that Mr Kee had been questioned by the Malaysian Anti-Corruption Commission (MACC). 
Separately, an MACC source told CNA that Mr Kee had met with the agency when he first returned to Malaysia in early May. 
Pictures of Mr Kee were seen by CNA at the funeral on Wednesday. The cremation ceremony at the Kepong Crematorium in northern Kuala Lumpur ended at 9.30am. 
Mr Kee was a suspect in the 1Malaysia Development Bhd (1MDB) financial scandal. He informed local authorities about the whereabouts of Low, according to local media.
According to the New Straits Times, Mr Kee was Low's associate and had been deported from Macao for overstaying his visa. He was arrested at Kuala Lumpur International Airport Terminal 2 (KLIA2) in early May and was questioned upon his return. 
According to an Al Jazeera report on Tuesday, quoting MACC, several individuals had spotted Low in Macao.
Mr Kee had reportedly confirmed to MACC that he had met Low, who told him "not to return to Malaysia as a witness in the 1MDB case". He also met other 1MDB fugitives and suspects - Eric Tan Kim Loong, Casey Tang Keng Chee, Geh Choh Heng and Nik Faisal Ariff Kamil - in Macao.
MACC added that it was not informed by the Macao government about Kee's repatriation and claimed that it had known about the informant's deportation "based on intelligence networking".
MACC also reportedly told Al Jazeera that Mr Kee was imprisoned for a month in 2021 by Macao's immigration body but was released "conditionally" as its borders were closed due to COVID-19 regulations.
According to sources cited by Malay Mail, Mr Kee was suspected of receiving money originating from funds misappropriated from 1MDB and SRC International through the bank account of a company known as Wright Shaw Limited.
Low has been charged in Malaysia and the United States for allegedly masterminding the theft of US$4.5 billion from state fund 1MDB. He has consistently denied wrongdoing and is now reportedly under house arrest in Shanghai.