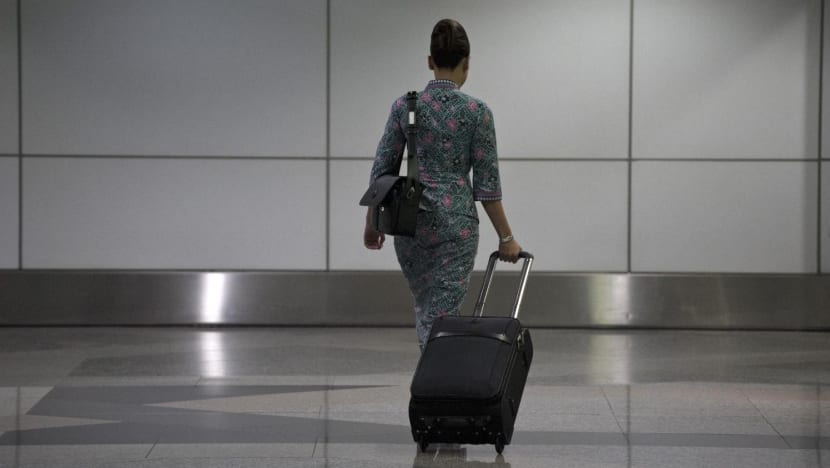 KUALA LUMPUR: A survey by Malaysia's flag carrier sent to its customers asking for their opinion on whether its iconic kebaya uniforms should be "refreshed" to make it more inclusive has sparked fierce debate from various quarters.
Some members of the public have called for others to support the female cabin crew's choice to don the tudung, while others say the current uniforms are an "icon of Malaysia". 
In the online survey sighted by CNA, Malaysia Airlines Berhad (MAB) on Monday (Jan 16) asked its customers for their opinion on whether the airline should put "a more modest twist" to the kebaya uniform.
"Moving into the new year, we would like to take this opportunity to refresh our uniforms once again, embracing more inclusivity while still maintaining our classic Malaysia Airlines elegance," read the survey. 
The survey also asked whether the airline should make changes to the kebaya design to give cabin crew members the option to don a "hijab" - also known as tudung - while serving onboard.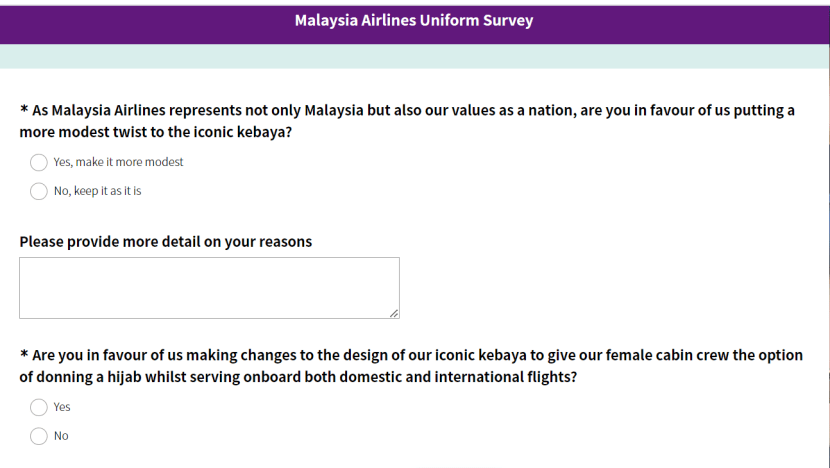 MAB noted in its survey that its kebaya uniform "is arguably the most recognisable Malaysian kebaya locally and internationally." 
However, in a follow-up question, the airline wrote that it welcomed customers' suggestions as to whether it should move away from the kebaya uniform and choose a more "modest and practical" uniform for its crew members as seen at other airlines. 
Missionary organisation Yayasan Dakwah Islamiah Malaysia on Tuesday lauded the airline for conducting the survey asking its customers for their opinion on the option for female cabin crew members to wear the tudung. 
Its chief executive officer, Mr Tuan Kamarul Arief Tuan Soh, said that such an initiative is a proactive step to stop the stigma and exploitation of women involved in the aviation industry.
"Malaysia Airlines' move will follow several other airlines that allow flight attendants to cover their modesty like Royal Brunei Airline, EgyptAir and Air Cairo," he was quoted as saying by Malay-language daily Berita Harian.
Some members of the public also supported the airline's move on social media by calling for Malaysians to participate in the survey. 
"I hope that many people (can) support the choice to use the tudung as well as the choice for more modest clothing (for the crew members)," said a netizen on Facebook. 
Dr Suriani Sudi, who led the Islamist non-governmental organisation Ikatan Muslimin Malaysia, was quoted by local media as saying that Malaysia Airlines (MAS) should be "brave enough" to change the dress code of the cabin crew members to something more modest while maintaining the identity of the batik uniform. 
Activist Siti Kasim, however, criticised the survey saying that issues such as customer service experience and welfare of employees should be given priority by the airline.
"The clothes are an icon of Malaysia, kebaya. They look good … they are not obscene. You have more important things to do. Improve your services, improve the welfare of the staff in MAS," she said in a video posted on Twitter. 
Others have also called for the airline to retain the current uniform while providing options for cabin crew members who intend to don a more modest attire, including wearing the tudung. 
"MAS doesn't need to completely revamp their uniforms. MAS can retain the current attire and provide an alternative or two for those who would like a more modest attire. Some diversity in uniforms could be nice," said a netizen on Facebook. 
"The kebaya is already great for MAS, just give an option for the Muslim female cabin crew if they want to put on a headscarf," said another Facebook user. 
Recently, it has been reported that British Airways became the latest airline to revamp its cabin crew uniform - its first in 20 years. BBC reported that it includes a jumpsuit as part of the option that allows female cabin crew members to wear a tunic and tudung.