'We want accountability', say Batang Kali landslide survivors as they urge release of investigation report
KUALA LUMPUR: More than three months after a landslide occurred at a campsite in the town of Batang Kali, Selangor, survivors are still grappling with its aftermath and are urging authorities to release its full findings on the incident.
Ms Toni Wong - one of the 61 survivors of the landslide that happened on the grounds of Father's Organic Farm - told CNA that she wants transparency and accountability from the authorities when it comes to the investigations.
The disaster claimed the lives of 31 people, including 13 children. 
"Shouldn't they come forward to the victims and say 'this is the result of the investigations'? We don't know who is in charge of channeling the information to us," she said. 
The businesswoman added: "This would be for those who lost family members and to motivate all of us to get on with our lives. We want accountability and action from the government. It is not fair for us to be kept in the dark." 
The landslide in Batang Kali, a popular hilly area near Genting Highlands, happened while people slept in their tents in the wee hours of Dec 16. Two landslides occurred within the span of half an hour. 
Ms Wong, whose close friend died in the landslide, said she still grapples with traumatic memories of the incident. Her friend, Mr Eric Wong Chai Chong, was found dead while hugging one of his three dogs. 
Ms Wong told CNA that Mr Wong, who was in his 60s, was with his dogs in a tent next to hers. She was in her tent with her own three dogs as well as another friend. 
When the landslide occurred, Ms Wong said she was awoken to a "very loud sound" and found herself trapped when soil and trees covered the tent she was sleeping in. 
"The soil had covered me and my friend couldn't pull me out. The neighbours (at the camping ground) cut open the tent, lifted the trees and managed to pull me out," she said, adding that all three of her dogs survived the landslide.
Two of them, however, had gone missing for a few days before being found close to the site.
"Since the incident, I have not taken the initiative to go hiking. I never expected to be affected in this way," she told CNA. 
She said that she is reminded of the landslide each time she sees a hill or a mountainside that has been cleared.
"It brings back a lot of (memories of) what happened that night," said Ms Wong, who is in her 40s. 
She added: "There have been a lot of 'what if' questions. What if it had happened in the afternoon, and not in the night when everyone was sleeping?" 
Another survivor of the landslide, Mr Brian Teng, said that his family members continue to have a phobia of camping following the incident. 
Mr Teng, 45, had been camping in Batang Kali with his mother and nine-year-old daughter as well as six other friends.  All of them emerged unscathed.  
The bank officer said they were lucky not to be hit by the landslide which stopped just a few feet from their five tents. 
Mr Teng, who said he was in the toilet when the landslide happened, then went to search for other survivors with his friends. One of those rescued was Ms Wong. 
"We feel lucky that we survived but there is some survivor's guilt when I look at news of families who lost their loved ones. I don't know them, but I feel sad for them," he said.     
"I don't know the pain that they are going through. Nobody will know unless they are in that position. As a father, I can only imagine the pain."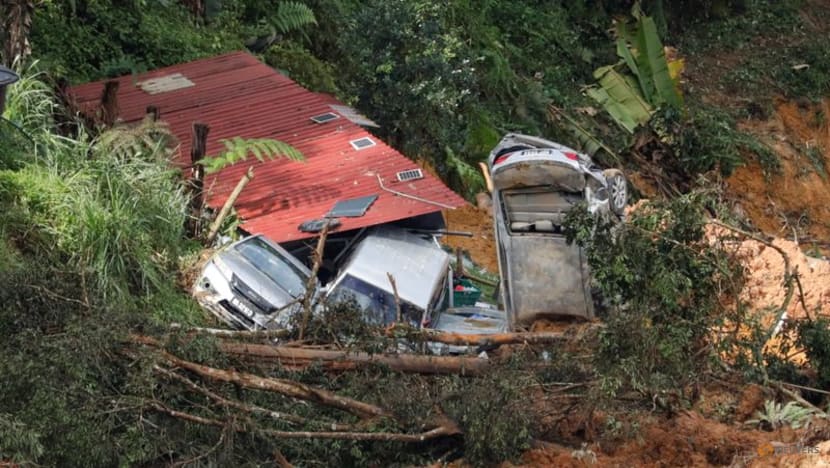 BELONGINGS NOT RECOVERED; INVESTIGATION REPORT REQUESTED 
Both Ms Wong and Mr Teng lost their vehicles and personal belongings such as camping gear, mobile phones, and wallets in the landslide.
They said that they have not been contacted by the authorities about the recovery of any of their personal belongings.
"I don't know where my car is," said Ms Wong, adding that she could not claim anything from her insurance as she did not purchase the special perils insurance.
Mr Teng, on the other hand, said he was lucky that he was able to make a full claim for his car as he was covered by the insurance plan. 
Ms Wong said that some cars have since been removed from the site, but that all of them were damaged from the impact of the landslide. 
"We left just with the clothes on our back. If our things have been found, we have not been contacted about it," she said.
Mr Teng told CNA that it has been 100 days since the landslide, and that he was still waiting for the outcome of the investigation report. 
Selangor chief minister Amirudin Shari had said last month that the government was ready to reveal the full report of the tragedy to the relatives of the victims involved if it receives a request from them.
According to Bernama, Mr Amirudin said that the report had already been prepared by the Department of Minerals and Geosciences.
In January, Natural Resources, Environment, and Climate Change Minister Nik Nazmi Nik Ahmad said a preliminary report was tabled in the cabinet during which several issues were raised to make it more comprehensive. 
Mr Teng said he and Ms Wong had written a letter to the chief minister requesting for the report but had not heard anything back yet from the authorities. 
"Nobody seems to be talking about the incident anymore. Those involved in the incident deserve to know what happened. So many lives have been lost and many assets unrecoverable.
"They (the deceased) might have been forgotten by the public, but they are still in our hearts," said Mr Teng. 
CNA has reached out to the Selangor chief minister's office for comments on what are the next steps in the investigations and when the report might be released.