KUALA LUMPUR: Malaysia's Democratic Action Party (DAP) underwent a major leadership change over the weekend.
On Sunday (Mar 20), three-term secretary general Lim Guan Eng, 61, who also served as Malaysia's finance minister during Pakatan Harapan's (PH) time in federal power, handed over the reins to Seremban member of parliament and former transport minister Anthony Loke, 44. 
Mr Lim Guan Eng's father, Mr Lim Kit Siang, 81, a veteran opposition leader, also announced his retirement from active politics.
This marks the beginning of a period of transition for the Chinese-dominated party, which went from the perennial opposition party since the 1960s to being a key member of the ruling coalition following the 2018 general election. 
Mr Loke was appointed secretary-general after being elected to DAP's central executive committee (CEC). He came in third after the party delegates poll, with 1,625 votes. 
DAP's national deputy chairman Gobind Singh Deo and Penang chief minister Chow Kon Yeow led the delegates' votes for a position on the CEC, with 1,782 and 1,641 votes respectively. 
With 1,311 votes, Mr Lim Guan Eng was also guaranteed a spot in the CEC and assumed the post of national chairman. Mr Lim Kit Siang was appointed party mentor.
Posting on social media after assuming the secretary-general post, Mr Loke said his leadership approach would focus on inclusivity and consensus.
Noting that the most important assets in the party was its young members' talent and idealism, the new secretary-general also promised to continue the party tradition of offering as many opportunities possible for young party members to maximise their leadership talents, including standing for election. 
With signs of opposition disunity, setbacks in recent state elections as well as calls for a general election to be held later this year, the new DAP core team will need to hit the ground running. 
Here's what analysts are saying about how the party would look like with Mr Loke at the helm and what it would need to do heading into the next national polls.
HOW WILL DAP LOOK LIKE UNDER ANTHONY LOKE?
Dr Oh Ei Sun, a senior fellow at the Singapore Institute of International Affairs noted that both Mr Loke and Mr Lim Guan Eng had extensive administrative experience.
"Lim Guan Eng is viewed by many as overly combative in his political posture. Loke, though also quite proactive in disclosing scandals and countering other political attacks, is perceived as a steadier pair of hands for the party," Dr Oh said. 
Professor Ahmad Fauzi Abdul Hamid, a political scientist at Universiti Sains Malaysia (USM) said that Mr Loke has a good command of Bahasa Melayu and this would help improve DAP's outreach to non-Chinese voters. 
"Many political commentators have been saying that the older generation of politicians should consider bowing out. DAP has shown the way, by giving leadership to those born in the 1970s and 1980s," he said.
He added that a party leader in the 40s would make DAP more relatable to new and younger voters.
"Loke has shown he is his own man and does not need to be in Lim Guan Eng's shadow. But this will take time for everyone to adjust," he said.
INFLUENCE OF FORMER LEADERS
The Lims have not entirely exited DAP's top echelons. It is noteworthy that Mr Lim Guan Eng will continue to serve in the CEC, while Mr Lim Kit Siang is the party mentor.
One issue that will not die down even after the change in top leadership is the internal struggle over DAP's ideology, said analysts.
"DAP has long been embroiled in an internal ideological battle, between those who stress more on fighting for equality for the minorities, and those who would like to dampen this traditional sort of struggle in favour of reaching out to the Malay majority," Dr Oh pointed out. 
This internal struggle, he added, would continue beyond the stepping down of Mr Lim Guan Eng. 
Prof Ahmad Fauzi said considering the dominance of Mr Lim Kit Siang and Mr Lim Guan Eng in the party over the last three to four decades, their influence would not evaporate overnight.
"There will always be a high degree of respect for both Lims, for steering the party even at times when UMNO (United Malays National Organisation) was heavily dominant in national politics and their election support was confined to just the ethnic Chinese community," he said.
"I just hope Lim Kit Siang does not do a 'Mahathir' (and return to politics after retiring). See how Dr Mahathir Mohamad's second tenure turned out", he said, referring to how the former prime minister had returned to lead PH to victory in 2018 only for the coalition to collapse after less than two years in power.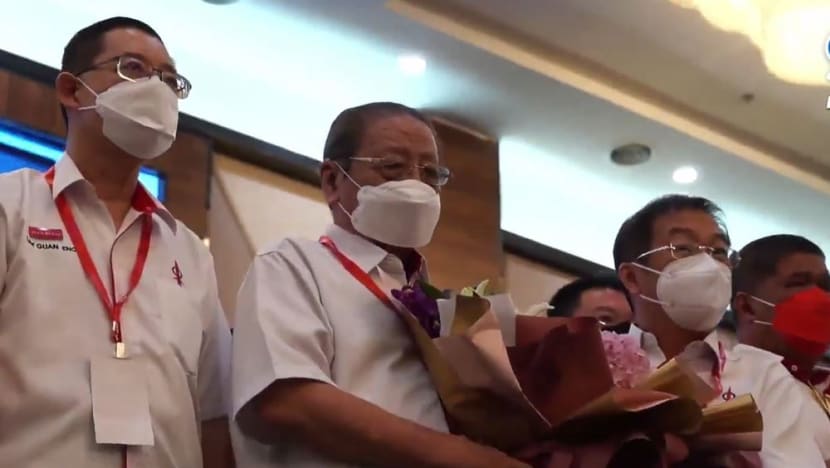 WHAT DAP NEEDS TO DO HEADING INTO GENERAL ELECTION
Currently, DAP holds 42 seats out of 222 in the Lower House, the most among all political parties. What will it need to do to match this in the next general election, which is believed to be fast approaching?
Prof Ahmad Fauzi of USM said: "Going into the 15th General Election, it is important for DAP to convince Malaysians that PH will make a positive change for the country, especially after COVID-19." 
He noted that along with its hitherto success in attracting Chinese and urban voters, DAP has also made inroads in broadening its reach to other groups of voters, including the Malay majority. 
"But for change and impact to happen, this will take time, perhaps one or two generations."
"After all, no one would have believed 40 years ago that DAP would one day be a part of the federal government, but this did happen," he said. 
Dr Oh added that it was vital for DAP to first resolve its internal ideological struggle of fighting for minority rights versus reaching out to more Malay voters. 
"It needs to resolve this ideological civil war as soon as possible, or risk alienating its traditional supporters while still being futile in reaching out to the Malays."
He added that a lot of DAP's support was from non-Malays who supported it because they felt DAP was fighting for them.
"You need to have a more determined stand. If you are truly about reaching out to Malays, you really need to rebrand your party, you need to slug it out with other Malay parties," Dr Oh said.