KUALA LUMPUR: Fans of durian can expect to pay more as erratic weather has caused a slowdown in the production of the king of fruits, according to industry players in Malaysia.
They said the production of the fruit has reduced by about 70 to 80 per cent this time.    
Durian consultant Lim Chin Kee said that with an ever-increasing demand amid low supply, prices are expected to increase by at least 20 to 30 per cent in the coming season.   
"Prices are expected to be higher than usual, mainly due to the weather," he told CNA.  
Mr Lim, who owns a farm in Raub, Pahang, said durian trees need a minimum of 14 days of dry weather for their flowers to start blooming.  
With incessant rain, there would be vegetative growth but no flowering on the trees, he said.
"The new leaves will cause the abortion of flowers. It has been raining too much," he said, adding that production of fruits has reduced by 70 per cent compared to last year.   
There is also a high demand for the fruit from China, Mr Lim said, and it only makes sense that durians are sent to a market that gives a better price.
China is Malaysia's main destination for exported durians, followed by Singapore and Hong Kong.  Other reasons contributing to the higher durian prices are the steep increase in the fertiliser costs and the recent devastating floods, according to Mr Lim. 
Durian farmers are selling Musang King to middlemen at RM60 (US$13.70) to RM70 per kilogram, whereas last year it was about RM45 per kilogram, he said.
The Black Thorn variety, meanwhile, costs about RM80 per kilogram this year, up from RM70 per kilogram last year, he added.  
According to Malaysia's Department of Statistics, the per capita consumption of durian by Malaysians was 11.1kg in 2020.
The current weather patterns have not only affected planters of durians, but also growers of other fruits, said Pahang Fruit Farmers Association president Melissa Yap.   
"It is affecting everyone, but it is something we can't control," she said, adding that there were also reports of insects affecting the durian trees.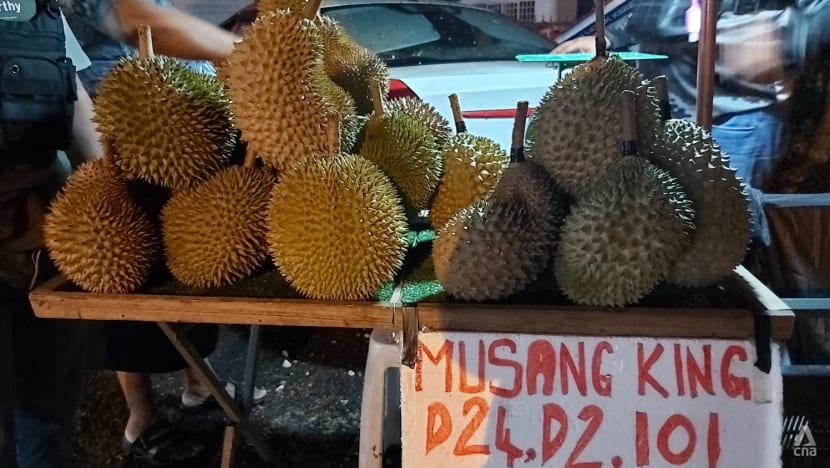 DURIAN SEASON DELAYED TO OCTOBER: ASSOCIATION PRESIDENT
Mr Mohd Ali Hanafiah, an officer from the Raub Department of Agriculture (DOA), said a smaller harvest is expected in the coming months due to the unpredictable weather.
"If the weather in May is good, we could get a harvest in November. For now, it is hard to estimate. The weather has been a challenge for the farmers," he said, adding that it takes about 150 days from flowering to the ripening of the fruit.  
Raub, a town in Pahang, is one of the main areas for the production of durian in Malaysia.
Malaysian Durian Exporters Association president Sam Tan told CNA that the typical durian season around June and July would be delayed because of the weather.
He estimated a decrease of almost 80 per cent in production this season.
"It usually starts to get hot in January but this year, it has always been raining. 
"The season will be delayed to October and prices are expected to go down then. There will still be durian in June, but little compared to usual," he said.    
He said that prices will be about 30 per cent higher than usual, with the IOI variety costing about RM 30 per kilogram, compared to about RM22 last year.
Mr Tan predicted that the costs of durian will go down in a few years, as many people had started to grow durian in the past several years.
"There will be a huge supply in the coming years as the newly planted trees will be able to produce fruit," he said.