Anwar Ibrahim says foreign minister should be blamed for mishandling of Malaysia PM's trip to UAE
KUALA LUMPUR:  Foreign Minister Saifuddin Abdullah should bear the responsibility for the mishandling of Prime Minister Ismail Sabri Yaakob's recent visit to the United Arab Emirates (UAE), said opposition leader Anwar Ibrahim on Thursday (Apr 14).
In a video statement on Facebook, Mr Anwar said that only Mr Saifuddin should be held accountable for the disarray and not the ambassador or any lower-level officials.
"In my experience as a minister for many years in previous governments, we have never heard of a prime minister's official visit not being received by the host countries," said Mr Anwar who is also chairman of the Pakatan Harapan (PH) and president of Parti Keadilan Rakyat (PKR).
He said Malaysia has never been humiliated in such a manner due to the negligence and tardiness in the way the visit was handled. He also urged the foreign minister to issue a statement about what transpired.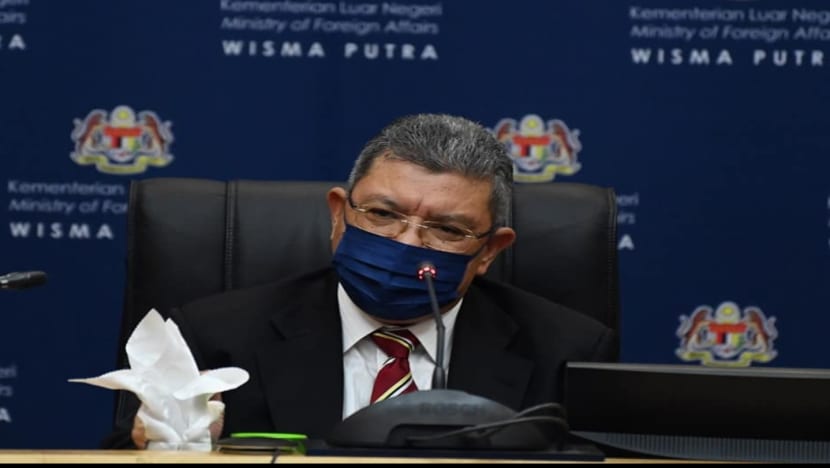 On Monday, Bernama reported the Malaysian foreign ministry or Wisma Putra as saying that failures in coordination had resulted in the prime minister being forced to wait for passport and immigration clearance in the arrival hall at Dubai International Airport.
It also reported that there was no security coverage or motorcade for the prime minister when he arrived in Dubai on Mar 29.
The prime minister and his entourage were visiting the UAE from Mar 29 to Mar 31, where he attended the closing ceremony of the Malaysia Pavilion at the Dubai Expo, as well as an appreciation ceremony for the officers and staff of the pavilion.
Following the incident, Wisma Putra had recalled Malaysia's ambassador to the UAE and its consul-general in Dubai.
According to Wisma Putra, the two diplomats did not inform the foreign ministry about the World Government Summit during the Dubai Expo. Otherwise, arrangements could have been made for the prime minister to deliver a speech there.
MATTER SHOULD BE HANDLED PRUDENTLY: FORMER FOREIGN MINISTER 
Weighing in on the issue, former foreign minister Syed Hamid Albar said that the move to recall the two diplomats needed to be resolved prudently and internally.
He said politicisation of the issue by any party would not only affect the image of the ministry and the government, but also Malaysia's reputation at the international level.
 "The practice of recalling diplomats due to a huge flaw during an official visit is normal; other countries also recall their ambassadors within 24 hours, so it is not something strange to Malaysia," Mr Syed Hamid was quoted as saying by Bernama.
"But in this case, I know I cannot speak on behalf of the Foreign Minister or the Prime Minister's Office. However, for me, it should have been handled better," he added.