Don't betray Barisan Nasional because you were not picked for Malaysia GE15: Ahmad Zahid tells politicians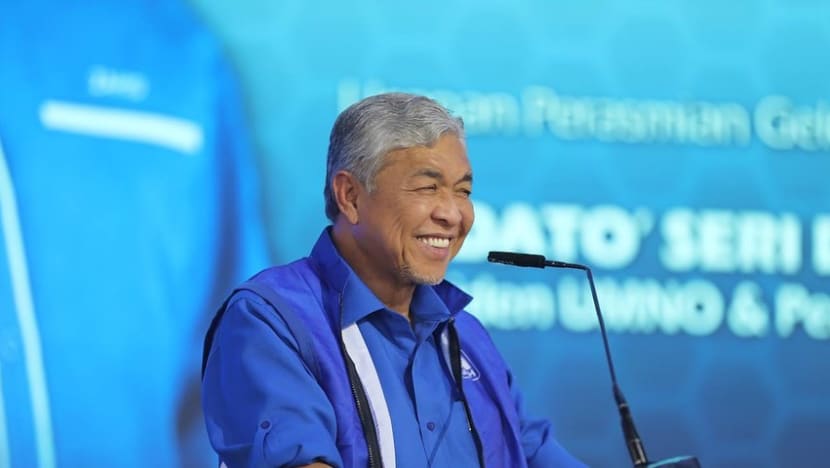 KUALA LUMPUR: Barisan Nasional (BN) chairman Ahmad Zahid Hamidi has warned former Members of Parliament (MPs) who have not been chosen as candidates for the upcoming 15th General Election (GE15) against betraying the coalition.
This came after several senior figures were dropped as the coalition unveiled its candidates in the peninsula on Tuesday (Nov 1).
In a Facebook post on Wednesday, Ahmad Zahid, who is also the president of the United Malays National Organisation (UMNO), said: "Don't even think about betraying the party directly or indirectly."
"If this happens, it means that they are ungrateful because all this while, they have been … occupying positions for a long time thanks to UMNO and BN party tickets."
In what may be a reference to caretaker federal territories minister Shahidan Kassim, Ahmad Zahid said: "Don't even try to close the operational rooms (and) give statements that tarnish the reputation of their own party."
"They need to realise that it only reveals the truth about their attitude towards the party and citizens need to evaluate such political personalities for themselves," the BN chairman added.
On Monday, Mr Shahidan wrote on Facebook that all the BN operational rooms in his Arau constituency have been closed and that all the UMNO and BN flags have been lowered. 
"Tonight is the saddest night … First time in history," said Mr Shahidan.  
According to Free Malaysia Today, Mr Shahidan plans to defend his Arau seat despite being dropped by BN, adding that he will choose a party that is supportive of Muafakat Nasional, the pact between Parti Islam Se-Malaysia (PAS) and UMNO.
Ahmad Zahid also wrote in his Wednesday Facebook post that several MPs who have been in politics for a long time were dropped to make way for new faces and to secure youth engagement. 
At least four caretaker ministers in Mr Ismail Sabri Yaakob's Cabinet were among those who have been dropped from the GE15 candidates list, including Mr Shahidan and caretaker communications and multimedia minister and Ketereh MP Annuar Musa. 
Earlier, Malaysian media reports had cited sources as saying that both Mr Shahidan and Mr Annuar were sceptical of Ahmad Zahid's leadership.
Malaysian Indian Congress (MIC) leaders were not present at the Tuesday candidate unveiling event. Local media reported that the BN component party will hold an emergency meeting to discuss the party's future amid a supposed disagreement with UMNO over the number of seats allocated.
MIC TO REMAIN WITH BN
On Wednesday, MIC leaders said that they would remain with BN in the upcoming GE15.
According to the New Straits Times, MIC president SA Vigneswaran said the party was satisfied with the seats offered and given to them by BN. 
He added the party also welcomed the coalition's decision to field four candidates from parties under the "Friends of BN" banner in GE15. 
BN had allocated four seats to three other Indian-based organisations that had applied to join BN, but whose membership was strongly opposed by MIC. 
An emergency meeting was held on Wednesday morning to resolve "family matters" within MIC. 
"It's just a family thing. Every political party has its issues. We are just resolving (the issues) in the meeting today," Mr Vigneswaran was quoted as saying by the New Straits Times at MIC's party headquarters.
More than 21 million people will cast their ballots in Malaysia's GE15 to elect 222 new members of the Lower House of parliament. 
The Election Commission has fixed the polling day on Nov 19 and nomination on Nov 5.