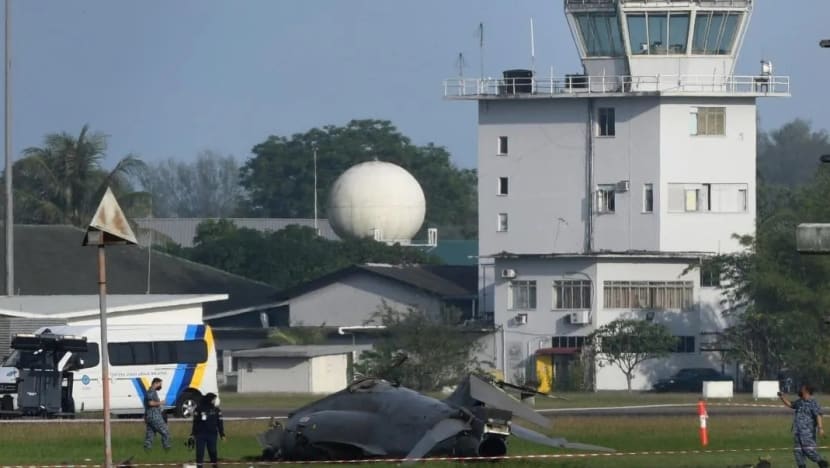 BUTTERWORTH: The Malaysian air force has pledged to conduct a thorough probe after a fighter jet crashed on Tuesday (Nov 16), killing one pilot and injuring another.
The incident involved a Hawk 108 plane at the Butterworth Royal Malaysian Air Force (RMAF) base in Penang. 
RMAF deputy chief Mohd Asghar Khan Goriman Khan said early on Wednesday morning the probe will be conducted immediately.
"We will conduct a detailed investigation but other than that, I am unable to comment," he told reporters at Seberang Jaya Hospital, where the injured pilot was being treated.
He declined to comment on the condition of the injured pilot.
The aircraft - flown by Major Mohd Fareez Omar and Captain Mohamad Affendi Bustamy - crashed at around 10pm during night flight training.
According to an RMAF statement, Mohamad Affendi was killed in the crash while Mohd Fareez was injured but in a stable condition.
"Both pilots were married and their families have been informed of the incident and RMAF would ensure the welfare of victims' families would be given the due attention," the statement said.
"All parties should refrain from spreading any unverified news or speculations. RMAF will be setting up an investigation board on the incident."
Prime Minister Ismail Sabri Yaakob expressed his condolences to the family members of Mohammad Affendi in a Facebook post. 
Senior Defence Minister Hishammuddin Hussein also conveyed his "deepest sympathies" to the families of both pilots and said he was "very sad and disappointed" to hear about the incident. 
Source: AGENCIES//Bernama/jt(zl)