Malaysia election: King urges political parties and their supporters to be 'civil' during campaigning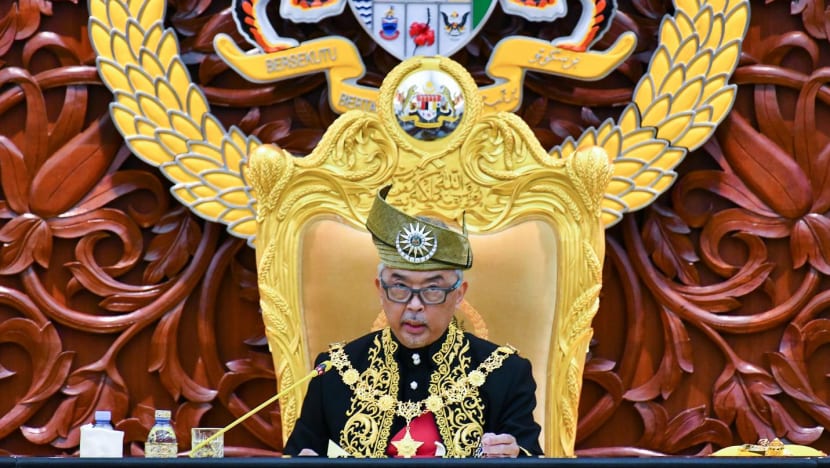 KUALA LUMPUR: Malaysia's King Al-Sultan Abdullah Ri'ayatuddin Al-Mustafa Billah Shah has told candidates standing for the upcoming general elections and party supporters to be "civil" during the campaigning period which begins on nomination day. 
In a statement on Thursday (Oct 20), Comptroller of the Royal Household of Istana Negara, Ahmad Fadil Shamsuddin, said that the ruler advised candidates to avoid provocation and to adhere to the laws and rules stipulated by the authorities, particularly the Election Commission (EC) and police.
"The King has urged candidates and supporters of political parties to take a civil approach during the campaigning period, starting from the nomination day on Nov 5," he said. 
"The King would like to remind that in the heat of campaigning, candidates and supporters should mind their manners and remember their moral values. Abstain from slandering, provocation, insults and attacks that demean and ridicule anyone during campaigning," added Mr Ahmad Fadil.
The king also said that such behaviour could result in chaos and turmoil. 
"In the king's opinion, cooperation among all quarters is important, along with respecting and upholding the judiciary, parliamentary democracy and constitutional monarchy by making political cooperation between parties more harmonious," said Mr Ahmad Fadil.
He added that the king also urged all Malaysians to pray that the elections went smoothly and safely while the people and country were blessed and shielded from any disasters. 
The EC had earlier announced that Malaysia would hold its 15th General Election (GE15) on Nov 19.
Nomination Day will be on Nov 5, while early voting is set to be held on Nov 15, said EC chairman Abdul Ghani Salleh.
More than 21 million people will be eligible to cast their votes during the elections which are estimated to cost RM1.01 billion (US$213 million).
ISMAIL SABRI KEEN TO DEFEND BERA SEAT 
Caretaker prime minister Ismail Sabri Yaakob, meanwhile, said that he was keen to contest the Bera parliamentary seat that he has held since 2004.   
"I want to contest but let's wait for the official announcement," he was quoted as saying by New Straits Times. 
Mr Ismail Sabri who is UMNO vice-president also said that the 14-day campaign period was sufficient and that they would adhere to the time given by the EC. 
"If it is too long a period, people will complain and campaign workers will be tired.
"Political parties must plan their campaigns to optimise the delivery of their electoral messages within the period," he said.
EC SHOULD FIX POLLING WEAKNESSES: MAHATHIR 
In a statement on Oct 20, chairman of Parti Pejuang Tanah Air (Pejuang), Dr Mahathir Mohamad urged the EC to look into weaknesses in the way elections are conducted, including for allowing the use of handphones in polling centres. 
He said the use of handphones during ballot casting could negate secrecy of the votes and facilitate bribery and fraud.    
"Parties could use this information to bribe. The voter could show through their phones that they have voted for a certain party and the party would give them money," he said, adding that there were many other weaknesses that the EC had to fix. 
He, however, claimed that the EC would not want to listen to the complaint about these weaknesses. 
"If it isn't fixed, bribery and fraud will occur during the elections," he said. 
The Malaysian parliament was dissolved on Oct 10, after the king gave his consent to Prime Minister Ismail Sabri Yaakob's request for its dissolution in order to pave the way for national elections to be held before the end of the year.
The states of Perak, Perlis and Pahang have also dissolved their legislatures and state polls will be held concurrently with the national elections.
Six other states – three under the Pakatan Harapan (PH) coalition and the other three led by Parti Islam Se-Malaysia (PAS) – decided not to dissolve their assemblies for now.
Following Mr Ismail Sabri's announcement, King Al-Sultan Abdullah said that he had no choice but to consent to the dissolution of the parliament and that he was disappointed with the political developments in the country.
There are 222 seats in the Lower House.
In GE14, PH won 113 seats. At that time, its component parties were Parti Keadilan Rakyat, Democratic Action Party, Parti Amanah Negara and Bersatu.
Barisan Nasional won 79 seats while PAS won 18 seats. Twelve seats were won by other parties and independent candidates.
The PH administration lasted for 22 months before it fell apart due to infighting.