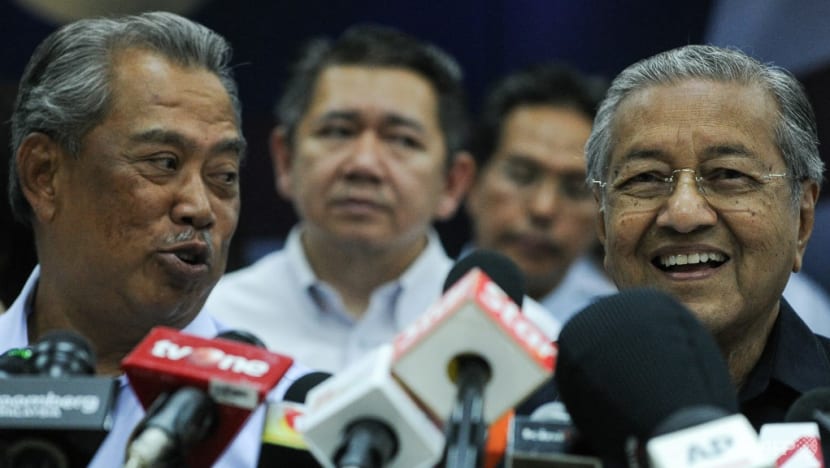 KUALA LUMPUR: Former Malaysian prime minister Dr Mahathir Mohamad said he is ready to work with Perikatan Nasional (PN) chairman Muhyiddin Yassin provided the two are able to reach a consensus on mutual goals.
"We want to work together, but the end goals must be set out," he was quoted as saying in a report by news portal Malaysia Now on Thursday (Jun 1). 
Dr Mahathir reportedly said that a main goal should be efforts to champion the Malay cause. 
"We have split into many parties and we have lost power. When we lose power, we cannot correct the circumstances which are detrimental to the Malays … This is why we need to unite," he told Malaysia Now. 
Dr Mahathir and Muhyiddin formed the Parti Pribumi Bersatu Malaysia (Bersatu) in 2016. Dr Mahathir was appointed chairman while Muhyiddin became president of the party. 
Bersatu then worked with the Pakatan Harapan (PH) coalition in the 14th General Election in 2018 and ousted Barisan Nasional from government. 
However, Dr Mahathir was removed from Bersatu following a political manoeuvre known as the Sheraton Move in 2020 when a number of Members of Parliament (MPs) defected from the ruling PH coalition. 
This triggered the collapse of the short-lived PH government led by Dr Mahathir, paving the way for Muhyiddin to take up the mantle as Malaysia's next prime minister. 
On Mar 27 this year, Dr Mahathir claimed in a Facebook post that Malays in the country "lost everything" after he resigned from top office in February 2020.
According to the Malay Mail, Bersatu information chief Razali Idris said on May 8 that the party is supportive of a "Malay Proclamation" written by Dr Mahathir. 
The 12-point document purportedly aims to protect the interests of and unite the Malay community to "restore the political power of Malays".
According to Malaysia Now, Dr Mahathir said that another goal of working with Muhyiddin was to reject those involved in corruption or criminal misconduct. 
The 97-year-old pointed out that Malays were no longer supporting the United Malays National Organisation (UMNO) as they had lost confidence in the party's struggle for their cause, according to Malaysia Now.
He said that UMNO's poor performance at the 15th General Election last year - when the once dominant party won just 26 federal seats throughout the country - was proof that it was no longer the party of choice for the Malays. 
"This is why we need to unite," he reiterated. 
"But who is in favour of unity? Not those who are involved in corruption or who have been sentenced to prison and so on. 
"The Malay voters are thinking about the problems they face. They want someone who cares about their plight and who can do something to fix their issues," he was quoted as saying by Malaysia Now. 
Separately, Dr Mahathir reportedly said that it would be difficult to work with current prime minister Anwar Ibrahim as they possessed different struggles. 
The former Langkawi MP said that Mr Anwar did not appear serious about fighting for the rights of the Malays. 
"Even when it comes to religion, it seems as if his views are not accepted by the Malays," he was quoted as saying by MalaysiaNow. 
"This is why I cannot work with him. I am ready to work with people who understand the problems faced by the Malays." 
Earlier in May, the two-time former prime minister filed a RM150 million (US$33.8 million) defamation lawsuit against Mr Anwar after the latter allegedly accused him of enriching himself while in power and calling him a racist. 
Dr Mahathir said that Mr Anwar's claims during his speech at a Parti Keadilan Rakyat (PKR) congress in March were untrue and intended to damage his reputation and image. 
Dr Mahathir, who led the Gerakan Tanah Air (GTA) coalition in GE15, failed to defend his Langkawi seat - his first electoral defeat in 53 years. He lost his deposit after finishing fourth in a five-cornered fight, which was won by PN's Mohd Suhaimi Abdullah.