Former Malaysian PM Muhyiddin Yassin charged with abuse of power, money laundering
Muhyiddin Yassin had been under investigation over the alleged misuse of funds from a COVID-19 stimulus initiative that was launched when he was prime minister.
KUALA LUMPUR: Former Malaysian prime minister Muhyiddin Yassin was on Friday (Mar 10) charged with abuse of power and money laundering, a day after authorities questioned him for alleged misuse of funds from a COVID-19 stimulus initiative.
At a Kuala Lumpur sessions court, the prosecution alleged that Muhyiddin abused his position as prime minister to receive bribes totalling RM232.5 million (US$51.4 million) for his political party Bersatu.
He was also charged with two counts of money laundering amounting to RM195 million.
Under the four abuse of power charges, Muhyiddin was accused of using his position as the then prime minister and Bersatu president to obtain RM232.5 million from three companies and an individual, between Mar 1, 2020, and Aug 20, 2021.
Under the two money laundering charges, Muhyiddin was accused of receiving a total of RM195 million of proceeds from illegal activities from Bukhary Equity Sdn Bhd which were deposited into Bersatu's bank account.
The offences were allegedly committed between Feb 25, 2021 and Jul 8, 2022.
The abuse of power charges carry sentences of up to 20 years each and a fine of no less than five times the value of the gratification involved, or RM10,000 whichever is higher.
The money laundering charges carry a penalty of up to 15 years in jail and a fine of not less than five times the value of the proceeds of any illegal transfers, or RM5 million, whichever is higher.
The 76-year-old pleaded not guilty. Muhyiddin, who was accompanied by his wife and party supporters, was granted bail of RM2 million and had to surrender his passport to the court.
Muhyiddin, who is Bersatu president and chairman of the Perikatan Nasional (PN) coalition, was detained by the Malaysian Anti-Corruption Commission (MACC) on Thursday after he was summoned to give his statement in connection to the Jana Wibawa programme. 
The programme was introduced in November 2020, when Muhyiddin was prime minister, as a COVID-19 stimulus package to help Bumiputera contractors.
The MACC had been investigating allegations that the chosen contractors for the aid programme had deposited RM300 million into Bersatu's account.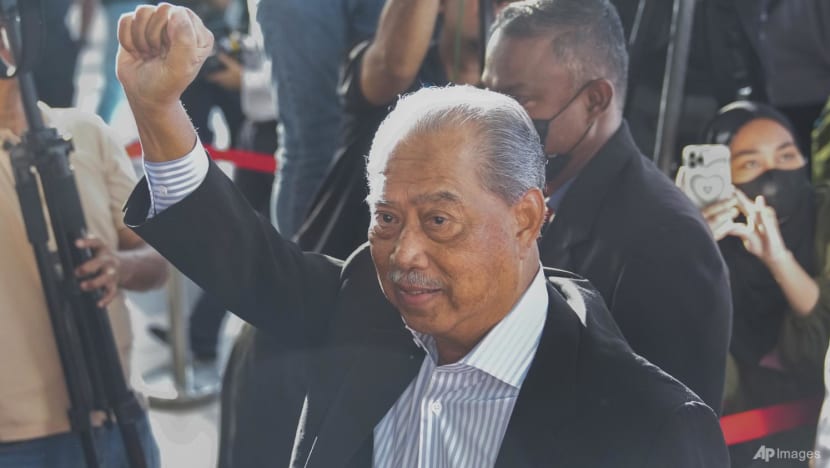 Two members of Bersatu have claimed trial in connection to the Jana Wibawa case - Tasek Gelugor Member of Parliament Wan Saiful Wan Jan, as well as businessman and Segambut Bersatu division deputy chief Adam Radlan Adam Muhammad.
Several bank accounts belonging to Bersatu are currently frozen by the nation's anti-graft agency.
Last month, Malaysia's International Trade and Industry Minister Tengku Zafrul Tengku Abdul Aziz was summoned by the MACC to help with investigations into the Jana Wibawa programme.
Calls for an official investigation into the stimulus spending grew due to perceptions that PN had run a well-funded election campaign leading up to the 15th General Elections on Nov 19 last year.
Malaysian Prime Minister Anwar Ibrahim, who came to power in November, had ordered a review of government projects worth billions of dollars approved by Muhyiddin, including COVID-19 relief programmes, alleging they did not follow proper procedures.
"I'M INNOCENT UNTIL PROVEN GUILTY"
In a press conference after being charged on Friday, Muhyiddin said that he accepted the charges calmly.
"In the political world, there are many enemies who want to destroy me, my family and my party. More so when I am facing a greedy political enemy.
"For me, it doesn't matter. This is the path and struggle that I have chosen. I did not choose to collude or bow to those who are wrong. I chose to stand upright on the principles that I hold. This is the price that I have to pay," said Muhyiddin.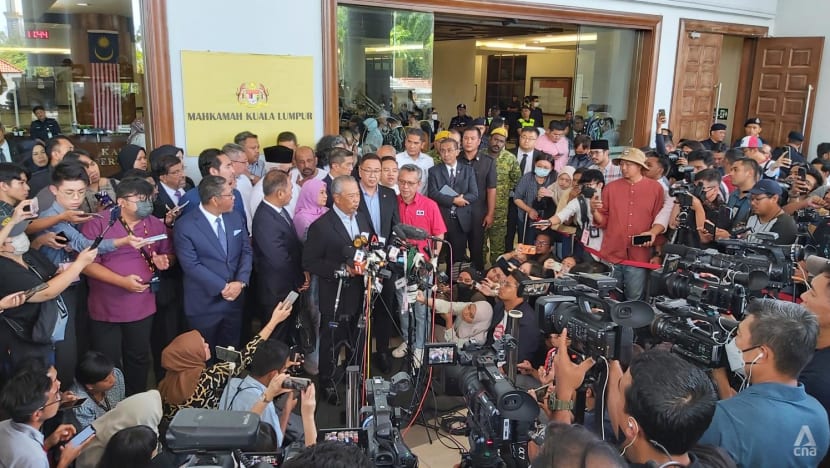 He also stressed that the charges were trumped up, with the enforcement agencies being used by the authorities to achieve their political goals. 
He said that in his 50 years of being involved in politics, he never did anything wrong and always complied with the laws.
"I have been involved in fighting corruption and abuse of power. It's what my party fights against too. So, what happened now is political persecution. We go to court and let the court decide. I'm innocent until proven guilty," he said.  
Muhyiddin was Malaysia's eighth prime minister from March 2020 to August 2021, assuming the top position following a political manoeuvre known as the "Sheraton Move" in Feb 2020 that saw Bersatu leave Pakatan Harapan (PH).