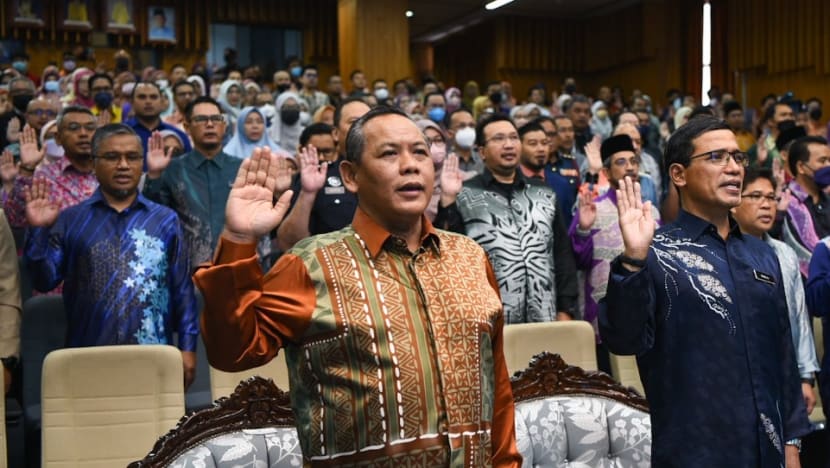 SEREMBAN, Negeri Sembilan: Chief Minister Aminuddin Harun said on Sunday (Jan 15) that the legislative assembly of Negeri Sembilan is expected to be dissolved in May to pave the way for state polls.
The Parti Keadilan Rakyat (PKR) vice-president said this was based on unofficial discussions involving the chief ministers of the six states who will be dissolving their State Legislative Assemblies. The talks were held before the recent Conference of Rulers. 
"Basically, we agreed to dissolve in May … It means the state polls will be in June or July. We do not have much time, only a few more months left. So, we need to continue to prepare to ensure our victory.
"After the polls, there will be various assumptions and views as to whether we are with Barisan Nasional (BN) or not … that we will decide soon. Hopefully, there will be a swift decision so as to draw up the joint strategy with BN," he told reporters after a Negeri Sembilan PKR Convention. 
The six states that will be holding their state polls this year are Selangor, Penang, Negeri Sembilan, Kedah, Kelantan and Terengganu.
PKR deputy president Rafizi Ramli said that as his party's national election director, he would ensure that the party would be able to defend Negeri Sembilan in the state election.
Mr Rafizi also hoped that the political cooperation with BN could be decided earlier so that the party could prepare for the next election.
"It will be one of the platforms to test the cooperation with the United Malays National Organisation (UMNO) which I think if successfully negotiated, will be a model to strengthen cooperation at the federal level," he said.
Asked if there were difficulties in the cooperation between PH and BN, Mr Rafizi said the two state leaders, namely Mr Aminuddin and Mr Mohamad Hasan, were individuals who were easy to talk to and loyal to the party.
Selangor, Penang and Negeri Sembilan are presently governed by Pakatan Harapan (PH). Meanwhile, the governments of Kedah, Kelantan, and Terengganu are led by Parti Islam Se-Malaysia (PAS) which is a component party of the Perikatan Nasional (PN) coalition. 
PH and PAS previously decided not to dissolve the six state assemblies during the 15th General Election (GE15) on Nov 19 which would have allowed for simultaneous state and parliamentary elections to take place. 
According to the Malay Mail, the first of the six state assemblies set to expire is Kelantan on Jun 9. This is then followed by Penang on Aug 2, Selangor on Aug 26, Terengganu on Sep 1, Negeri Sembilan on Sep 2, and Kedah on Sep 4.
Free Malaysia Today reported in December that Penang Chief Minister Chow Kon Yeow said that the state election will likely be held in May or June this year after a discussion with the PH leadership. 
Similarly, local media reported Parti Amanah Negara (Amanah) Mobilisation Bureau Director Sany Hamzan as saying that the Selangor state assembly is expected to be dissolved in May and that polls would be held a month later. Amanah is a component party of PH. 
The six state elections are expected to cost Malaysia's Election Commission RM450 million (US$104 million) if held at the same time and an additional RM100 million if held separately, according to a Free Malaysia Today report.