As movement curbs persist, Malaysian fishermen and farmers grapple with lower demand and logistics issues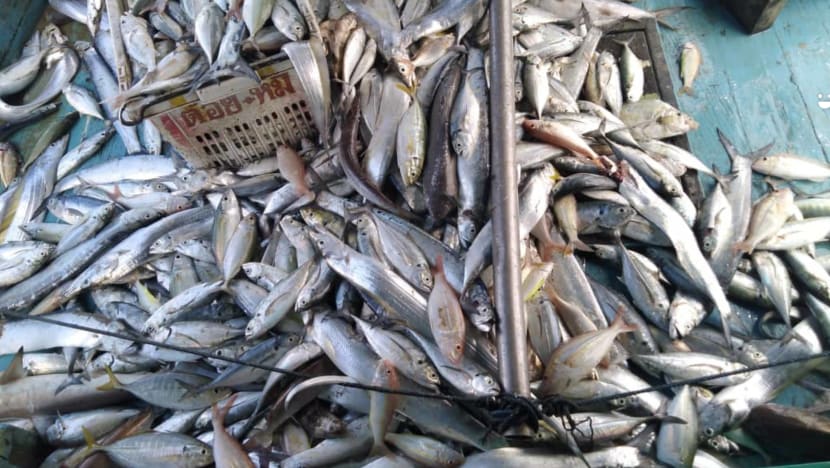 KUALA LUMPUR: It has become less easy to make a living catching fish, said Rosmadi Ramli, 46, who has just returned from the sea late Thursday (Aug 5) evening with his son.
Having sailed for two days and one night, Mr Rosmadi's catch comprised many different types of fishes.
"What we net, we will try to sell at the market."
"The only problem is that these days, it's become much harder to sell our fish to outsiders because of movement restrictions," Mr Rosmadi, who lives in the fishing village of Setiu, Terengganu, said.
Previously, middlemen and dining establishments in the Klang Valley and other towns would come to make their picks and the fishermen could earn a decent income.
These days, the only place to sell is at the local market, leading to an oversupply and consequently, a drop in prices for their catch, hurting the income of the fishermen.
Elsewhere, the pandemic has also dealt a blow to vegetable growers, who have to grapple with lower demand as well as disruptions in logistics. 
Farmers in Cameron Highlands were earlier hit by movement curbs that prevented them from tending to their farms. Aside from that, they also have to deal with the occasional closures of the wholesale market in the Klang Valley, which is the main distribution centre for their produce.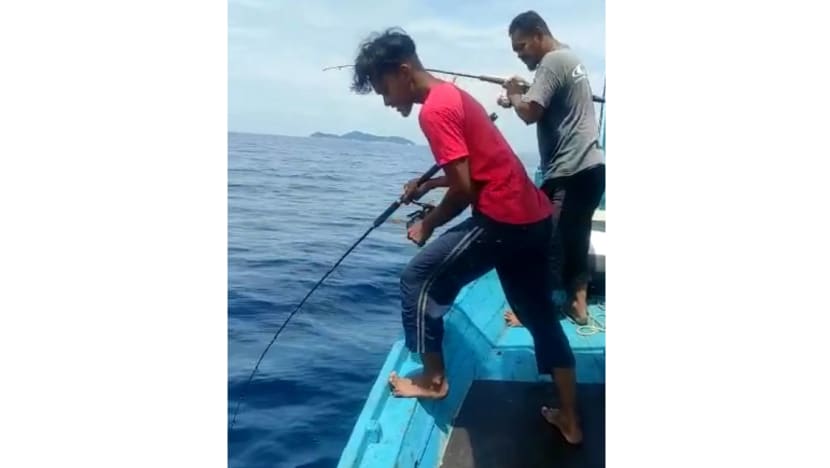 "OUR INCOME HAS DROPPED SUBSTANTIALLY"
Since Malaysia transitioned into the current National Recovery Plan (NRP) back in mid-June to chart the path towards reopening, a number of states have progressed to the second and third phases of the NRP. Vaccination rate, daily cases and hospital capacity are the thresholds for entering the next phase. 
Terengganu is now in the second phase, where restrictions such as a ban on interstate and inter-district movement still apply.
"Compared to before COVID-19 and even when there was the loose recovery MCO last year, our income has dropped substantially," Mr Rosmadi said. MCO refers to movement control order, the previous lockdown measures. 
While one kilogram of ikan kembung (chub mackerel), a staple for many fish-loving Malaysians, could sell for RM10 (US$2.36) or sometimes even slightly higher last time, the price has dropped to RM9 and even RM8 per kg if everyone pulled in a substantial catch, Mr Rosmadi added.
His wife, Zaitol Akmal, noted that the costs for heading out to sea still remained the same when the fish sales dropped. 
"The sea is unpredictable. Sometimes, good weather and season, your catch is good, but the price at the market is low now because we don't have enough buyers."
"You don't have the towkays (bosses) coming from Kuala Lumpur or Johor to buy. We also had purchasers from Singapore," Mdm Zaitol added.
Other businesses along the fisheries supply chain were also affected, such as Mr Wan Ahmad Khairuddin's company in Dungun that supplies fibreglass boats and maintenance products for fishing boats. 
Part of Dungun, where a fishermen's enclave is located, has been placed under enhanced MCO (EMCO) since Aug 1 due to a rise in cases. This means no fishermen could leave their residences to head out to catch fish. 
"Business has dropped tremendously, because my customers are mostly walk-ins and only buy (my products) when they need to head out to the sea."
"For them it's even worse, because their livelihood depends on what they can catch, and right now they can't even go out," Mr Wan Ahmad, who has been running his business for 11 years, said.
TWO WEEKS OF UNCOLLECTED PRODUCE
Farmers in the Cameron Highlands agricultural centre in Pahang also faced similar logistics disruptions in the last two months.
Two separate EMCOs in the months of June and July saw tonnes of vegetables rot unharvested in their farms. 
According to Chay Ee Mong, secretary for the Cameron Highlands Vegetable Growers Association, the first EMCO was the result of COVID-19 cases appearing among farm workers' hostels in Kampung Raja.
"The June lockdown resulted in farm workers and also farmers being ordered to remain at home, so no farming activities were permitted and transportation was also affected."
Kampung Raja is a major vegetable growing area in the Cameron Highlands. Mr Chay explained that roughly 60 per cent of the area's vegetable produce was affected by the lockdown, disrupting supply not only to domestic markets, but also to other places such as Singapore.
"There were discussions, and as COVID-19 hadn't spread to the community and the local health office was conducting mass swab tests for workers, it was decided that farming activities could resume about one week after the EMCO started," Mr Chay said.
Less-perishable produce such as chillies, tomatoes and Japanese cucumbers could be stored in cold rooms for transport later, and the farmers tried to do so. Still, this resulted in about 500-odd tonnes of vegetables being wasted every day for the first five days of the EMCO, he added.
Another Cameron Highlands area Tringkap, which has about 200 farming households, later underwent a similar lockdown, Mr Chay said.
Tringkap grows mostly leafy vegetables for export, he added. No farming and logistics activities could take place when it was closed for two weeks as the virus had spread into the community.
"Local farmers in Tringkap told us the lockdown cost them about 80 to 100 tonnes of wasted produce a day."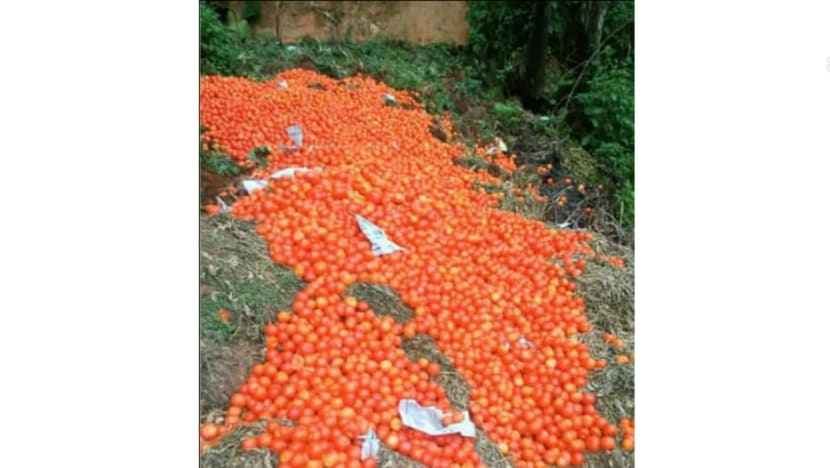 LOWER DEMAND AND DIVERSIFYING DISTRIBUTION CHANNELS
When there were occasional logistics disruptions, such as the closure of major wholesale centres for disinfection after COVID-19 cases were discovered, Mr Chay said farmers simply redirected their produce to other cities or just stored them in cold rooms for transport later.
"The thing is that last time, prices were higher because there was a lot of demand, you had banquets, weddings, dining-in.
"Now, it's still mostly takeaway, and there are no major events, so demand has dropped," he said. 
Agricultural inputs such as fertiliser as well as geotextiles to protect the landscape and plants have risen in price, Mr Chay said, as some items need to be imported and container shipping costs have also increased since last year.
Chong Teck Keong, chairman of the Kuala Lumpur Vegetable Wholesalers Association, said traditional distribution channels had been disrupted as a result of COVID-19 and the need to adapt.
"Yes, previously, farmers or middlemen would truck all their produce to the wholesale markets and from there to the retailers and then the customers."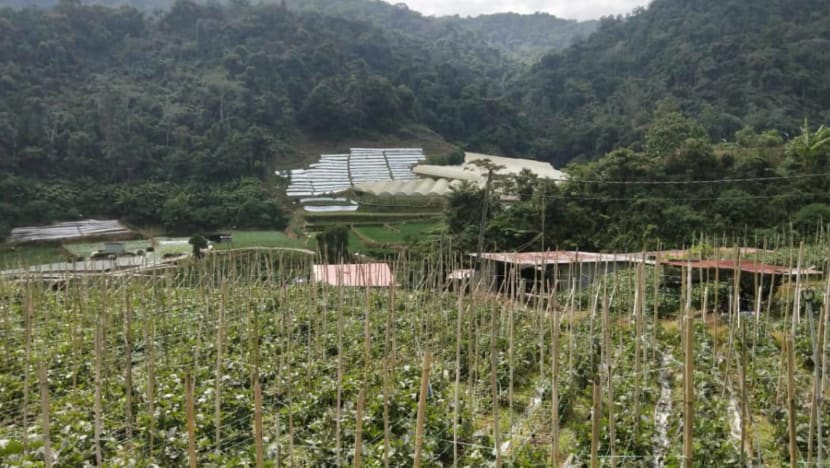 When major distribution centres such as the Selayang Wholesale Market were shut down for sanitisation, Mr Chong said the supply chains had worked out alternative points for collection.
"That's why people sometimes drive to Rawang or other places in the outer Klang Valley to pick up their produce from the suppliers."
"But with the disruptions in the usual logistics channel, now farmers market directly to the customers over the Internet, and even deliver directly to them," Mr Chong said.
Mr Chay said for the Cameron Highlands farmers, life goes on after suffering the losses since the pandemic. 
They have to put the losses behind them and focus on replanting and harvesting to ensure resumption of supply, he added. 
"We farmers have to depend on the land for a living, so there's no choice, we cannot just uproot ourselves and find another occupation," he said.