IN FOCUS: When lucrative overseas job offers turn into nightmare scams for these Malaysians
Some Malaysians took up seemingly irresistible job offers in countries like Cambodia and Thailand, but they soon realised that it was a scam as they were held captive. CNA speaks to the victims about their experiences and looks at what's being done to combat the problem.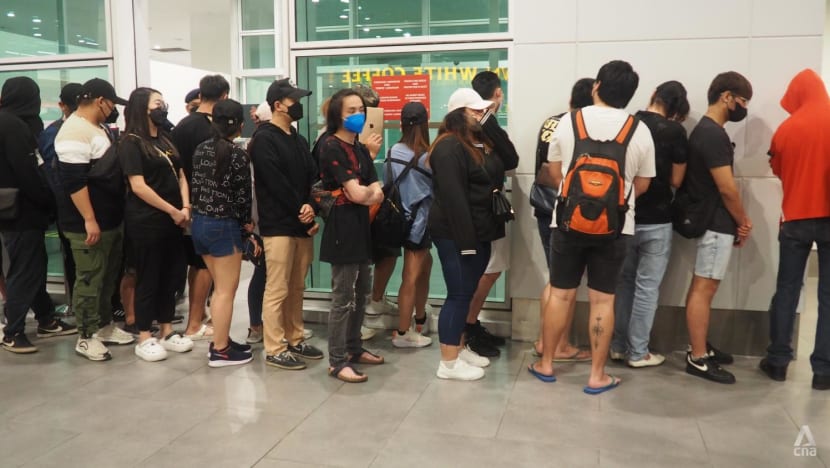 KUALA LUMPUR: When Wong Sim Huat (not his real name) saw an advertisement on Facebook about a job in Cambodia that promised a salary of up to RM15,000 (US$3,300) per month, he did not think twice about signing up.
At that time, Wong had been jobless for over a year as the COVID-19 pandemic caused him to lose his previous job as a shopkeeper in Kluang, Johor.
"It was very hard to look for a proper job at the time and the advertisement said I didn't need to take out a single cent to get to Cambodia," the 32-year-old told CNA.
Instead of taking a flight to Cambodia from Kuala Lumpur, Wong was told to go to the town of Sungai Golok in Kelantan which borders Thailand.
From Sungai Golok, he entered Thailand illegally via a boat. Later, he and six other Malaysians got into a vehicle that crossed into Cambodia illegally.
After a few days, they were brought to a place that resembled a big casino. In the same building, there were also offices on the higher floors. There were many others from Vietnam, China, Thailand as well as Malaysia at the facility.
As it turned out, this was not the high-paying job that Wong had applied for. They were held against their will and forced to scam people on the Internet.
"We were told to work until late at night. If we could not cheat at least one person every week, we would get beaten and tasered. I used to get tasered about three times a week," he told CNA.  
Anybody who wanted to be released had to pay a sum of RM50,000. 
Eventually, he managed to contact Malaysian Chinese Association's (MCA) Public Services and Complaints Department head Michael Chong via Whatsapp. Through arrangements made with the embassy and Cambodian authorities, Wong was eventually rescued without ransom.
All in all, he was in the hands of four syndicates for almost a month before he was rescued by the police and transferred to the immigration depot, where he was detained for about three months.
Wong is among the Malaysians who have fallen for "high-paying" jobs overseas that turned out to be scams. 
News about these scams started emerging in the middle of last year. The syndicates generally use social media platforms such as Facebook and Instagram to advertise high-paying jobs overseas.
Once the victims are lured overseas and held against their will at these scam compounds, they are then taught and forced to cheat people online. 
The types of scams include crypto romance scams, fraudulent online investments and phishing attacks, according to the Global Anti Scam Organisation (GASO).
The victims' travel documents and phones are usually seized by the syndicates. They are not allowed to leave the buildings or compounds and are forced to work for up to 15 hours a day. 
Those who do not play ball with the scammers would find themselves beaten, starved and sold to other syndicates, according to GASO, which is a non-profit organisation.
United Nations Special Rapporteur Vitit Muntarhorn said in a statement on Aug 26 that human trafficking victims who were duped into working for online scam companies in Cambodia were experiencing a living hell, often resulting in torture and even death.
"Countries are now waking up to the phenomenon and Cambodia needs to activate counter-measures more strongly, while welcoming international cooperation and support," he said.
Most of the cases in Cambodia have been reported in Sihanoukville, a city that has seen nearly 100 Chinese-owned casinos built in the past few years, transforming the face of the city. Cambodia has taken some steps to crack down on the scam operations.
Besides Cambodia, cases of Malaysian citizens being scammed in Myanmar, Thailand and Laos have also been reported.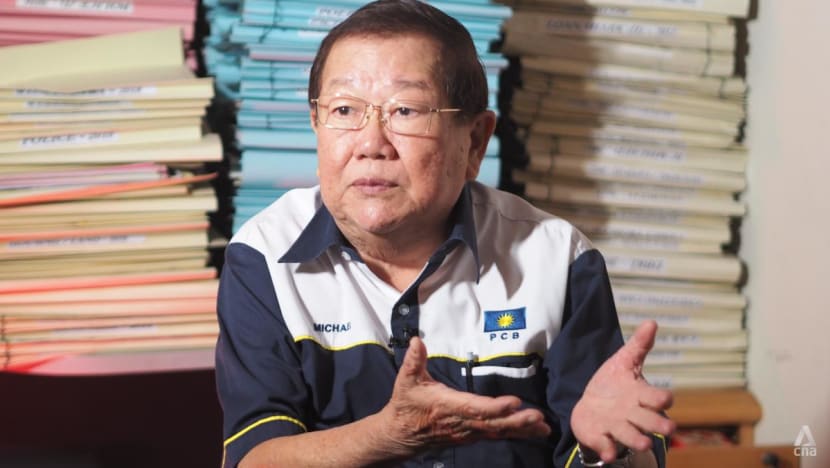 "MODERN SLAVERY" 
These scam job offers are a form of "modern slavery", said Mr Chong of MCA. 
He told CNA that the issue has attracted more attention recently as more countries try to bring their citizens back. 
According to media reports, nationals from China, Taiwan, Vietnam, Indonesia and Thailand have also been tricked into these scams. 
"I realised that something very serious was happening when there was a rise in the number of these cases," said Mr Chong, who has received about 150 reports of such cases since April this year.  
On his part, Mr Chong has been dealing with the Malaysian Foreign Ministry and the Malaysian police in attempts to rescue the victims.
Mr Patrick Ooi, president of the Penang Front Party, said he had been trying to help people duped by overseas job scams for a few years now. A majority of the cases involved those trafficked into Myanmar.
He said most of the victims faced financial problems and were attracted by the high wages for the advertised jobs, such as special assistants and human resources executives in Thailand.
Some were even convinced by their friends to go there, he told CNA.
Once in Thailand, they were brought to Mae Sot before being smuggled into the border town of Myawaddy in Myanmar.   
"Cases in Myanmar are difficult to handle because you have to deal with the army and money is involved, whereas in other countries you can still go through the government (and) embassies," he said.  
He said in some cases, the victims were brought to Kelantan first, where they stayed in a hotel and were paid RM200 every day for one month.
"The company would then say that the trainer was not able to go there and would then arrange for training in Thailand. From there, they would be brought to Myanmar," he said, adding that besides the Chinese masterminds, some Malaysians were also responsible for perpetrating the crimes.
Mr Ooi claimed that about 20 Chinese-based syndicates operated in an area called the KK Industrial Park in Myawaddy.
On Aug 18, the Malaysian police said in a statement that they have received 182 reports related to these scams since 2021. There were 238 victims involved.
Royal Malaysia Police secretary Noorsiah Mohd Saaduddin said they were working with the Ministry of Foreign Affairs, Aseanapol (ASEAN Chiefs of National Police) and Interpol (International Criminal Police Organisation) to bring home the stranded victims.
She said that on Aug 3, six individuals, including two Malaysian women, were arrested on suspicion of being involved with these syndicates. 
The suspects were investigated under the Anti-Trafficking in Persons and Anti-Smuggling of Migrant Act 2007.
CNA has reached out to the Malaysian police and Interpol for additional comments on the issue.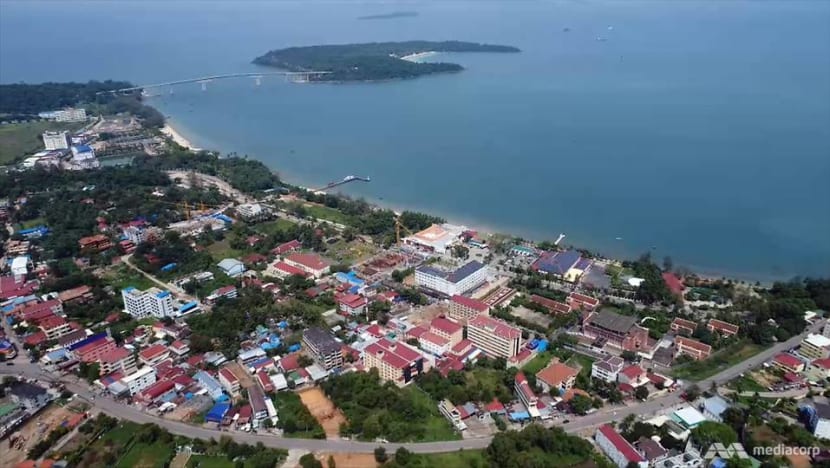 HIGH RANSOM FOR RELEASE
Not only did the victims not get the lucrative salaries they were promised, their families also had to fork out huge sums of money to secure their release. 
MCA's Mr Chong said some victims even paid up to US$20,000 to be freed from their captors.
In the cases handled by Mr Ooi, the ransom has gone up to roughly RM100,000 from RM20,000 last year.
A street food vendor, who only wanted to be known as Tan, said he was desperate for a job as his income was badly affected by the COVID-19 pandemic.     
As Malaysia was under the movement control order (MCO) at the time, the 26-year-old from Johor Bahru said he crossed into Thailand illegally for a job at a casino in July last year.
He was brought to Mae Sot, which borders Myanmar. From there he was brought to Myanmar where he was held in a building that had many offices.   
He said that there were about 80 to 90 other Malaysians there at the time.
His captors demanded that he scam people over the phone. He was not beaten for missing targets, but was forced to do exercises such as sit-ups and push-ups.
"I didn't want to scam anyone," he said, adding there were some Malaysians who had been there for two years but did not want to come back because of the money they earned from scamming others.
Tan was only released in Mae Sot after his family paid a RM50,000 ransom to his captors.
He spent one month in detention at the Thai immigration before the Thai police sent him to the Malaysian border in July this year. 
Depsite the money lost to the scam, Tan considered himself lucky compared to another Malaysian Goi Zhan Feng, 23, who was reported to have died in a hospital in Mae Sot after being allegedly abused by a human trafficking syndicate in Myanmar. 
The final year student at a teacher-training institute reportedly went to Bangkok for a holiday back in January but found himself being trafficked to Myanmar. 
"WE MUST ACT QUICKLY": CAMBODIA MINISTER
The Cambodian government has taken action against the syndicates following regional attention on the crimes.
According to the Khmer Times, Cambodia's Minister of Interior Sar Kheng said the growing number of human trafficking, labour trafficking and sex trafficking cases in the Preah Sihanouk province needed to be addressed urgently.
He said the authorities must adhere to three principles - they must rescue the victims, crack down on the crime sites and arrest the offenders.
"We must act quickly. Our kingdom's image and reputation are at stake," he was quoted as saying.
VOD, an independent Cambodian news portal, reported that the authorities have conducted a series of rescues and raids on scam compounds, removing dozens of foreign workers and arresting some supervisors.
The portal also said that Preah Sihanouk provincial authorities ordered all building owners and managers to report any foreigners staying and working on their premises. The information must be registered with the police before Sep 24.
Building owners are being asked to sign a document pledging that their workers have visas and clear contracts.
The Cambodian government has also been reported as conducting high-level meetings on the issue. 
Mr Terrence Fung, 39, and Mr Lo Vui Lun, 23, were among those trapped in Cambodia. They were roommates when they were held by syndicates in Sihanoukville early this year and then when they were held in a Cambodian immigration depot. 
They returned to Malaysia last month, ending their nightmare in Cambodia that saw them getting tasered now and then for not meeting the scam targets.  
Both entered Cambodia illegally via Thailand. They were also offered salaries of US$3,000 to work in casinos.
Mr Fung said while there was a casino downstairs, the operation centres for scamming were on the upper floors of the building.
He claimed that he never scammed anyone and that when he received calls about job inquiries, he would tell them he was busy.
"I didn't want to lie to anyone and get them stuck in my predicament," he said.   
He said that it was almost impossible to make a run for it and escape as there were armed bodyguards everywhere.
After Mr Chong intervened, both Mr Fung and Mr Lo were rescued by the Cambodian authorities and sent to the immigration depot where they spent almost three months in detention before being allowed to return to Malaysia. They did not have to pay a ransom.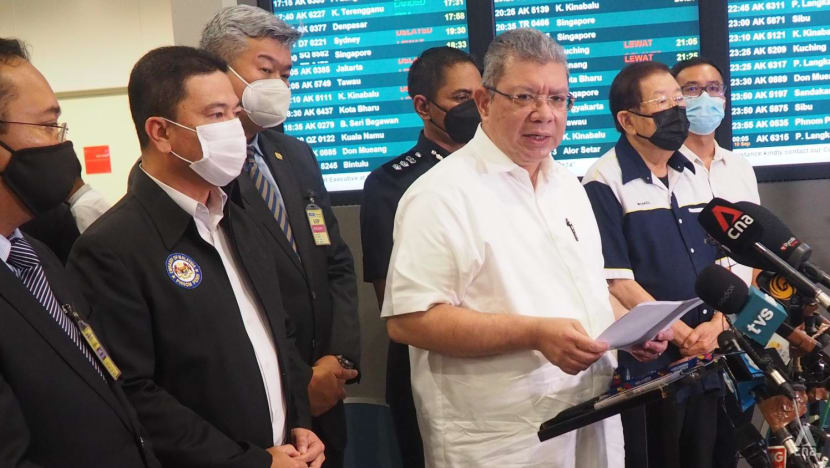 MANY STILL BEING HELD AGAINST THEIR WILL

 
A total of 118 Malaysians who are victims of job scams in Cambodia have been rescued as of Sep 9, according to Foreign Minister Saifuddin Abdullah. 
Twenty-nine Malaysians were still in immigration depots in Cambodia, he said.  
He met seven of them in an immigration depot in the country's capital Phnom Penh during a recent visit, while another 22 Malaysians were in the immigration depot of Sihanoukville.
"Please be careful when you get job offers whether in Cambodia or any other country. In Cambodia. There are 500 Malaysian companies and there are 5,000 Malaysians who are either working or doing business there.
"They are doing very well but unfortunately, we have cases of these scams, although their numbers are small," Mr Saifuddin told a press conference at the Kuala Lumpur International Airport (KLIA) on Sep 9 after arriving from Cambodia with 24 Malaysians scam victims on a passenger flight.
The 24 Malaysians who arrived home on Sep 9 were aged between 20 and 30.
Mr Saifuddin said that when they receive reports from families about victims who have gone missing, they would forward them to the relevant overseas missions. The latter would then work with the local authorities to try and rescue them.
According to the Malaysian Foreign Ministry, another 11 victims arrived back home from Cambodia on Sep 15. Altogether, a total of 123 out of 153 reported victims of job scam syndicates in Cambodia have been rescued so far.
In Bangkok, Malaysian ambassador Jojie Samuel said in a June Bernama report that 35 Malaysians, believed to be job scam victims, had been rescued at the Thai-Myanmar border in the first six months of the year.
Many Malaysians are believed to still be held against their will, although their exact numbers cannot be determined. Their family members are exhausting all channels to seek their release. 
A man who only wished to be known as Low, said his 24-year-old nephew is being held at a location in the Bokeo province in Laos.
He said that his nephew was forced to scam others and as family, they could only tell him to follow the orders of his captors.
His nephew was working in Dubai as a customer service consultant since Chinese New Year last year, but switched to another company a few months back. He was then brought to Chiang Mai in Thailand, and later to Laos illegally.
As he was not performing in terms of sales, he was then sold off to another syndicate.  
He said that his nephew is forced to work for 16 hours a day and that anyone who dozes off would be tasered. There were also Russians, Indonesians, Thais, Cambodians and Turks at the location, he added. 
Low's nephew was in contact with them until a few days back.
"We are very worried. We just tell his sickly father that he is safe," Low said, adding that he had made reports with the Ministry of Foreign Affairs and the Malaysian embassy in Laos.
"We can't eat and sleep properly. At this point in time, we can only hope that he is rescued by the authorities. We also hope our government exerts pressure on the governments to free all the Malaysians held," he said.  
GOVERNMENT URGED TO STEP UP RESCUE EFFORTS
Mr Hishamuddin Hashim, secretary-general of the Malaysian International Humanitarian Organisation (MIHO), said it has received information that many syndicates are now moving the victims from Cambodia to Myanmar through land.
This came after the Cambodian government began to crack down on the syndicates. 
"This was informed to us by the families of the victims who can keep in contact with them for now," he said, adding that it would be difficult to deal with the junta that is ruling Myanmar.
He said that MIHO is dealing with 27 cases, with a majority of them in Myanmar.
MIHO had on Sep 14 sent a memorandum to the Myanmar embassy in Kuala Lumpur to act on the issue, but the embassy was closed.
Mr Hishamuddin hoped that the Malaysian prime minister would exert pressure on the respective governments.  
"We can't rely on the authorities there alone. The prime minister has to help by discussing with the heads of the states. We still have diplomatic relations with Myanmar. The ASEAN platform is there," he said, adding that the Taiwan government for instance had brought back several of its citizens home after lobbying efforts. 
Meanwhile, MCA's Mr Chong urged those who are thinking of going overseas for "high-paying" jobs to think twice.  
"Please do some research before you even think of going. The so-called high wages are just to trick you. There has been a lot of news about these scams, yet there are those who still insist on going there. How do we help such people?" he said.
As for the rescued victims, they just want to leave the past behind. 
Wong from Johor returned to Malaysia in July and now has a job in a gaming shop in Kluang, where he earns RM1,800 monthly. He is content with what he is earning. 
"I am lucky I could get back but not everyone has the same chance to do so. I would advise people not to even think about it," he said.