KUALA LUMPUR: Malaysia will discuss with regional leaders to make Bahasa Melayu or Malay as the second language of Association of Southeast Asian Nations (ASEAN), said Prime Minister Ismail Sabri Yaakob on Wednesday (Mar 23).
He was responding to questions in the Upper House  on the efforts to elevate Malaysia's national language at the international level.
Mr Ismail Sabri said apart from Malaysia, the Malay language is already used in several ASEAN countries such as Indonesia, Brunei, Singapore, Southern Thailand, Southern Philippines and parts of Cambodia.
He said during his visit to Cambodia recently, he was informed there were 800,000 Malay-Chams who used Malay and in Vietnam, there were some 160,000 Malay speakers among those of Malay-Cham ancestry.
There is also a small population of Malay speakers in Laos, he added.  
"Hence in the whole of ASEAN there are people who can speak Malay. Therefore  there is no reason why we cannot make Malay as one of the official languages of ASEAN," Mr Ismail Sabri said.
The prime minister added that he would discuss the matter with his ASEAN counterparts.
"I will discuss with the other leaders of ASEAN countries, especially those in countries that already use Malay. I will discuss with them on making Malay as the second language in ASEAN. After that, we will discuss with other leaders of ASEAN countries that have populations who speak Malay," said Mr Ismail Sabri. 
The prime minister was responding to a member of the Senate, Isa Ab Hamid who wanted to know about the government's efforts to empower Malay language in Malaysia's diplomatic and foreign relations.
"At this time, only four out of 10 ASEAN countries use English in official events at the international level. Whereas six other countries use their mother tongues for official matters which require translation," he told the Senate.
Mr Ismail Sabri said that he always asked the foreign ministry to prepare for him speaking notes and related documents in Malay for his reference when conducting overseas official trips.
"We do not have to feel ashamed or awkward to use Malay at the international level. The effort to empower Malay is also in line with one of the priority areas of Malaysia's Foreign Policy Framework launched on Dec 7 last year," he said.
The foreign ministry was also asked to provide Malay language classes for ministry staff who had been posted overseas along with their children.
Mr Ismail Sabri said that some of the children of the diplomatic officers have weak command of the Malay language because they study in international schools.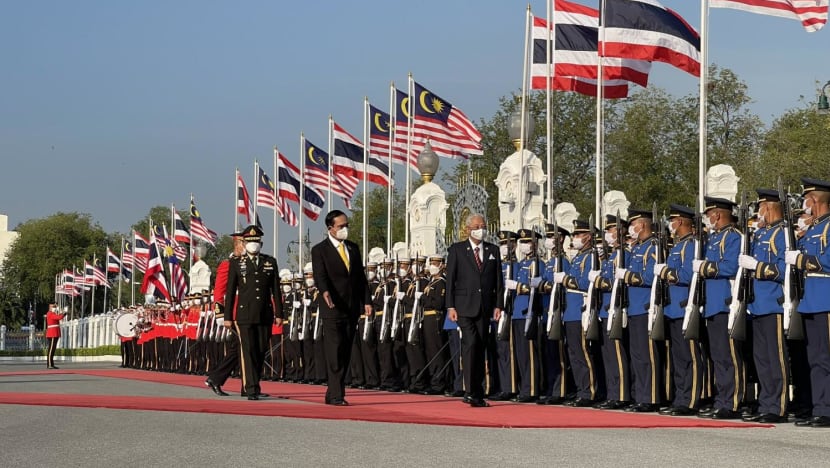 COMPULSORY FOR FOREIGN STUDENTS TO LEARN MALAY
Mr Ismail Sabri's statement to the Upper House followed his earlier statement he made at the United Malays National Organisation (UMNO) General Assembly last Saturday, where he announced that the learning of Malay would be made compulsory for foreign students enrolling in Malaysian universities.  
Mr Ismail Sabri who is one of UMNO's three vice presidents said that Higher Education Minister Dr Noraini Ahmad had agreed to implement the proposal. 
"The time has come for us to be proud of the Malay language, as such there is no reason for us to feel awkward about speaking Malay even at the international stage, as language is the soul of the nation," he told party delegates.
He also said that the 'Dewan Bahasa dan Pustaka'  Act which established the setting up of the body to coordinate the use of Malay language in the country, would also be amended. 
This is to provide the body with the enforcement powers to take action against those who misuse the language, including those who put up sign boards containing language errors.
"Over 300 million of ASEAN's population use Malay in daily speech. Malay has the seventh largest number of speakers in the world,"  said Mr Ismail Sabri, expressing his hope that Malay  would be ASEAN's second language.