KUALA LUMPUR: It has been a busy day for Deltisusanti Suhardi since she opened her stall before 4pm to start cooking chicken rice, tomato rice and accompanying dishes such as ayam masak merah (chicken in red sweet-spicy sambal) for the Ramadan crowd.
Recyclable food containers are arranged in a way that will allow her to scoop her portions of rice and pieces of chicken without missing a beat. 
A steady stream of customers stop by to order takeaway food, to be consumed once it is time to break fast later in the evening.
Compared to last year, the 40-year-old hawker said that she is more upbeat about this Ramadan month, when Muslims fast before celebrating Hari Raya Aidilfitri on May 2. 
"Last year, I opened a stall for Ramadan as well but we could not finish our stock because our business period was cut short. I suffered losses," Mdm Deltisusanti recounted. 
Ramadan bazaars have roared back to life in Malaysia this month, as most of the COVID-19 restrictions have been eased amid the country entering into a "Transition to Endemic" phase. 
Huge crowds have been observed at these events, prompting the government to advise parents not to bring their children, especially those below five years old who have not been vaccinated, to the bazaars.
For the traders, the return of eager customers signals hope that business might return to the times before the pandemic, when these bazaars were a must-go for Muslims looking to buy food before breaking their fast while non-Muslims saw them as popular evening outing spots.
Last year, the Ramadan season was marked by a surge in the caseload, prompting the authorities to retighten COVID-19 curbs around a week before Hari Raya. Bazaars were ordered to close as part of the measures.
The surge in caseload also resulted in a third nationwide lockdown dubbed "MCO 3.0". For Ramadan bazaar traders, this meant financial losses after they hoped for better times as they were unable to physically operate their stalls in 2020.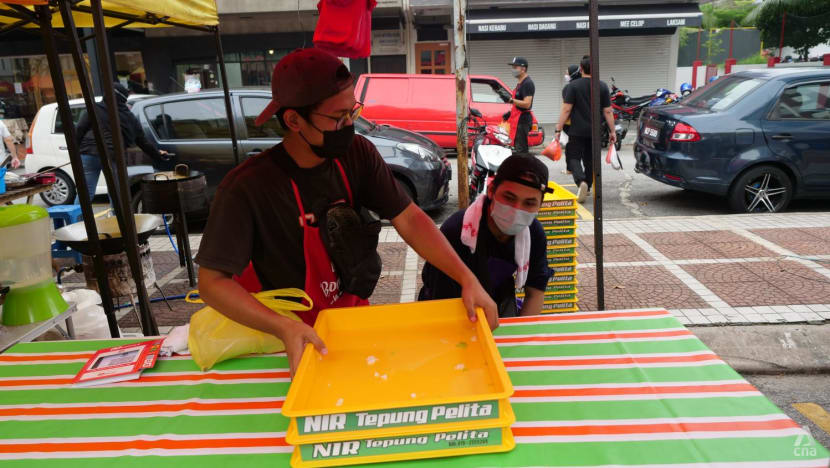 DECENT EARNINGS
For Mdm Deltisusanti, who runs her stall in SS6 in Petaling Jaya in Selangor, this Ramadan season has been a good one so far. 
"It is very much different. Customers are coming back in numbers, almost like the previous years. So my business is quite good," she told CNA as she ladled rice into takeaway containers. 
She noted that the health protocols have been loosened compared to 2021. The various restrictions kept many of her usual customers away from the bazaar last year, she said. 
"Doing business now is a much happier (process), compared to when people stayed away because they were worried about case numbers. There was a maximum distance on how far people could travel (from home) and entry was also very limited," she recounted. 
She added: "(This year), the earnings everyday are decent. I have been able to recoup my costs for renting this stall and the ingredients so far, after 10 days."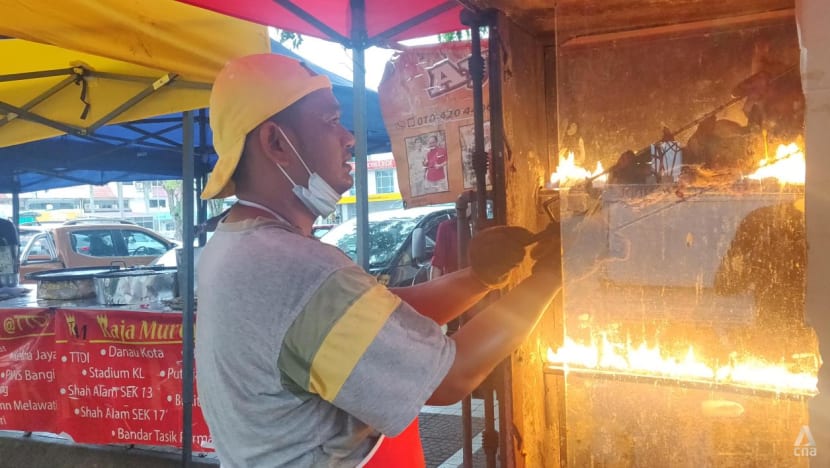 Nadzrul Nadzir, 40 who has been operating an ayam golek (spit roasted chicken) stall in Taman Tun Dr Ismail (TTDI), Kuala Lumpur, for more than a decade, said he was very happy to be doing business in a bazaar again.
"It has been two years since we have been able to do business in an atmosphere like this. Earnings are also much better compared to the last two years," he said. 
"Usually, I bring around 50 chickens to roast and sell per day. Now I am down to my last six. On weekends, I can sell twice that number every day," Mr Nadzrul told CNA when interviewed around 7pm on Apr 14.
The money, he said, was much needed. He is also a school canteen operator and his earnings have taken a hit over the last two years, as schools were closed and students largely did home-based learning. 
"The income from this Ramadan bazaar will go a long way in helping to recover the losses and money spent trying to survive in 2020 and 2021."
CROWD CONTROL STILL BEING ENFORCED
Despite the relaxations of COVID-19 curbs nationwide, local authorities are still adhering to crowd control measures at bazaars as the Omicron variant is still a concern. This has prompted some stall operators to say that their business has been affected.
At the SS6 bazaar where Mdm Deltisusanti is running her stall, the Petaling Jaya City Council is trying out a new method of crowd control. The open-air bazaar is sited along a main road with entrances and exits at both ends and manned by Volunteer Corps (RELA) personnel and council enforcement.
Visitors are required to check-in via the MySejahtera contact tracing app. At the same time, monitors at both entrance points have a sensor to gauge the number of people who have entered the area. The numbers are updated in real-time to reflect the crowd numbers.
Once the number of people inside the bazaar reaches 500, the RELA guards move to stop new visitors from entering. They will have to line up and wait until some inside the bazaar area have exited to make space for them. 
Wrapping up after a slow rainy Wednesday last week, roti john seller Azlan Mohd, 40, said that the crowd control method being trialled by the city council was a hindrance. He claimed that business was still slow even with loosened restrictions.
"There are 250 stalls here, but today only one entrance point is open. The limit is set at 300 people.
"From this 300 visitors at any one time, how many are walking by and how many are actually buying food?," he lamented.
The other entrance, which has a cap of 200 people, was not operational that day.
He said that some people spent a lot of time inside the bazaar and caused queues to build up at the entrance points.
"Many people are lining up at the entrance. If they get bored waiting, they go home or somewhere else. Too few people are being allowed in here at any one point," he said. Mr Azlan added that when it comes to the rainy days, sales will be even slower. 
BAZAAR VISITORS HAPPY TO BE OUT AGAIN
Meanwhile, those who enjoy visiting Ramadan bazaars are just happy to be able to soak in the atmosphere again.
At the TTDI bazaar, Jonathan Hurley, 53 and his wife Rozzfariza Razalli, 48, were eagerly going from stall to stall to see what was on offer.
"This is the first time we have been out to a Ramadan bazaar since the fasting month started," said Mr Hurley.

He recalled them doing a lot of home cooking to get through the last two Ramadans when bazaars were closed in 2020, or made to shut down early in 2021.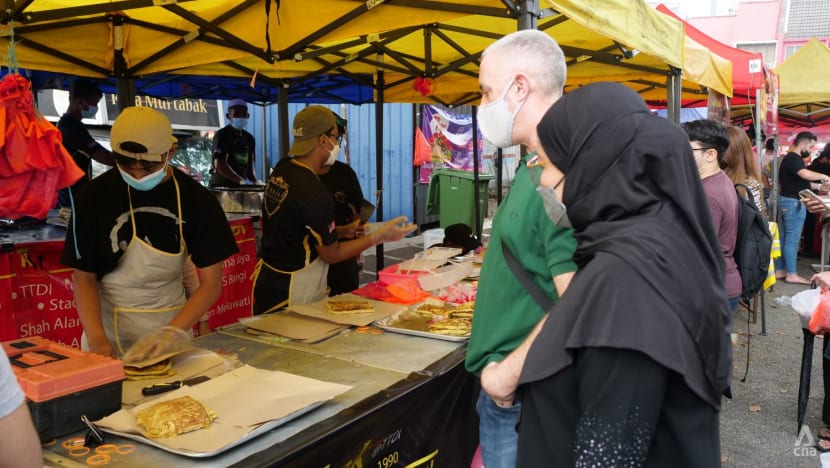 "We did a lot of cooking at home, we lost a lot of weight. We did not really waste a lot of plastic as (how) we are buying today. But no matter what, Ramadan is always good," Mr Hurley said. 
Mdm Rozzfariza said the couple have been coming to the same neighbourhood bazaar for the last 20 years, since it first started. 
Although things are nearly back to normal, they recalled the agony of not being able to meet up with friends, and not breaking fast with their extended family over the last two years.
Ms Michelle Lim, 29 and Mr Kent Wong, 28 said it was their first time back at the SS6 Ramadan bazaar in Petaling Jaya since the pandemic struck.
"We will usually buy nasi ayam kunyit (tumeric-infused chicken with rice) and ayam berempah (spiced fried chicken), batik cakes and also curry puffs," Ms Lim said. 
Mdm Mimi Azuwa Mohd Nor, 43, was trying to keep her toddler daughter entertained while waiting for her roti john orders to be completed by Mr Azlan in Petaling Jaya. 
"After not being able to visit Ramadan bazaars for two years, I am just happy to be out with my daughter and husband today. We can visit a bazaar as a family again," she said.
They had avoided visiting Ramadan bazaars even though they were open for several weeks last year. 
"It is so long since we could visit one, which makes this opportunity all the more meaningful," she said, adding that it is important to remember to adhere to the health protocols.