KUALA LUMPUR: Malaysia hopes to fully reopen borders to international tourists by early December, said Minister for Tourism, Arts and Culture Nancy Shukri on Wednesday (Oct 27). 
Responding to a parliamentary question on when the whole country would be reopened for international tourism, the minister said that the government wanted to first observe developments for Langkawi's pilot international travel bubble, which begins from Nov 16, before reopening the entire country. 
She also stated that the government has readied the health protocols for Langkawi. 
"When it looks okay and although we had stated three months (for the observation period), I feel it will not take up to three months," the minister said. 
"I feel we can reopen earlier than that. So we pray that this can take place in the near future, after Nov 16 and maybe early December." 
She added: "That is not my promise, but we will try, we will work hard (for the earlier reopening)." 
During Wednesday's parliamentary meeting, Mdm Nancy also responded to several parliamentarians' questions on introducing travel bubbles in other parts of the country that are similar to that in Langkawi.
She explained that when the Langkawi travel bubble was first introduced, interstate travel was not permitted yet. 
"Currently, as interstate travel is permitted, there is no longer any need to create domestic travel bubbles," she said. She noted that between Sep 16 to Oct 15, Langkawi had received over 100,000 visitors. 
The resort island of Langkawi was first opened for domestic tourism in a pilot travel bubble beginning Sep 16, months after an interstate travel ban was imposed to curb the spread of COVID-19 infections.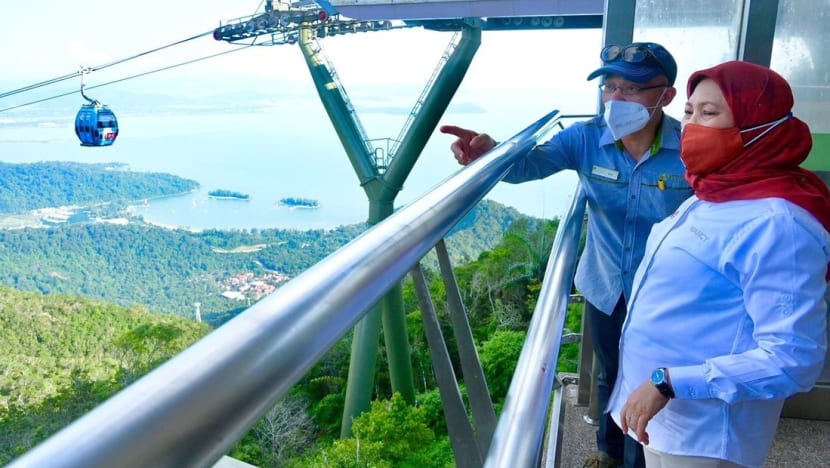 On Oct 11, Prime Minister Ismail Sabri Yaakob announced the resumption of interstate travel for fully-vaccinated individuals, after 90 per cent of Malaysia's adult population had been fully vaccinated. 
The prime minister also said on Oct 22 that Langkawi will reopen to fully vaccinated international tourists under a pilot travel bubble project.
The project will admit fully vaccinated high-yield travellers, while children under the age of 18 have to be accompanied by their parents or guardians. 
In addition, international travellers will have to take a reverse transcription-polymerase chain reaction (RT-PCR) test 72 hours prior to their departure for Langkawi, and be insured for a minimum of US$80,000. 
On Monday, Bernama quoted Mdm Nancy as saying that the Langkawi international travel bubble will be open to tourists from all countries, with strict health protocols to curb the spread of COVID-19.
These protocols include ensuring that international tourists will use tour operators registered with the tourism ministry to arrange for itineraries, according to the Bernama report. 
On Wednesday, Malaysia logged 6,148 new COVID-19 cases. There are now more than 2.4 million cases and over 28,000 deaths nationwide.