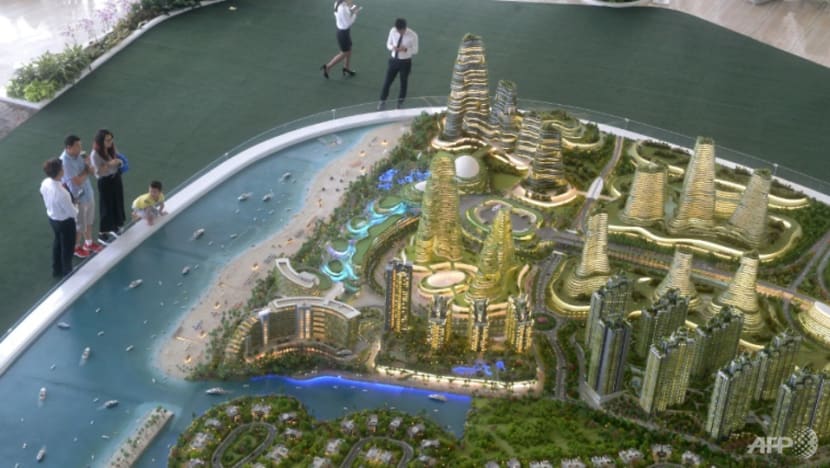 SINGAPORE: Malaysia welcomes "all tourists" including those from China, but purchase of property does not guarantee automatic residence in the country, the Prime Minister's Office (PMO) said in a statement on Tuesday (Aug 28).
The statement comes one day after Malaysian Prime Minister Mahathir Mohamad said that foreigners will not be granted visas to live in the US$100 billion Chinese-backed Forest City project in Johor.
"Malaysia welcomes all tourists including from China and there are no restrictions imposed on foreign tourists for so long as they meet all the necessary immigration requirements imposed by the Malaysian authorities," said the PMO statement.
"On property purchased by foreigners, irrespective of nationality, Malaysia imposes certain conditions and information on these existing conditions are publicly available," the statement added. "Purchase of properties however, does not guarantee automatic residency in the country."
The statement added that foreigners looking to make Malaysia their permanent residence could tap on the Malaysia My Second Home government programme.
"Conditions are clearly spelt out for those interested and information on this programme is also publicly available," it said.
The statement also added that Malaysia welcomes foreign direct investment, particularly those that contribute "to the transfer of technology, provides employment for locals and the setting up of industries".
JUST IN: After his widely-reported comments that Chinese-backed Forest City could not be "sold to foreigners", Malaysian PM Mahathir's office says all tourists are welcome but purchase of properties "does not guarantee automatic residency". pic.twitter.com/O33zRngORI

— Sumisha Naidu (@SumishaCNA) August 28, 2018
Mahathir had said at a press conference in Kuala Lumpur on Monday that the Forest City project was off limits to foreign buyers. 
"One thing is certain, that city that is going to be built cannot be sold to foreigners," Mahathir said. "We are not going to give visas for people to come and live here."
Mahathir said that the government's objection was "because it was built for foreigners, not built for Malaysians. Most Malaysians are unable to buy those flats".
Hours after Mahathir conveyed those comments, Chinese property developer Country Garden issued a "statement of clarification", saying that Forest City has "complied with all laws and regulations with the necessary approvals to sell to foreign purchasers".
The developer also said that the Mahathir's comments contradicted what he had said in a meeting earlier this month with Country Garden's founder Yeung Kwok Keung.