Journalists have important role in 'world where facts have become debatable': Nobel Peace Prize winner Maria Ressa in CNA interview
SINGAPORE: Philippine journalist Maria Ressa said that her Nobel Peace Prize win on Friday (Oct 8) is a recognition of the role that journalists have to play in a "world where facts have become debatable".
Ressa was speaking in an interview with CNA after she and Russian newspaper editor Dmitry Muratov were given the award "for their courageous fight for freedom of expression in the Philippines and Russia".
"For journalists all around the world, we found ourselves in increasingly difficult situations, far more complex, far more dangerous, to continue doing our jobs," Ressa said.
"This is a global recognition of the role journalists have to play in fixing, in fighting for facts, in a world where facts have become debatable."
Ressa heads Rappler, a digital media company which she co-founded in 2012. Since then, the company has grown prominent through investigative reporting, including into large scale killings during a police campaign against drugs.
Several lawsuits have been filed against Ressa, who says she has been targeted because of Rappler's critical reports on President Rodrigo Duterte.
A cyber libel case filed by a college professor against Ressa was dismissed in Philippine court in August 2021. It was the second to be thrown out of court after the complainant withdrew.
Ressa was convicted in June last year in a cyber libel case filed by businessman Wilfredo Keng over a 2012 article that linked a businessman to illegal activities. Ressa faces up to six years in jail but has appealed the ruling.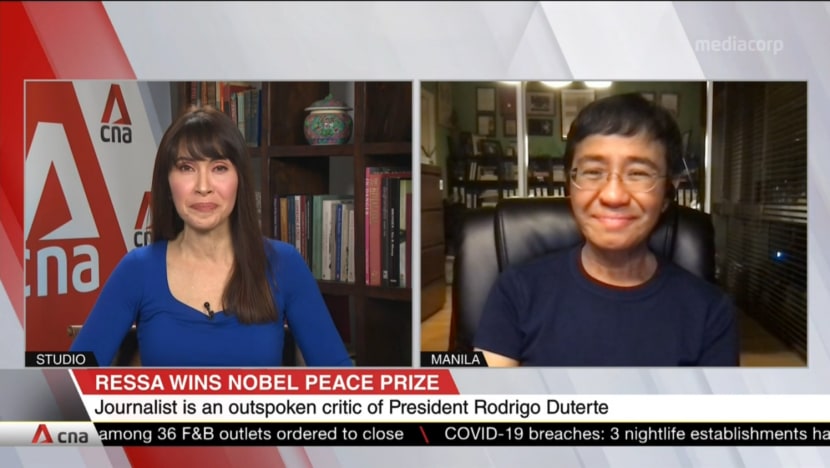 "GATEKEEPING POWERS" OF TECH PLATFORMS
Ressa said that journalists had "lost our gate keeping powers ... to technology platforms", adding that these platforms have "largely abdicated responsibility from protecting the public sphere".
"The platforms that deliver the news are biased against facts and are biased against journalists.
"If you don't have facts, you can't have truth, you can't have trust. Democracy is at risk."
Ressa said that "any human endeavour becomes nearly impossible" without facts, and named global threats such as the COVID-19 pandemic and climate change as examples that face disinformation.
UPCOMING PHILIPPINE ELECTION "BATTLE FOR FACTS"
The upcoming Philippine election in May 2022 will mark the end of President Rodrigo Duterte's six-year term.
Ferdinand Marcos Jr - known popularly as "Bongbong Marcos" is among the candidates who have filed their candidacy for president. He is the only son and namesake of former Philippine leader Ferdinand Marcos, who ruled the country for almost two decades until he was forced out in a peaceful popular revolt in 1986. 
Philippine Vice President Leni Robredo and Duterte's daughter Sara will also contest the ballot.
Ressa said that the upcoming polls will be "a battle for facts".
"We will not have integrity of elections without guardrails put in place for social media."
She expressed her hope for her Nobel win to "give more fire" and inspire younger journalists. 
"In that time period [since Rappler was founded], we've seen how the world has drastically changed. But what we've seen now, is a journalism under fire, journalism that forces you to define your values is the best kind of journalism," Ressa said.