Hit hard by pandemic, 30-year-old Melaka eatery gets new lease of life with partnership and online sales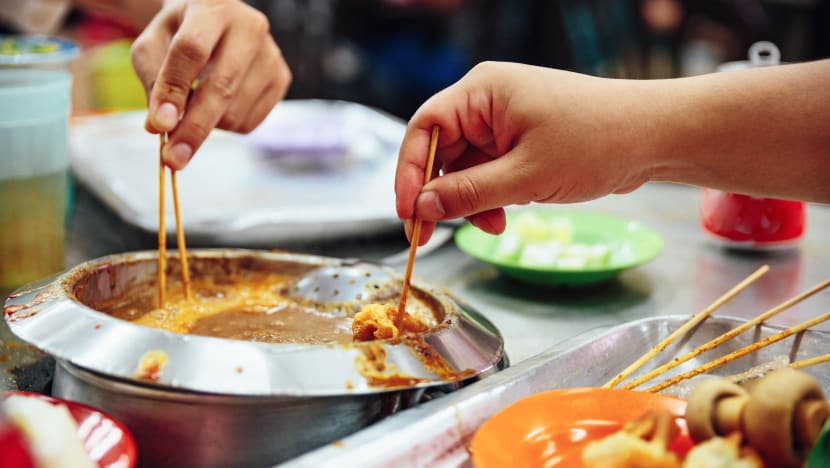 MELAKA: Patrons lining up along the five-foot way of the shophouses and waiting for their turns to be seated at Capitol Satay Celup used to be a familiar sight in downtown Melaka.
Weekends and public holidays were even busier for the restaurant, with the queue sometimes spanning eight or 10 shoplots along Lorong Bukit Cina. 
However, all is quiet at the outlet now, since Capitol's last day of business was on Nov 20.
Instead of hustling back and forth between the kitchen and the dining area, its employees have been busy packing and dismantling the equipment and furniture under the supervision of business owner Low Yong Cheng.
While "satay" denotes grilled, skewered meat served with peanut sauce, "celup" means dip in Malay. 
Satay celup is similar to "luk luk", with raw, skewered ingredients ranging from meat to seafood and vegetables cooked in stock.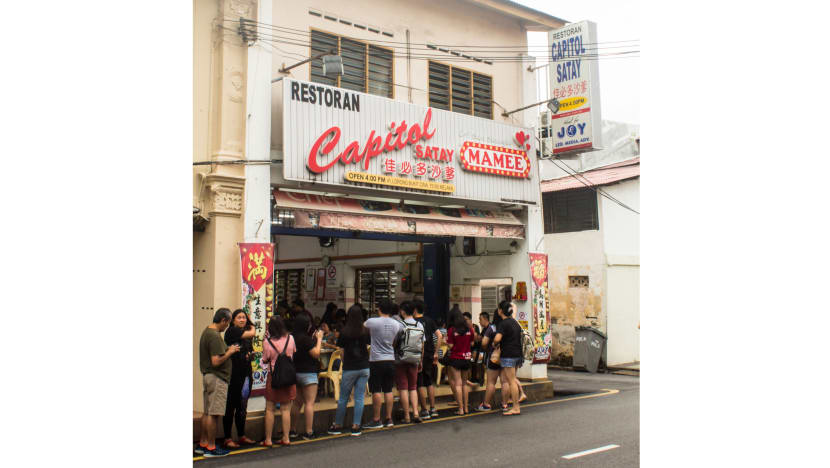 But unlike traditional satay or luk luk, satay celup skewers are dipped into a boiling pot of spicy peanut sauce to cook before eating. 
Capitol was one of the dozens of satay celup eateries well-liked by both locals and tourists in Melaka. 
Mr Low, 64, who has been running the establishment for 30 years owner, decided to announce its closure in late September as he could no longer afford to pay the expenses after nearly two years of COVID-19 pandemic and lockdowns.
A farewell message posted on its Facebook page led to enquiries and proposals to take over the business, and he eventually identified one partner to work with.
Capitol Satay Celup will soon operate at a new location in Melaka town's Kota Syahbandar under the new partner, he told CNA. Although there is no confirmed date yet, it is likely to take off in January next year.
"It is quite difficult, very painful to have to take down everything here when we have been operating here for so long. But what is there to do?" Mr Low said. 
HUMBLE BEGINNINGS
Mr Low is the third generation in his family to sell satay celup in one form or another. 
"My grandfather Low Ting Peng started with this luk luk and a watery soup, and sold it with a kandar balanced on his shoulder in Guangdong, China," he said. Kandar is the Malay word for the wooden pole used by peddlers to carry their fare on their shoulders.  
"My father Low Han Tian modified the recipe, making it satay celup to go with the food skewers," he added.
When his grandfather migrated to Malaysia, a stick of food was sold for between two and five cents of a Straits Dollar, and during his father's time, the price had increased to between RM0.05 (US$0.01) and RM0.10. 
His father took the business to another level, using a tricycle to carry the food and hot gravy in a sidecar. This allowed him to sell his satay celup all over Melaka town.
"In the morning, my father would cycle to the Portuguese Settlement from 9.30am, stay there for an hour or two, and by 11am, he'd be at the A'Famosa fortress until nearly 5.30pm."
"After that, he would stop at the Savoy cinema until nearly midnight," Mr Low recalled. 
The name "Capitol Satay Celup", he said, came from a now-defunct cinema, Capitol Theatre, located on Jalan Bendahara which was then known as Wolferstan Road.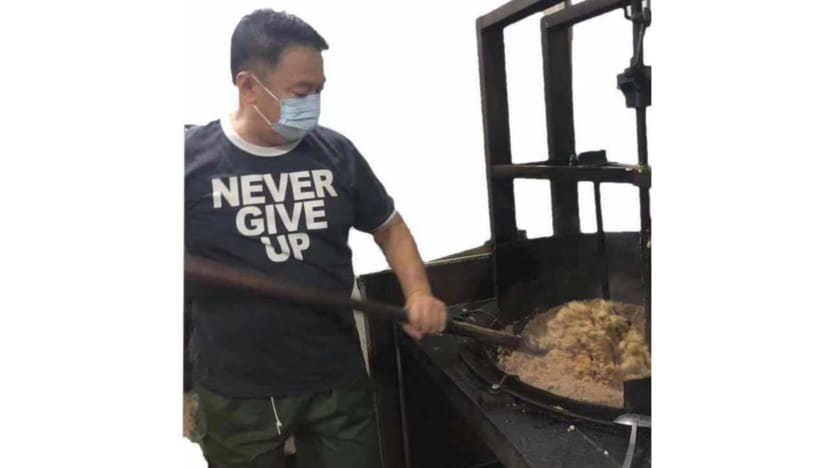 TURNING THE STALL INTO A SHOP
Mr Low took over the business in 1985 and then decided to base Capitol Satay Celup in a restaurant in 1991.
There were plenty of challenges, such as manpower and heavy workload, as its popularity grew. 
Workers had to spend eight hours preparing the food and skewering the ingredients before the restaurant opened for diners in the evening. 
Customers, including tourists from other states and countries, would start queueing as early as the late afternoon to make sure they have a table. 
In between serving the dinner crowd, Mr Low would treat customers with "prizes" such as tiger prawns and other more expensive food stuffs as a gesture of appreciation for dining at his establishment.  
Capitol Satay Celup's popularity was such that at one point, he even had to put up a sign on his shop entrance telling patrons not to be misled by other "imitators" and that the shop did not have branches elsewhere in the state. 
"I am proud that we managed to last this long, and we had many celebrities who visited us too. We've even won tourism awards," he said. 
THE PANDEMIC AND MOVING FORWARD
Like most other food and beverage businesses, Capitol Satay Celup was adversely affected by the COVID-19 pandemic.
Mr Low said his shop was even more affected as satay celup is meant to be enjoyed in a group, with diners sitting around the pot and dipping their preferred skewers into the sauce as they chat away merrily.
"We could not do delivery or takeaway like other food businesses, otherwise how is it still satay celup?" he said. 
Business fell by as much as 95 per cent during the lockdowns imposed in 2020 and 2021, he recounted.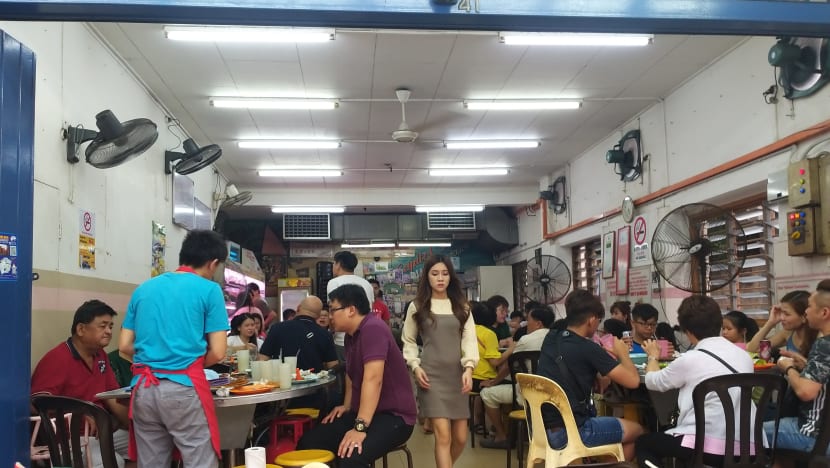 Mr Low decided to try and sell pre-packed satay celup sauce online on Lazada and Shopee. It took weeks of experimenting and testing to ensure that the sauce tastes as good as a roiling pot in his Bukit Cina shop. 
"We continued to experiment, not just with the ingredients' portions, but also with the packaging," he added.
While the recipe for the spicy sauce is jealously guarded, the shop's online store listed dried spices, Chinese herbs, peanut, sugar, dried shrimps and salt as its ingredients. 
Sales were slow initially, with just a few packets sold each day. But by June and July, the shop was selling between 500 and 1,000 packets a month.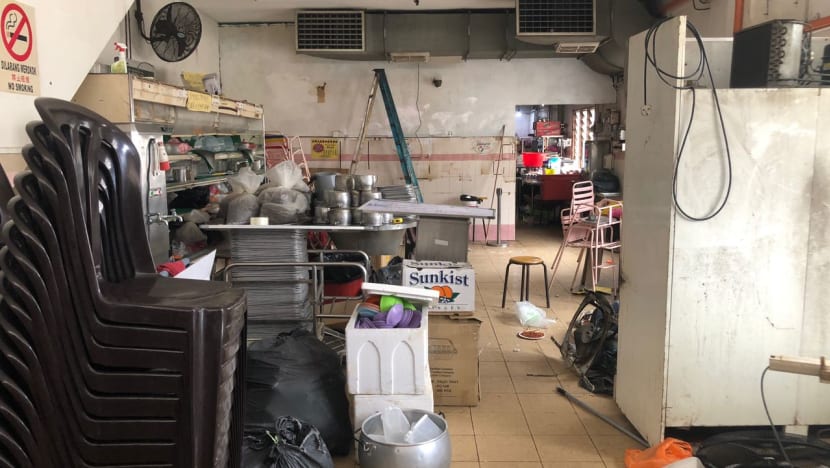 "Currently we cap our production at 500 packets a month, both because of manpower and also to ensure quality control," he explained. 
Profits from the packed sauce sales went into paying the shop's rent, utilities and workers' salaries. But it was still difficult to sustain the restaurant's expenses when interstate travel was restricted and people were trying to save on expenses.
"Hence, I made the painful decision to announce the decision to shut down the physical store back in late September this year," Mr Low explained, adding that it was his panic about the business' financial situation that pushed him to make the decision.
Although he expected some feedback, the way the announcement went viral was out of his expectation.  
In addition to messages and commiserations from shocked fans, Mr Low also received a number of offers for joint ventures or acquisitions. 
He eventually identified a new partner to continue the business at a new location. Mr Low said he will no longer be the person-in-charge, but purely an advisor and the gravy producer. 
"I have never thought about giving up my recipe, regardless of the price," he said. 
In the meantime, his online business will carry on, he added, and he will continue cooking at the new outlet in Kota Syahbandar. 
"The online platforms and manufacturing for the satay sauce is still mine, and I fully own the brand of Capitol Satay Celup, so the brand still continues," he said.