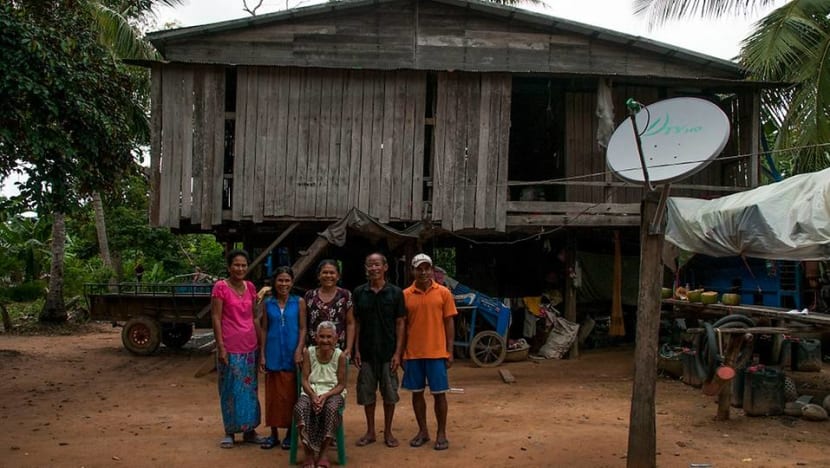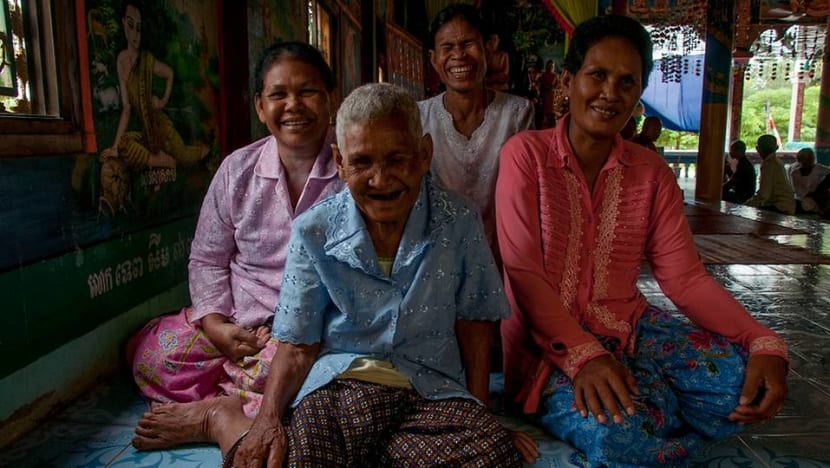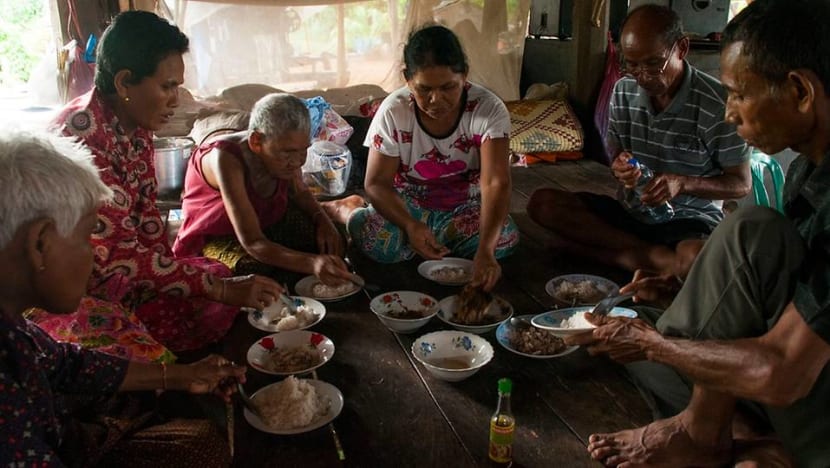 PHNOM PENH: In a village clearing in the remote northwest of Cambodia, a daughter and a mother perform an ancient ritual beneath a cluster of trees.
The daughter, 59-year-old Boon Auan, prostrates herself in front of her mother who sits on a chair. Her mother Kul Art, now 77, is presented with a symbolic offering of incense and money.

There are tears. A sister joins them. Then a brother. Within minutes there are a handful of relatives, young and old, all pouring water over the elderly woman.
The ceremony is called Srong Peah. It is a cleansing ceremony to wish the elders good health. It is also a ritual of forgiveness.
This was the first time Boon Auan had done this for her mother in more than 40 years. Like thousands of others, they were separated during the Cambodian war in the 1970s.

It was not until April of this year that they were finally reunited. Both believed the other had long since died.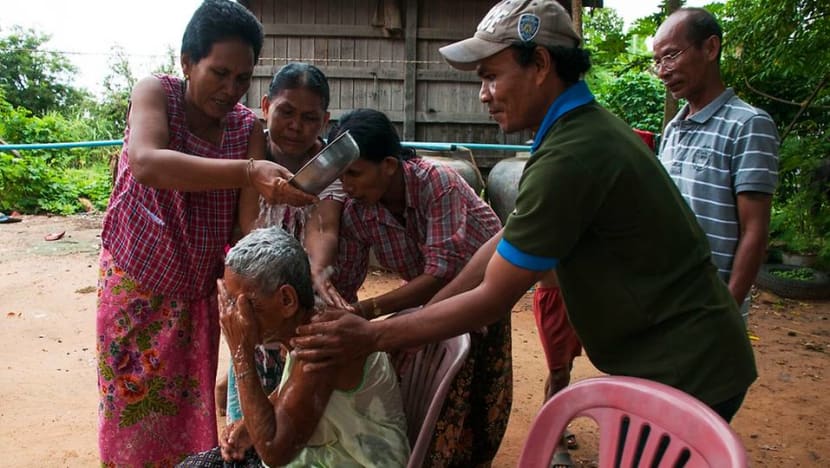 Cambodia's conflict began in 1969 when the country was dragged into the war in neighbouring Vietnam. The US launched a secret bombing campaign to dislodge North Vietnamese military sanctuaries and supply lines inside Cambodia.
Cambodia's ruler Prince Norodom Sihanouk was then overthrown in a coup and the country was plunged into a war between General Lon Nol's US-backed regime and the North Vietnamese and Khmer Rouge.

Eventually, in 1975, the capital Phnom Penh fell to the Khmer Rouge communists. They then began one of the most radical revolutions in modern history.
Boon Auan Khamsook was born in the village in 1957. Her father died when she was a toddler. Later, as the eldest daughter she was responsible for supporting the family. Life was hard. "There were so many mouths to feed," she said.
Boon Auan looked after the house and tended the cows. They produced corn, cucumber and rice.
Her mother then re-married several years later and Boon Auan helped her stepfather sell charcoal across the border in Thailand.

Every week they would make the journey through deep forest with an oxcart laden with charcoal. Boon Auan would follow behind with her two sisters as the cart creaked and groaned along the way to the frontier.
One day, in 1974, when she was 17, Boon Auan took the charcoal herself. She could hear the fighting in the distance: It was getting closer and closer.

Then the Khmer Rouge came and she was cut off, trapped on the Thai side and unable to return home. And that was the last she saw of her family.
"When she went missing, I couldn't go to find her because the Khmer Rouge arrived," said Kul Art
"They were very strict and everyone was scared. They didn't allow us to go out; only to the rice field. I felt so helpless. I could only pray."
Rim Ean, Boon Auan's sister, remembers when the Khmer Rouge soldiers came to the village. They abolished private property and families were split up into work units.
"They told all the villagers to bring all their pots and told us, from now on, everyone was going to eat and work in the fields together."
At first Ean, who was 10 at the time, thought they were good because everything was shared. After a year, she said, everything changed.
"We had to work so hard - day and night. I didn't have enough to eat."
They were given the watery soup from rice porridge. "Everyone looked so thin," she said. "Their knees looked bigger than their heads."
Then the killings began. Boon Auan's stepfather was taken away for "re-education" and never seen again.
By the end of the Khmer Rouge regime, more than two million people were "missing". Most had died through overwork, starvation, disease or were executed.
In 1978, the Vietnamese army entered Cambodia and toppled the Khmer Rouge regime. The family remained in their village as the war raged about them.
The Vietnamese placed artillery at the end of the village that pounded Khmer Rouge positions along the border with Thailand. For an entire month the family lived in a bunker.
"The sound of the guns was like a thunderstorm," said Rim Ean. "Everyone was scared." One of the sisters, who was pregnant at the time, came down with a fever and died.
In the ensuing chaos after the Khmer Rouge, the roads were awash with people returning to their homes. More than a million people fled to the Thai border where refugee camps were established.

The Khmer Rouge, meanwhile, continued a guerrilla war against the occupying Vietnamese.
The family remained in a refugee camp until 1992, when a peace deal was signed by all the warring parties and arrangements were made for refugees to return home.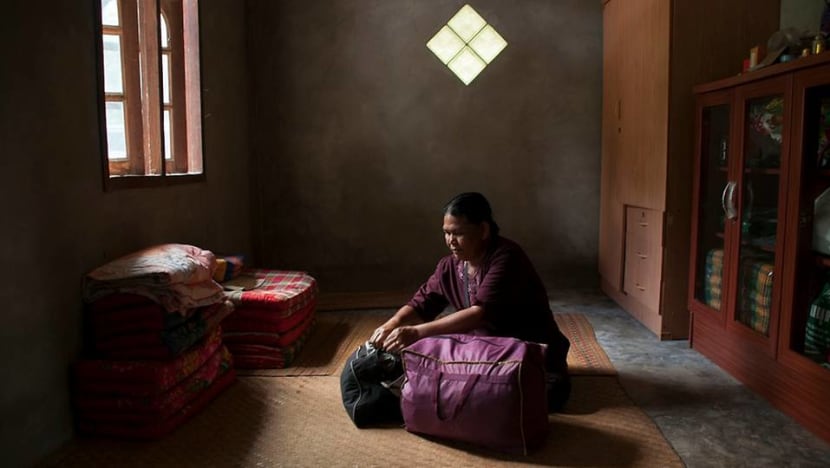 Although she didn't know it, Boon Auan had escaped the worst.

Just after she was cut off by the fighting in 1974, she met several other villagers who decided to make their way along the frontier to Thailand's Surin province on the northern border with Cambodia hoping to find a way back.
Days later, when they arrived in Surin province, it became clear that returning home was impossible. The Khmer Rouge had sealed the border; no one got in or out.
"I felt completely alone on the Thai side," said Boon Auan. Eventually she was taken in by a childless couple on the Thai side.
She worked for them as a house-keeper for several years before she met her husband, Malee Khamsook. He was a member of a Thai militia posted on the border and they moved to the neighbouring province of Si Saket that also bordered Cambodia.               
The village they lived in was close to the Cambodian frontier and the sounds of fighting could often be heard. Her husband told her to be careful when she went out as stray shells from the Cambodian side often landed on Thai soil.
"She would run and pack our belongings getting ready to flee," said Malee. Traumatised by the war and the separation from her family, Boon Auan suffered nightmares.
"She dreamt of her sisters and the family and yet she couldn't do anything," recalls Malee. She cried and he tried to console her, but the nightmares continued.
Years passed and life improved. She worked as a housewife and raised their three children.
And the memory of the war receded. But her thoughts rarely strayed from the family she left behind in Cambodia.
"I just thought about my Mum and just hoped that they were all still alive, but I didn't talk about it," she said. "If I dreamt about them, I'd talk about it with my husband, but I didn't know where they were."
When the news of the Khmer Rouge horrors were exposed to the world, her hopes of ever seeing her family alive began to fade. But she secretly clung to the hope that they might still be alive.
Recently, in the past year, Boon Auan began dreaming of her siblings and her mother when she became ill. She was diagnosed with diabetes and high blood pressure.
In her dreams she saw her home, the cattle, the paddy fields; the places she remembered as a child.
"I dreamt of my siblings, I saw all their faces, the houses in the villages next to ours. I wondered: 'Would I get the chance to see them before I die?'"
Then, earlier this year, her husband asked a relative in Cambodia for help in trying to find Boon Auan's family. He learnt that the Cambodian Red Cross offered a family tracing service.
The Restoring Family Links project was set up by the Cambodian Red Cross with support of the International Committee of the Red Cross in 1988. The programme has reunited almost 36,000 people with their families in Cambodia.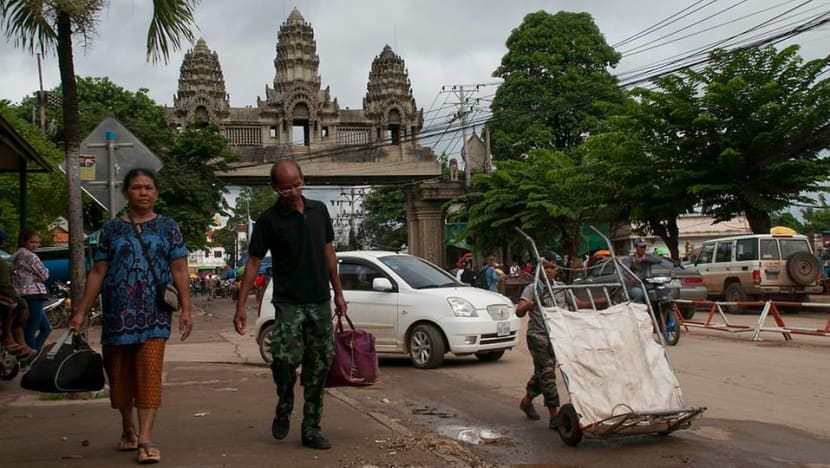 Then, on Apr 10 this year, Boon Auan received a call from an unknown number. "I picked up the phone and the first words I heard were, 'My daughter, I'm still alive!'''.
She was stunned.
"I cried," she said. "I could remember my mother's voice … I felt so happy."
After the call, Boon Auan ran to her daughter's house and said: "I spoke with my mum, your grandma!"
After 43 years of separation, civil war, bombing and occupation, Boon Auan's family was located within a matter of weeks.
Back in the village in Cambodia, word spread quickly.
Kul Art, Boon Auan's mother, rushed around the village telling people: "I've found my daughter! I've found my daughter!"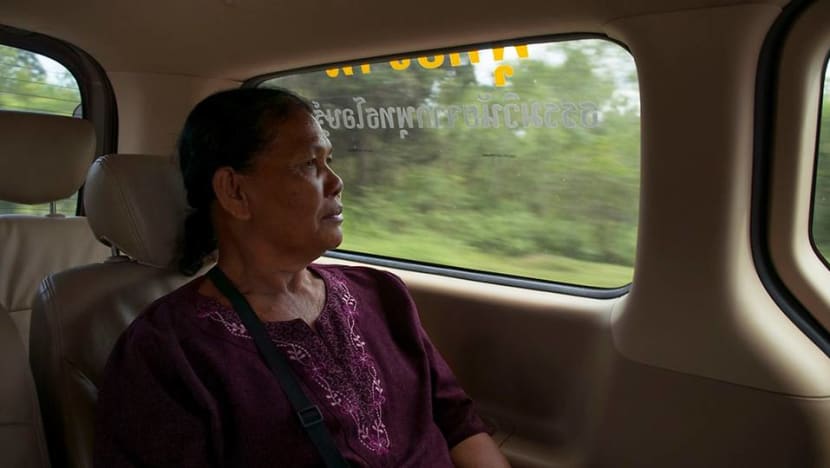 Several weeks later, Boon Auan and her husband made the journey across the border to her old village and she was finally re-united with her mother and siblings.
"As soon as my sister got out of the car we all ran to hug her and cried; I was so happy," said Rim Ean. 
After the ceremony in the clearing, there is a pause as Boon Auan dried her mother with towels and traditional Khmer scarves.
Wiping away her tears, she explained how the ceremony is to show gratitude for a mother's care when she was a child. "I'm grateful."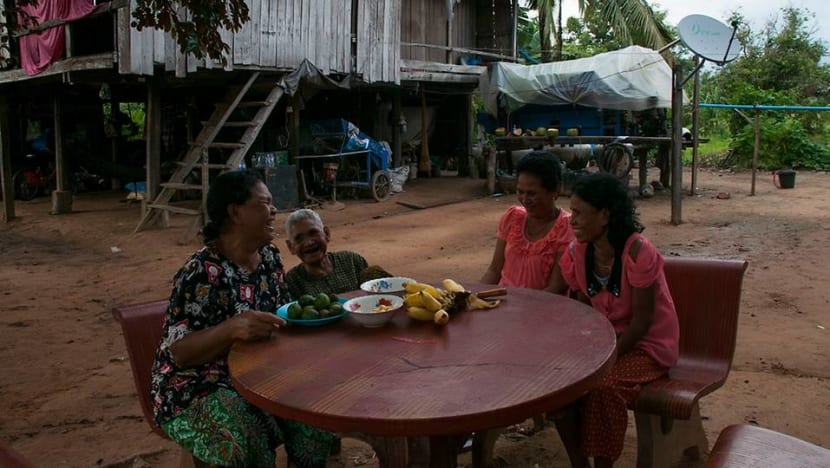 Reflecting on their separate lives, Boon Auan's sense of dislocation is palpable. While her family endured the horrors of the Khmer Rouge and years of conflict, Boon Auan lived in comparative safety and peace.
She knows how lucky she is. "I don't know if I could've survived if I had been in their shoes."
The war in Cambodia ended in 1998.
When Kul Art describes being reunited with her daughter, she simply said: "It was like giving birth all over again. It was painful. But I was so very happy to see her again."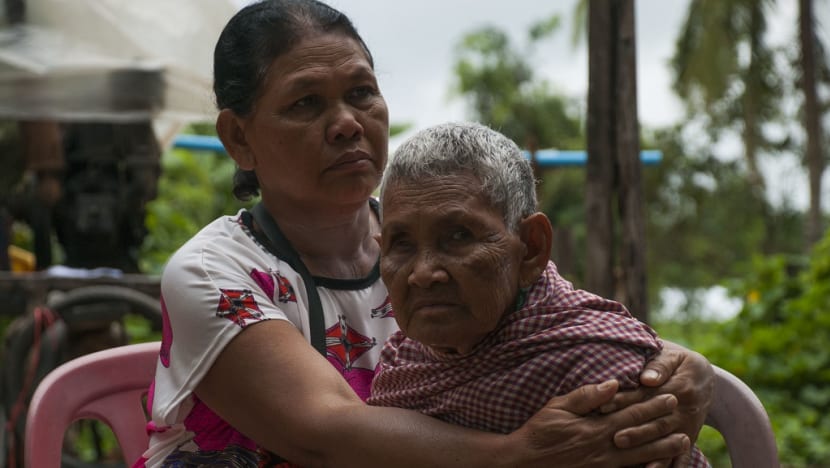 Nic Dunlop is an award-winning Bangkok-based photographer and writer.