In Malaysia, family of Nick Kyrgios rooting for him to win his biggest tennis prize at Wimbledon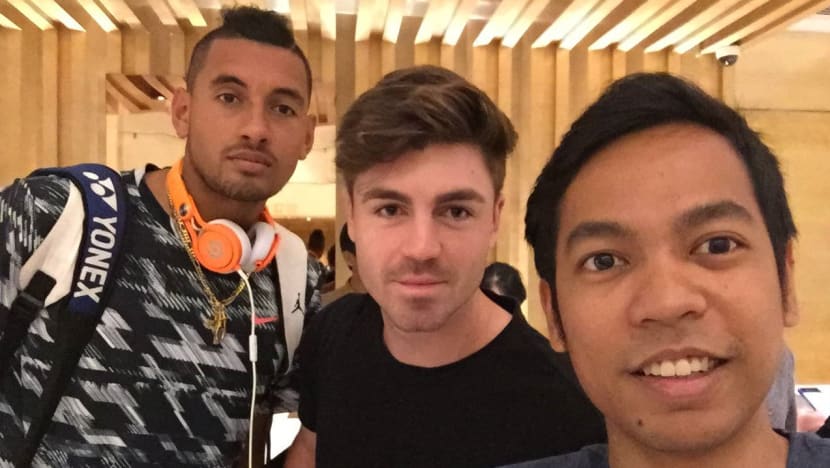 KUALA LUMPUR: When Nick Kyrgios makes his first appearance at a Wimbledon tennis final on Sunday (Jul 10), his family in Malaysia will be cheering him on. 
The 27-year-old is the first Australian man to advance to a Grand Slam singles final since Lleyton Hewitt in 2005. He will take on Serbian top seed and six-time champion Novak Djokovic for the Wimbledon title. 
Kyrgios' mother Norlaila is Malaysian. 
His cousin Hafiz Amir Hamzah, 34, said the whole family will be glued to the television, rooting for him to lift the trophy. 
"When Nick plays, my whole family would watch his games. I feel really excited and super happy. Of course, I hope he wins. Whatever happens, we are still proud of him. We have always been proud of him," he told CNA.
Mr Hafiz admitted that he was not much of a tennis fan but would tune in to Kyrgios' games.
"My late dad was a tennis fan and used to watch every match. I only watched when Nick plays. I have watched almost all his games," he said, adding that he has watched Kyrgios live when he played in the Malaysian Open and during his first participation in the Australian Open in Melbourne.
Mr Hafiz's late father and Kyrgios' mother are first cousins.
Norlaila was born in Gombak, Selangor, although she has lived in Canberra for almost 40 years.
Mr Hafiz said Kyrgios is like a younger brother to him, adding that their families used to see each other more often during the holidays when they were much younger.
"I do message him sometimes. His mum always video calls us and if he is at home, he would say hi," said Mr Hafiz. Kyrgios would play tennis in Malaysia even when he was on holiday, he added.
Kyrgios went through to the final his semi-final opponent, 22-time Grand Slam champion Rafael Nadal, withdrew from Wimbledon, having failed to recover from an abdominal injury.
Mr Hafiz said he was a little disappointed that Nadal had to pull out of the tournament, believing that his cousin would have wanted to prove himself against one of the sport's most decorated players.
Despite his achievements, Kyrgios has been a polarising figure, having been slapped with fines over his outbursts and colourful language on court.
Kyrgios had admitted to spitting at a fan who supposedly heckled him during his first-round match against Paul Jubb and also called a line judge a "snitch" for complaining to the chair umpire.
In the third-round match against Stefanos Tsitsipas, Kyrgios demanded that his opponent be defaulted for hitting the ball into the crowd and asked for a "new referee".
Mr Hafiz believes this is just his on-court persona.
"Personally, I don't know the sport and don't know the stress he is going through and all the pressure he is facing," he said.
"I have known him all his life and he has always been the quiet one in the family. He is a kind-hearted person. People might be surprised. When my dad passed away a few months ago, he was very supportive of us."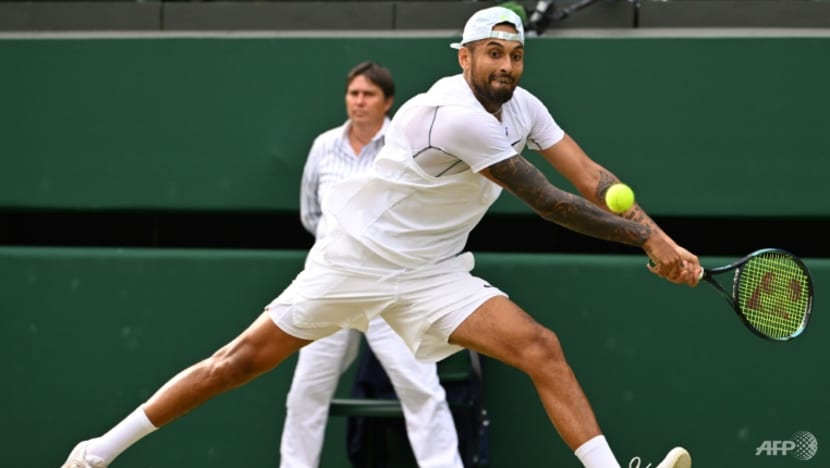 Mr Hafiz's mother Salmah Kamaruddin told CNA that she hasn't been able to catch all of Kyrgios' games in the current tournament but will be watching the final this Sunday.
"Of course, I am very proud of him, and I just hope that he wins. I believe that he can do it," she said, adding that she knew he could make it this far in tennis because of his determination.  
When asked about the controversies surrounding Kyrgios, she said: "He is a very loving guy and has always listened to his mum since he was small. That is his character on court. At home he is different."