Calls to cut oil tanker traffic near global marine biodiversity hotspot in aftermath of Philippines oil spill
The oil tanker Princess Empress was carrying some 800,000 litres of industrial fuel on Feb 28 when it sank, with the resulting oil spill prompting a fishing ban in areas near island of Mindoro.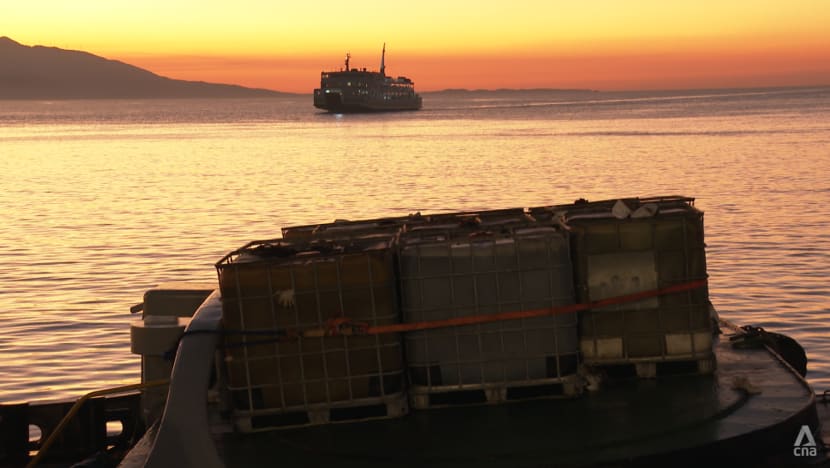 MINDORO ISLAND, Philippines: The aftermath of an oil tanker's sinking in Philippine waters has exposed cracks in the country's efforts to elevate its maritime industry to global standards.
It has also brought about renewed calls to protect a crucial marine biodiversity zone from oil tanker traffic.
Oil tanker Princess Empress was carrying some 800,000 litres of industrial fuel on Feb 28, when it suffered engine trouble and sank off the eastern coast of the Philippines' Mindoro island.
The resulting oil spill prompted a fishing ban over affected areas, which continues disrupting the livelihoods of Mindoro locals.
PROTECTING KEY WATERWAY
The Verde Island Passage, or VIP, provides food to over 2 million people and is regarded as "the centre of marine shorefish biodiversity".
 
With the crucial marine corridor lying dangerously close to the source of the spill, calls for oil tankers to be routed away from VIP have resurfaced, with advocates pushing for only fishing and passenger vessels to be allowed through the waterway.
 
VIP is "not a mere highway for ships with toxic cargo" but is "home to a complex and beautiful ecosystem that produces fish for our plates and brings in tourists by the thousands", read a statement from the Catholic Church-based humanitarian group Social Action Network.
 
Oil tanker traffic is likely to only increase if fossil fuel project development is not stopped around the area, according to advocates.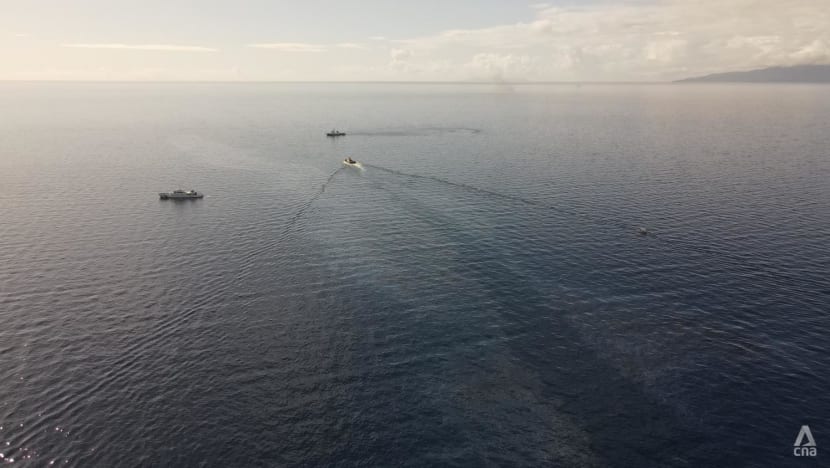 The strait has become the country's "unfortunate epicentre of gas development", said award-winning environmentalist Father Edwin Gariguez, convenor of advocacy group Protect VIP.
He added that there are five fossil gas plants operating in Batangas, the jump-off point to Mindoro island.
 
The Philippines is an archipelago of over 7,000 islands, and relies heavily on maritime transport for mobility and connectivity. Over a hundred domestic seaports play a central role in the daily movement of people and goods.
MARITIME CONTROL GAPS
The tanker Princess Empress is now half empty, but continues to leak industrial fuel into the ocean a month after its accident.
 
It was found submerged at a depth of 400 metres below sea level three weeks after it sank.
A Senate inquiry revealed that the entire region around Mindoro island is not equipped to deal with the treatment and storage of oil waste collected from clean-up operations. This means the waste would need to be transported off the island.
Malayan Towage & Salvage Corporation, the private contractor tapped for offshore clean-up operations, is the oil spill response provider of the country's petroleum industry. Mr Roger Padsoyan, the firm's main coordinator in the ongoing clean-up, told CNA that the collected oil mixture would need to be transported to a treatment facility in Bulacan province, closer to the capital Manila.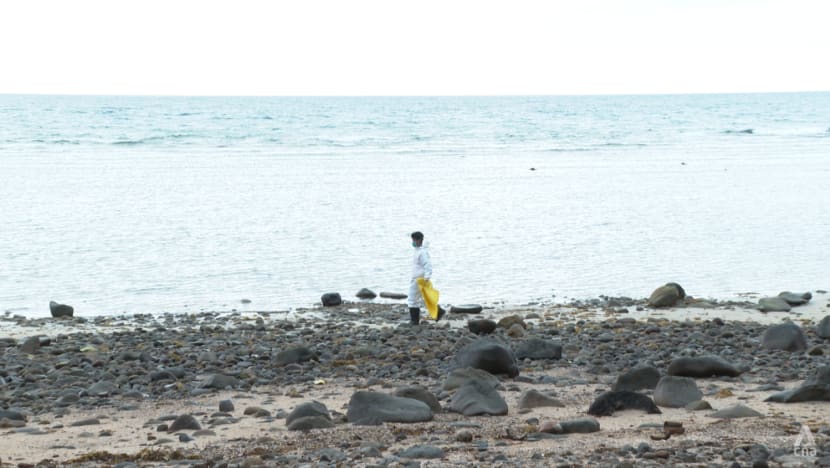 The collected oil would first need to reach 30,000 litres before it can be transported to maximise logistics efficiency. So far, one-third of the amount has been reached.
 
More alarmingly, the Senate panel's probe revealed that the Princess Empress did not have the necessary permit to operate maritime cargo transport, even though it made nine trips before its accident.
OFFSHORE CLEAN-UP
Private contractors, such as Malayan Towage & Salvage Corporation, were hired by the shipowner through its insurance to clean up after the spill.
At the site of the sunken vessel, an oil dispersant is sprayed each day, while two tugboats collect oily water mixture, with a Philippine Coast Guard ship within the vicinity.
One of the tugboats arrives at the port in Mindoro island's commercial hub of Calapan City at 5pm daily. As part of its due diligence, Malayan Towage & Salvage Corporation tests the dispersant to be used for effectiveness.
 
It also sought external help to siphon oil from the Princess Empress submerged 400m down, as it did not have the technology to do so.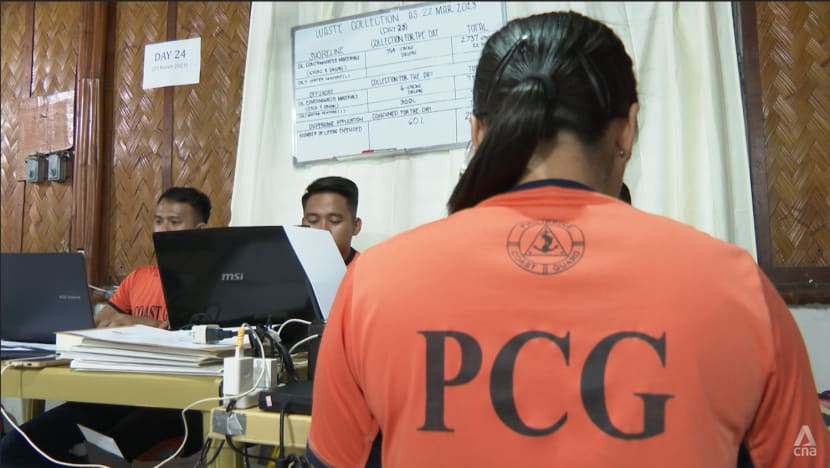 "As far as emergency response (goes), we alone cannot address the whole problem. That's why there are some technical issues that we also have to consider," Mr Padsoyan told CNA.
 
"We also sought help or support from other foreign companies who are also engaged in this kind of service," he added.
 
The transferring of oil waste from the tugboats to trucks on shore is monitored by representatives of different government agencies, all painfully aware that there is a long way to go in the clean-up operations.
EFFECT ON MARINE LIFE
Beyond the VIP, areas affected by the spill also contribute much to marine biodiversity.
Home to beautiful untouched beaches and at least seven marine protected areas, Mindoro island's coastal town of Pola remains among the worst-hit areas.
Darkened rocks line the most affected shores of a Pola village called Buhay Na Tubig, which means "living water" in English.
The oil spill has made it harder for the marine paradise to live up to its name.
Dr Hernando Bacosa, who has studied the effect of oil spills into the ocean, said oil testing and more data are needed to study the effect of the Princess Empress' oil leak.
An oil spill could "alter microbial activity in the ocean" that can in the long-term affect fish harvest, Mr Bacosa explained in a public forum recently.
 
Among others, the possible effects of an oil spill could include harmful algal bloom and a dramatic decrease in photosynthetic activity of so-called phytoplankton, the base of aquatic food chains. 
 
Less phytoplankton can lead to loss in food for small or larval fish, he said.
 
Six fishing sanctuaries and a marine reserve spanning close to 600 hectares are in Pola, where hazardous activities, including certain types of fishing, are either limited or banned.
 
Protected by law, these areas are guarded by the Bantay Dagat or Sea Patrol, a task force in Philippine coastal communities.
  
"We guard coastal waters against violators," said fisherman Ricardo Villanueva, who leads the group in Pola.
Mr Villanueva fears that grease from the oil might cover corals within the sanctuaries, as the oil slick can reach shores at high tide and later cover areas of seagrass when the tide is low.
"I hope the coastal clean-up is sped up, so we can recover from this tragedy in our seas," said Mr Villanueva.
SHORELINE CLEAN-UP
At the shores of affected villages, 20 locals per village are tapped to collect oil sludge for four hours daily from 6am, earning a little under US$7.
 
Mr Jeffrey Sanchez, a 35-year-old father of two who volunteered and got selected for the programme, told CNA: "Since we don't have work at sea (as fishermen), I volunteered for the oil clean-up. We lost our livelihood to the fishing ban."
 
The daily hours for shoreline clean-ups are limited, stopping by 10am to prevent heat-related illnesses among workers, which affects the speed of clean-up efforts.
 
Workers are checked by health officers before heading to the clean-up sites, as many of the areas are accessible only on foot.
Collected oily mixtures from the shores are stored in large dark blue container drums, then sealed and stored in the community before being collected by a subcontractor.
Philippine Coast Guard teams with clear lines of command are deployed in each affected village, with shoreline assessments conducted daily.
Foreign help in the cleanup operations has also been crucial.
 
Spill booms were also set up as barriers to prevent oil floating on water from reaching other areas, and have been placed even in towns not yet reached by the oil slick, as a preventive measure.
 
A lack of resources has seen alternative spill booms being constructed out of materials such as bamboo poles, plastic bottles, coconut tree leaves and husks.
 
The Mindoro community is taking it one day at a time, with uncertainty over how long more their lives will be disrupted due to the continued fallout from the oil tanker's sinking.
Additional reporting by Faye Sales.