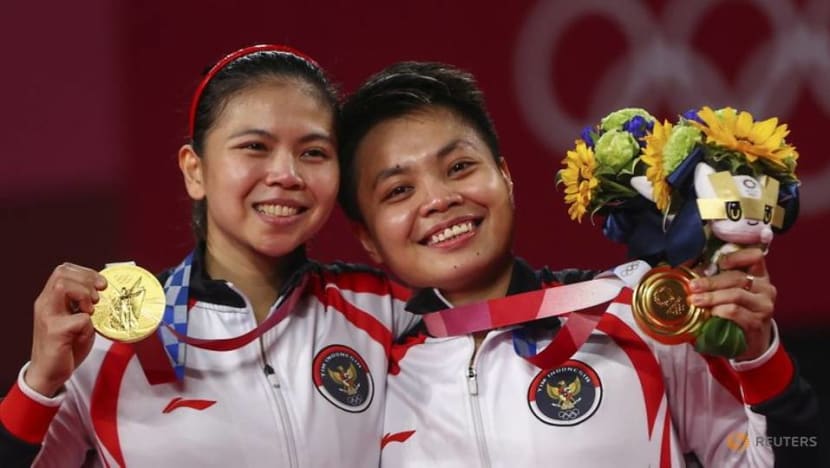 JAKARTA: Badminton enthusiast Muhammad Bilal Radhitya has been receiving some young guests lately at his home in East Jakarta.
Almost every night since the Tokyo Olympics a few weeks ago, children in his neighbourhood have come knocking on the door to ask for shuttlecocks.
"I play badminton routinely. But suddenly, children are knocking on my door asking for shuttlecocks. This is rare, why do they need them? Why are they now playing badminton?," wondered Radhitya, 22, when interviewed by CNA.
"I remember that Indonesia just won at the Olympics... maybe that's the reason why they're now playing … previously they never played badminton."
Personally, his passion for the sport started when men's double Hendra Setiawan and Markus Kido struck gold in the 2008 Beijing Olympics.
Intrigued by the children's sudden interest in badminton, he decided to ask them about it.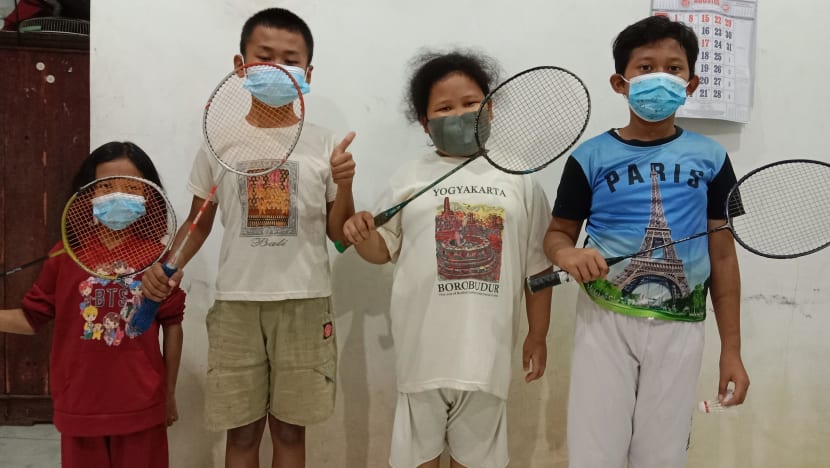 The children aged 7, 10 and 11 said they picked up badminton because it is currently viral after Indonesia won gold in Tokyo.
Two of them told Radhitya that they wanted to be athletes and make their parents and the nation proud. The children also answered that doing sports is good for their health amid the pandemic.
Indonesia has a proud tradition as a badminton powerhouse and there has always been grassroots interest in the sport. But winning the country's first ever women's doubles gold during the recent Olympics has renewed people's passion for the sport, at least for now.
HIGH INTEREST IN THE GAME
Interest in badminton is not only high in East Jakarta. A similar situation is also apparent in Samekta Bangun's neighbourhood in Magelang, Central Java. 
"From children to adults, the field in front of my housing complex which usually is quiet with no activity, is now being flooded with people playing badminton, especially during the Olympics," said Bangun.
"It's quite surprising but understandable because of the Olympics. And as a badminton lover myself, I'm happy and hopefully, this is not seasonal," he added.
Even for those who do not play the sport, they are now trying to follow the developments.
Bandung-based university student Zulfa Maulidah said she is now a fervent fan of badminton after watching Indonesia play in the Olympics.
However, as she is busy with her studies, she barely has time to play badminton.
"I just watched the games and tried to find out as much as I can about the players.
"And now I search for their upcoming competitions and about the athletes on social media," she said, adding that her favourite players are specialist men's doubles Hendra Setiawan and Mohammad Ahsan.
FIRST HISTORIC GOLD IN WOMEN'S DOUBLES
The badminton fever comes as Indonesia won one gold and one bronze in the recent Olympics.
But it is not a huge surprise as the country has always been a force to be reckoned with when it comes to international competitions.
Indonesia first won gold in the 1992 Barcelona Olympics in the women's and men's singles contests. Since then, there has been a steady stream of Olympic medal winners. The only time Indonesia failed to win a medal was during the London 2012 Olympics.
Tokyo 2020 was the first time that Indonesia won gold in the women's doubles.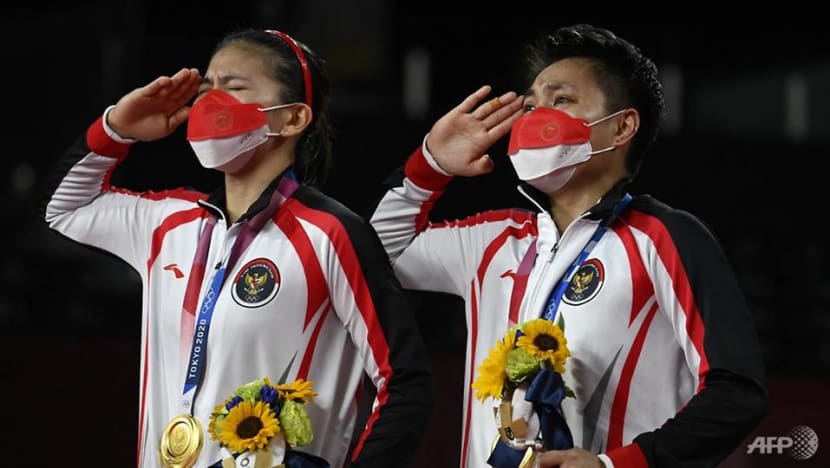 Greysia Polii and Apriyani Rahayu brought the country to a joyful standstill when they prevailed over the Chinese pair of Chen Qingchen and Jia Yifan on Aug 2.
The win was especially heartening for Polii who has endured a long and winding road to get to that point.
"Our target was (to win) a medal. But we didn't expect the medal to be gold. So this is something that is beyond our comprehension," she said during a press conference on Aug 6.
Her partner Rahayu, 23, added: "I didn't expect it for sure… and even though our target was to win a medal, I personally didn't think about the medal … Step by step, match by match… I was just trying to get rid of distracting thoughts." 
Their coach Eng Hian said the duo were tense not only during the match, but also when awaiting their regular polymerase chain reaction (PRC) test result.  
"I wasn't focused on the (game) result, but I saw how Greysia and Apriyani enjoyed every day," he said. 
President Joko Widodo has congratulated the duo on maintaining the tradition to win gold and said the entire nation was proud of them.
As Polii is already in her thirties, she has indicated that she is waiting for the right time to retire. She almost bid adieu after the 2016 Rio de Janeiro Olympics when her then partner Nitya Krishinda Maheswari suffered from an injury.
But she was then paired with her junior Rahayu, hence delaying her retirement plans. Polii got married at the end of last year and has admitted that she is thinking about when to have a child.
"BADMINTON UNITES US"
Commenting on the badminton craze currently hitting the archipelago, Broto Happy, the head of public relations and media of Indonesia's badminton association (PBSI) said that the euphoria is something positive as it may produce a new generation of badminton players.
"Parents who really like badminton often encourage their children to play," he told CNA.
"This is how I think badminton (as a sport ) can regenerate and continue to grow, to develop, and new talents will emerge."
Badminton is closely associated with Indonesia, he said. "Mention Brazil (and) football will come to people's minds. And if we talk about Indonesia, it is badminton," he said while highlighting that Indonesian players have performed well in the All England and Thomas Cup championships.
He recounted how Indonesia was affected by riots fuelled by economic, political and racial tensions during the 1998 Thomas Cup held in Hong Kong. The riots led to the eventual downfall of Soeharto. 
But despite the unrest back home, the men's team were crowned champions.
Happy said that the win not only resulted in momentum for badminton's development in Indonesia, but also united the people.
"Badminton unites us. When we won (in Tokyo), nobody made negative comments, everyone was united, we were all proud. We said thank you to Greysia and Apriyani.
"It turns out badminton can unite Indonesians from all political backgrounds, religion and classes."