Seoul crowd crush: Could technology have helped to prevent deadly Halloween tragedy?
Even before people alerted authorities of a potential crowd crush, CCTV cameras in the area could have been used to look at crowd densities and spot potential issues, said one expert.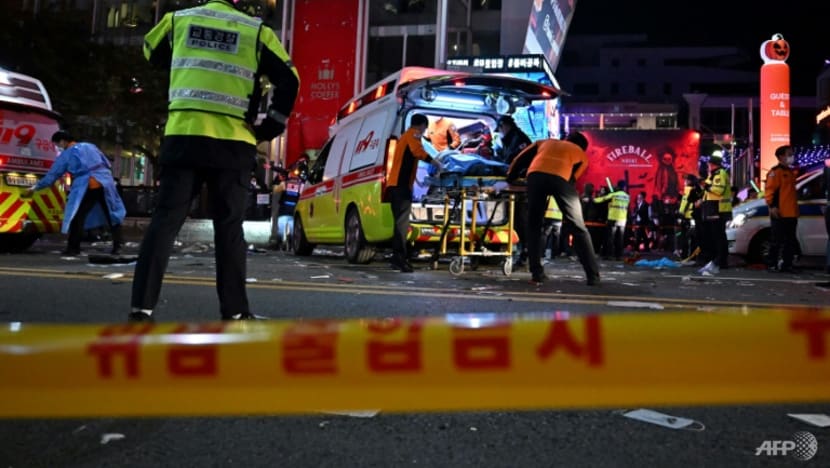 SINGAPORE: Technologies such as closed-circuit television (CCTV) cameras and tracking applications could have picked up early warning signs, predicted a likely overcrowding situation, and prevented the deadly Halloween crush in Seoul.
Using the data gathered, agencies and operators could have been alerted to a potential situation even before crowds started streaming in, said crowd scientist Paul Foster on Tuesday (Nov 8). 
The Oct 29 crush killed 156 revellers - mostly in their twenties and thirties - after people flooded the narrow alleyways of the packed Itaewon nightlife district to mark the first COVID-19 curbs-free Halloween festivities in three years. An additional 197 people were injured.
Technology could have reduced the risks, Mr Foster, founder of event site planning software OnePlan, told CNA938. "There are a lot of great technologies out there which can monitor crowd movements and people flow during the events."
He added: "You can predict in 10-15 minutes' time, if there's going to be an issue. There will be security cameras in that location. And there will potentially be a kind of an app which you can kind of track crowd density. A combination of services would have been particularly powerful."
The police have faced harsh criticism over its handling of the situation, having dispatched just 137 officers to the area despite estimating in advance as many as 100,000 people would gather. 
Following the tragedy, transcripts of emergency calls made from the hours leading up to the accident showed that people had alerted of a potential crowd crush and sought interventions.
But even before that, CCTV cameras in the area could have been used to look at crowd densities and spot potential issues, Mr Foster noted. "That's particularly good when you're maybe looking at a queue in a small area."
The other main technology is the tracking of apps that people have downloaded and can show how many people are in a particular location, he added, flagging privacy issues as a challenge. 
"But what it is very good at is getting kind of a broad idea of how crowded an area is, the direction of travel that people are going in, and are they moving from one place to another."
TAPPING TECH TO SPOT POTENTIAL ISSUES 
Even though such innovations are available, people have to know how to use it to identify potential issues, said Mr Foster. "You've got it, but you need to know what to do with it."
Sharing the examples of large metropolitan metro systems in Hong Kong and London, he said: "If a particular area is very busy and overcrowded, what happens is that the local station will be closed for a short period of time. Nobody will be allowed in, nobody will be allowed to exit."
Train commuters set to arrive at the crowded station would often go to the next one "and basically spread out demand", he added. 
"Yes, people will have maybe a 10- to 15-minute walk to their location, but it stretches out demand. Other people would have left by then."
Mr Foster pointed out that the metro system in Seoul was holding commuters at the station before the festivities, and it could have advised them to avoid the area as "it's going to get very busy and there are lots of people on the way". 
On the recent Halloween tragedy, Mr Foster, who has been to the Itaewon nightlife district, said the narrow streets there are not suitable for large crowds. 
"Some of those streets have high walls on either side, and there are not particularly many escape routes," he added. 
WHAT TO DO IF CAUGHT IN CROWDED PLACE? 
However, if avoiding these situations is not possible, he said the most important thing to do is to protect one's lungs. 
"In a high-density crowd, the most common cause of death is compressed fixation. So that's essentially where your airway is heavily constricted, so you're unable to breathe," he added. 
"The best thing is to try and take a boxing stance position, because what that does is that opens up a little bit of space around your ribcage, enables your airway to kind of open up, and allows you to breathe."
If a person trips and falls in a crowded area, they should get up as soon as they can, Mr Foster advised. "If you're unable to do that, don't go on your back or on your front. Because again, there'll be a kind of compression on top of you. 
"Try to go on your side and again, get a bit of space around your airway to protect yourself."
If possible, individuals should avoid dense crowds when they can, experts have urged. 
"If you're seeing something ahead of you or behind you which is looking particularly uncomfortable, look for a safe exit," said Mr Foster. 
"Go to an area where there's a lot more space, and maybe join the crowd later if you feel it's kind of safe to do so."