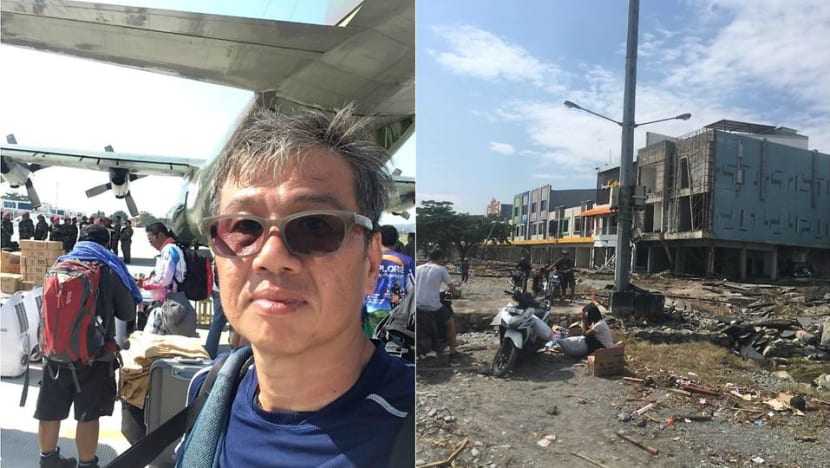 SINGAPORE: A Singaporean on a paragliding trip to Indonesia found himself caught in the middle of the devastating quake-tsunami that hit the island of Sulawesi on Friday (Sep 28). 

Mr Ng Kok Choong, a 53-year-old retiree who was in Palu to take part in a paragliding competition, had just left the Mercure Hotel where he was staying at when "the earth suddenly started shaking very violently". 
"I fell to the ground immediately and I couldn't even sit down to stabilise myself. I was rolling around and I could see a horse cart had also fallen to the ground," said Mr Ng as he described the initial moments of the earthquake that has since left at least 832 dead.
"I saw the hotel shaking like jelly, there was dust all around and the moment that happened, the hotel collapsed," continued Mr Ng who with his friend Francois were just 50m away from the Mercure Hotel building when it collapsed.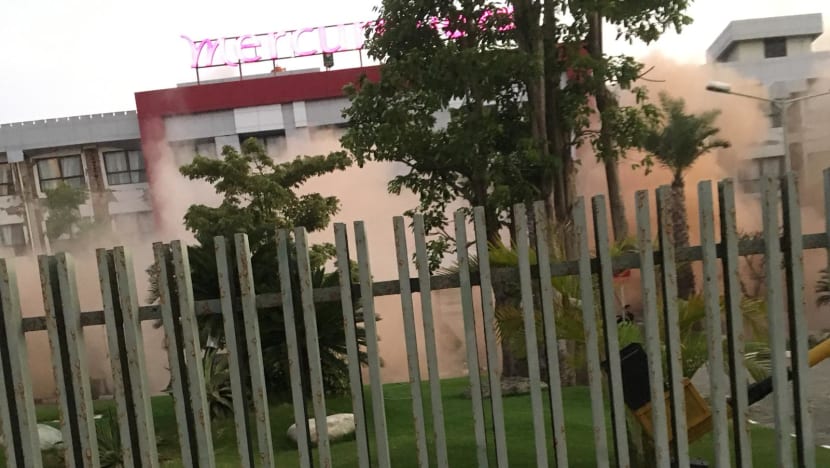 Just as it dawned on Mr Ng that an earthquake had struck, he noticed the sea close to his hotel becoming rough and the waves building up - signalling a tsunami. 

"I THOUGHT SHE WAS DYING"
To escape the impending tsunami, both men looked for higher ground and ended up back at what remained of Mercure Hotel. That was when they encountered a little girl and her mother stuck under the debris of the hotel.
"They were crying and we ran to them and tried to pull them out. We managed to pull out the little girl, but her mother was stuck," said Mr Ng, adding that he could see the tsunami fast approaching. 
"My friend carried the girl away and ran in the opposite direction of the tsunami. He ran up a tree with the girl and the girl's father," he said. "The mother could not be helped."
At the time, he described the entire situation as "frightening and noisy", with the wind howling, the waves crashing in and buildings shaking.
Mr Ng managed to find higher ground and he stayed there while waiting for the tsunami to subside - which took around 30 minutes. 
After he had ascertained it was safe, he came back down to where the little girl's mother was. He heard her calling for help and screaming in pain as a piece of concrete was crushing her thigh.
"I went back and stayed with her because I couldn't do anything for her and I thought she was dying. I just tried to assure her and pacify her," said Mr Ng.
"I tried to move the concrete, but it wouldn't move much. She was stuck there for about one to two hours until a few locals came to help. Somehow we were able to lift the concrete and pull her out."
Later, he was directed to an emergency centre set up by some locals, where he was reunited with Francois and the little girl. 
The centre provided him and about 40 other survivors with water and mattresses to rest on. 
"Some people were crying, but it was generally calm," he said. 
The paragliding event organisers then managed to find Mr Ng and Francois, and took them to an open field where they were instructed to stay until daylight. 
"The tremors could be felt throughout the night," Mr Ng said.
He added that he could not initially contact his family because the phone lines and connections were affected following the earthquake-tsunami, but as soon as he got through to his wife, he instructed her to inform the Ministry of Foreign Affairs (MFA) of his situation.

MILITARY EVACUATION
The next day, Mr Ng attempted to look for his passport from the Mercure Hotel site. 
"Along the way, I saw that the main roads all along the beach were damaged, the makeshift huts were all washed away, buildings were collapsed and there was debris all over," he said.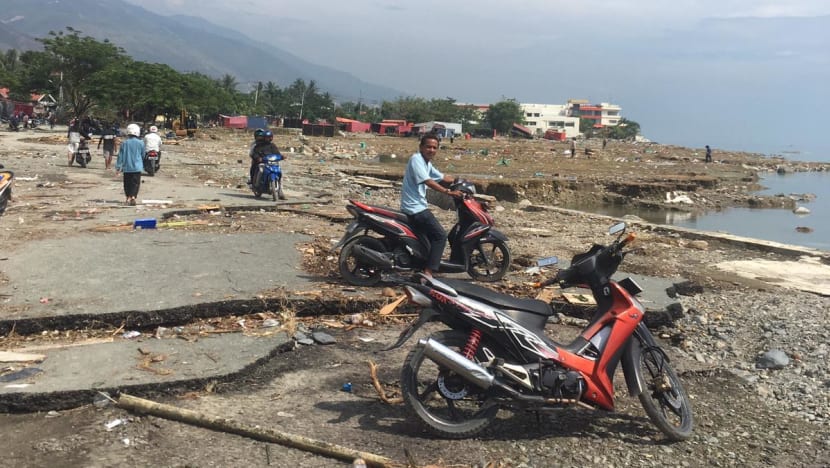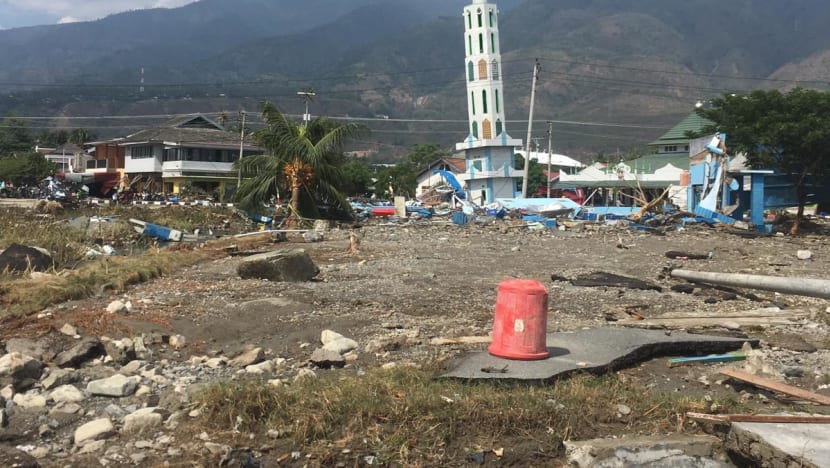 He climbed up to the fourth floor of the damaged hotel on a ladder, smashed a window with a hammer and successfully managed to salvage his belongings, including his passport.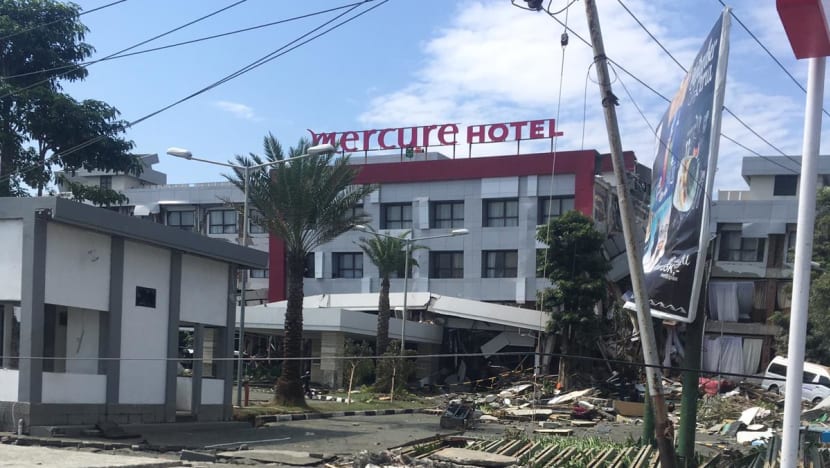 With the help of the paragliding event organiser, a military evacuation by the Indonesian air force was arranged at Palu's domestic airport. 
Those awaiting evacuation, including Mr Ng, were ushered into a military plane at about 2pm that was headed to Makassar, and then Jakarta. 

"The airport was not open to commercial planes because the control tower had collapsed," he said.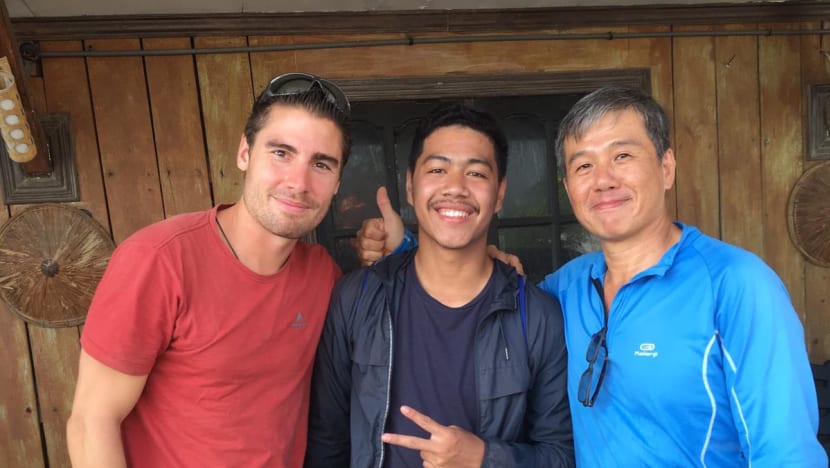 When Mr Ng reached Jakarta, he booked a flight back to Singapore. He arrived in Singapore at 12.30pm on Sunday.

"I was just happy to meet my wife and go back home," he said.
After he touched down, he learned that five people from his paragliding team were still missing.
"It was a really shocking experience. I realised nothing can prepare oneself for an earthquake like this," he said as he collected his thoughts after returning to Singapore.
"I think you can learn everything about an earthquake, but the moment it hits suddenly, the force is so great and you can't even run when it happens.
"I was just lucky to be out of the hotel."