SEOUL: Thousands of travellers swarmed a small airport in South Korea's Jeju island on Wednesday (Jan 25) in a scramble to get on flights following delays by snowstorms as frigid winter weather gripped East Asia for the second straight day.
Officials at South Korea's Ministry of the Interior and Safety did not immediately report any major damage or injuries from subzero temperatures and icy conditions that have affected most of the country since Tuesday.
But at least eight roads and 10 sea routes remained closed as of Wednesday afternoon. About 140 homes in the capital Seoul and nearby regions reported busted water pressure pumps or pipes as temperatures dipped to around -15 to -20 degrees Celsius across the mainland.
In Japan, heavy snow and record-cold temperatures also brought widespread disruptions.
At least one person has died and two more deaths were being investigated in connection with the cold weather, Chief Cabinet Secretary Hirokazu Matsuno told reporters.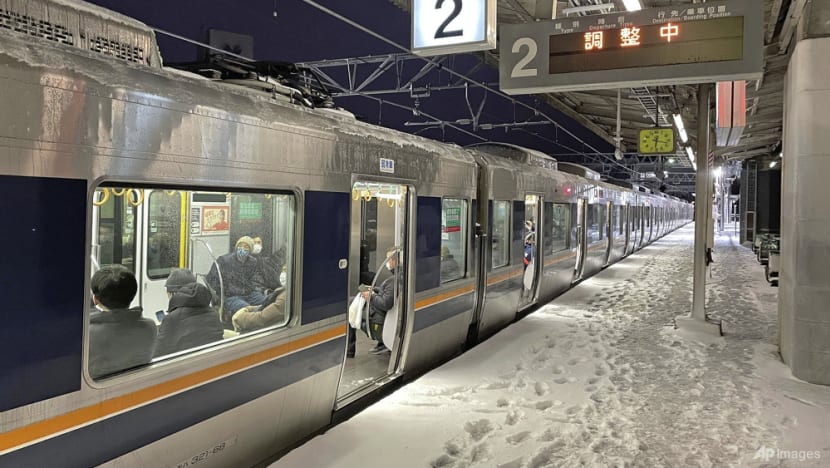 Thousands of people using train services in Kyoto and Shiga prefectures in western Japan were forced to stay overnight in carriages or stations, while vehicles on major roads across the country were left stranded and hundreds of flights cancelled, Kyodo News reported.
Air traffic returned to normal after hundreds of flights in and out of Jeju were grounded Tuesday because of strong winds and snow, stranding an estimated 40,000 travellers who had visited the resort island for the Lunar New Year holidays.
Around 540 flights, including nearly 70 that were temporarily added by transportation authorities in an emergency response, were scheduled in and out of Jeju on Wednesday alone, mostly to take passengers back to mainland cities.
The Korea Airports Corporation said the operating hours at Gimpo airport near Seoul were extended until 1am (12am, Singapore time) to accommodate the increased flights, which were expected to bring back 70 per cent to 80 per cent of the passengers who were stuck in Jeju.
The island saw more than 19cm of snow since Tuesday morning, while southern mainland cities and towns such as Gwangju and Gangjin reported around 10 to 12cm of snow. More than 70cm of snow fell on the small eastern island of Ulleung.
The winter storms appeared to be moving toward the greater Seoul area and nearby regions, where heavy snow was expected from late Wednesday to Thursday afternoon, according to the Safety Ministry, which warned about dangerous road conditions.
Cold weather warnings were also issued in North Korea, where authorities reportedly called for "thorough measures" to prevent freezing temperatures from causing economic damage. Temperatures in the capital Pyongyang were forecasted to dip to -19 degrees Celcius on Wednesday morning, South Korea's Yonhap news agency said, citing a North Korean state-run radio broadcast.
North Korean state media did not immediately report any major damage or injuries caused by the weather.