Space race a test of countries' response to a more multipolar world: Observer
China on Tuesday (Nov 29) launched the Shenzhou-15 spacecraft carrying three astronauts to its Tiangong space station.
SINGAPORE: The ongoing space race is another aspect of the world undergoing a shifting order, moving away from the dominance of one major power, said an expert. 
China has been gradually building up its space capabilities and the latest trip by its astronauts to its Tiangong space station was merely the latest in its efforts to explore the new frontier, said the University of Hong Kong's Laboratory for Space Research director Quentin Parker on Wednesday (Nov 30).
China on Tuesday launched the Shenzhou-15 spacecraft carrying three astronauts to its Tiangong space station.
It has made major advances in the field, with newer technology and machinery, and has also constantly highlighted cooperation with international partners, Dr Parker told CNA's Asia Now.
IMPORTANCE OF THE SPACE RACE
There are several reasons why countries are racing to explore space.
Part of it is the national prestige and pride involved, as countries want to show the world that they have the capacity to achieve that feat, said Dr Parker.
"The other is straight-out science, with science and exploration being an activity that humankind has been pursuing for a very long time. And it's now getting more and more sophisticated, of course, as all our technologies develop," he said.
For China, it is also about "putting down a marker on what China is intending to be in terms of a modern science-driven and education-driven nation-state in the 21st century", added Dr Parker.
Noting that China's space endeavours are comparable with America's and Europe's, Dr Parker said: "Don't forget there are other countries like India and Japan that also have fairly strong space programmes. But I think it is clear that in the next decade, it'll be led by China, America and Europe."
He noted the Chinese space programme already has significant achievements.
"It's only the third nation state to do a sample return from the moon. It brought back nearly two kilograms of moon rock with the Chang'e missions," he said.
China also had its first mission to the far side of the moon in 2019, and launched a rover on Mars successfully last year, becoming just the second country to do so.
Dr Parker also highlighted the international aspect of the Tiangong space station.
"When I say international, it's not like the ISS (International Space Station). This one is international in the sense that all the experiments and science missions on board… have gone through a UN (United Nations) mechanism," he explained.
"Many countries have applied to put their experiments on the space station, and they've been approved and they're in fact ready to go."
He added that there have been collaborations and joint training between Chinese, French and German astronauts, in preparation for possible joint missions on board the Tiangong space station.
CHINA'S AMBITIONS
The Tiangong space station is a crown jewel in Beijing's space programme, and the Asian giant has made its bold ambitions in space known, with a set timeline to help it catch up with the United States and Russia.
Its space station is the second permanently inhabited outpost in orbit, after NASA's ISS, which China has been excluded from since 2011 when the US banned its space agency from engaging with the Asian giant.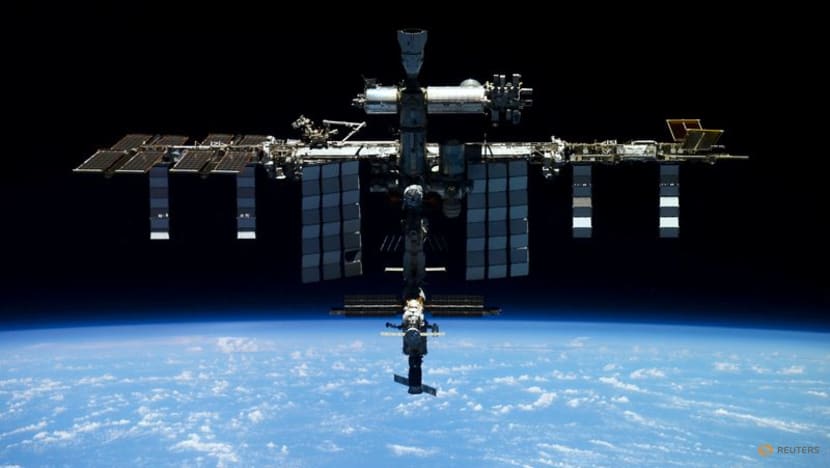 Chinese space officials are now aiming to put astronauts on the moon within a decade. The country also plans to collect asteroid samples near Earth by 2025.
By 2030, it aims to launch a mission to Mars, and an unmanned exploration mission to Jupiter.
China also wants to develop and launch a 100-tonne super heavy-lift carrier rocket by 2035, along with a nuclear-powered space shuttle five years later that will enable resource exploration and asteroid mining.
It also intends to construct a space-based solar power station, as part of plans to become a world-leading space power by 2045.
THE REST OF THE WORLD
The space race is part of a broader shift in the global world order, said Dr Parker. 
"We're moving from a unipolar to a multipolar geopolitical world. That is coming whether certain quarters like it or not. Realpolitik is going on. There are countries that would rather China wasn't quite so successful, and others that wished China was even more successful," said Dr Parker. 
He noted that China has made it clear that it is open to international collaboration on the space front.
Dr Parker said that the exclusion of China from the ISS in 2011 was what pushed it to pour vast resources into its own space programme and build "a spanking new and a fantastic" space station of its own, where it has access to international collaborations.
In the latest Chinese mission, the spacecraft took just over eight hours to dock with the station. For the ISS, the docking procedure takes about 16 to 18 hours, noted Dr Parker.
"New technologies and new capabilities and capacities are being demonstrated by the Chinese in their burgeoning space programme," he said.
He said that China, as well as India and any country with the capabilities, have the equal right to explore the space frontier, despite the US' dominance in the field.
"Rather than one big guy in town, now there are other new kids on the block that are flexing their muscles and are trying to impress. In a crude way, that's what's happening," he said.
"So it's a question of how the world deals with this emerging multipolar system and how it's going to protect our planet and the security and safety of populations, and that we avoid Armageddon and cataclysm and war that none of us need."