Taiwan beefs up defence capabilities amid escalating threats from China
One company, Thunder Tiger Group, is ready to roll out the island's first unmanned submarine this year.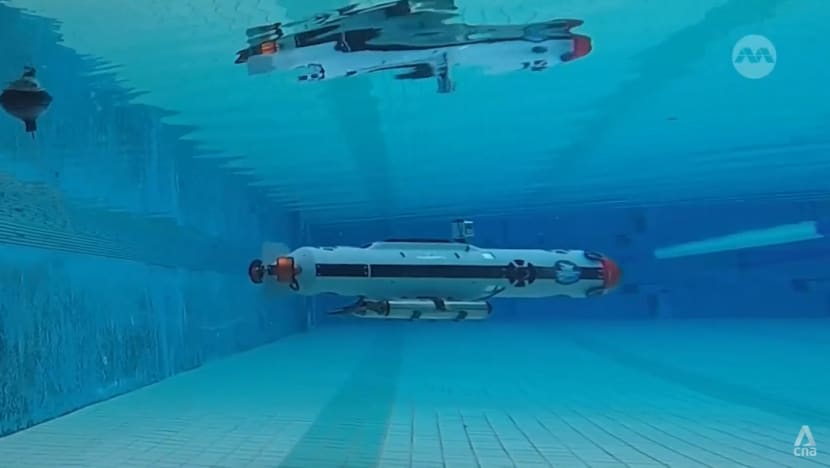 TAICHUNG: Taiwan is urgently beefing up its defence capabilities amid escalating threats from China, and the island's private companies are stepping up to the plate.
One company, Thunder Tiger Group, is ready to roll out the island's first unmanned submarine this year.
Called Seawolf 400, the latest development by the firm is 4m long and weighs about 1,000kg.
The small and undetectable unmanned submarine can travel up to 7 knots.
The company believes that it can play a strategic role in asymmetric warfare.
As an established company that specialises in radio-controlled vehicles, Thunder Tiger Group started research into underwater vehicles five years ago mainly for commercial use.
However, Russia's invasion of Ukraine in February 2022 was a turning point amid the escalating military threat across the strait, Thunder Tiger Group chairman William Chen said.
"After the Russia-Ukraine war, we began to contemplate how to further upgrade our vessels and use them to defend the safety across the strait - use that as a base to begin talks with our relevant government agencies on how to apply our technology to their needs," he said.
Seawolf 400 is expected to make its international debut in September and start mass production early next year.
UNMANNED SUBMARINE AS WEAPON
With drones being widely used in military warfare these days, Mr Chen believes his firm's latest unmanned submarine can be weaponised.
"We can put some explosives into the vessel and it could become a vessel with destructive capability. It can also be deployed in a large number through a single point of control to carry out missions under water," he said.
The company recently teamed up with a United States radar company on its helicopter drone for reconnaissance purposes, and met with a delegation of 25 US defence contractors that had participated in a defence forum in Taiwan.
Thunder Tiger Group hopes the visit would mark the beginning of future collaborations on Taiwan's drone production.
STRENGTHENING TAIWAN'S DEFENCE CAPABILITIES
A former Taiwan military official believes that these unmanned vehicles will strengthen the island's defence capabilities.
While drones can be effective, unmanned underwater vehicles are an untapped resource, said former chief of general staff Lee Hsi-Min.
"I believe our government should support the surveillance industry, defence industry to develop this kind of weapons system. I believe that would be a very effective weapon," he said.
He stressed the need to focus on asymmetric warfare capabilities amid the urgent military threat from China.
"Considering the disparity of the defence resource across the strait, I believe the symmetric warfare capability is the only way we can adopt," he said.
"Asymmetrical warfare takes little time to build up. For any conventional platform, maybe we need to spend 10 years to establish development."
China's military spending is about US$230 billion this year, which is more than 10 times higher than that of Taiwan's.
Analysts said Taiwan must beef up its self-defence capabilities to serve as a deterrence against a possible attack from China, and that this would require closer collaboration between the government and the private sector, as well as technology support from the US.