Orange wave sweeps Bangkok streets as Move Forward marks electoral victory
Thai prime ministerial candidate Pita Limjaroenrat thanked crowds of supporters, saying: "Anything is possible in our country when we all work together."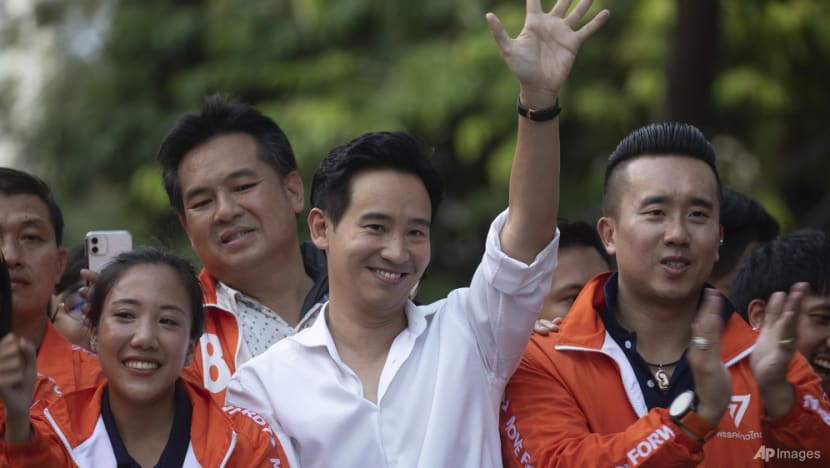 BANGKOK: Preliminary election victor and Thai prime ministerial candidate Mr Pita Limjaroenrat thanked large crowds of orange-clad supporters on the streets of Bangkok on Monday (May 15).
His progressive party Move Forward emerged as an unexpected winner of the country's general election the day before.
Standing on a pickup truck, the 42-year-old spoke to his supporters who had turned a public plaza outside the Bangkok Metropolitan Administration Office into a sea of orange – the colour of his party.
"Hello, Thailand!" Mr Pita greeted the crowd.
"Hello, Mr Prime Minister!" his supporters shouted back amid rousing cheers.
"I am so happy to announce to you all that a new day for the people is already upon us – a new day that will be bright with hope," Mr Pita told them.
Sunday's victory by the Move Forward Party surprised the whole nation. The party was formed only three years ago, following the dissolution of its predecessor Future Forward by the Constitutional Court.
Preliminary results showed Mr Pita's party beat Thailand's biggest political group Pheu Thai as well as army-allied parties like Palang Pracharat and United Thai Nation, whose leaders have ruled Thailand for nearly nine years.
During his speech on Monday, Mr Pita sent a message of hopes and dreams to his countrymen. 
"For people who never thought there was hope in this country, those who might have given up or felt hopeless, those who thought their existence was unnoticed and their voices unheard, today is an answer for you," he said. 
"Anything is possible in our country when we all work together," Mr Pita added, sparking a big cheer from his supporters.
"It is the highest honour in my life to be able to serve you all. I would like to promise all of you that when we wake up every morning, we will absolutely fight for every one of you." 
ENOUGH SUPPORT TO FORM MAJORITY GOVERNMENT
The Move Forward Party leader told his supporters that they have enough support from political allies to form a majority government.
Currently, the coalition includes five opposition parties namely Move Forward, Pheu Thai, Prachachat, Thai Sang Thai and Seri Ruam Thai, plus one newcomer – the Fair Party.
Together they have 309 members of parliament (MPs), which is more than half of the 500-seat House of Representatives. 
However, there is still uncertainty about whether the Move Forward Party can eventually form the next government and who will win the premiership.
The selection of the prime minister under Thailand's current constitution involves both the House of Representatives and the 250-member Senate – the upper house of parliament.
For a candidate to become prime minister, the person must be approved by more than half of the combined assembly. 
This means the Move Forward Party needs to consolidate at least 376 votes – either from both Houses or only from the Lower House – in order for Mr Pita to win the premiership and form the government. 
"Whoever wants to go against the people's consensus and your voices, tell them it won't benefit anyone," the prime ministerial hopeful told his supporters. "Close the door on a minority government." 
Before he ended his speech, Mr Pita shared his aspirations for the country's future.
"We will never let an opportunity like this go to waste or fly away. We have to build the Thailand that we love, which is full of everyone's hopes and dreams," he said.
"Soon we will have the next prime minister named Pita Limjaroenrat and we will change this country together."