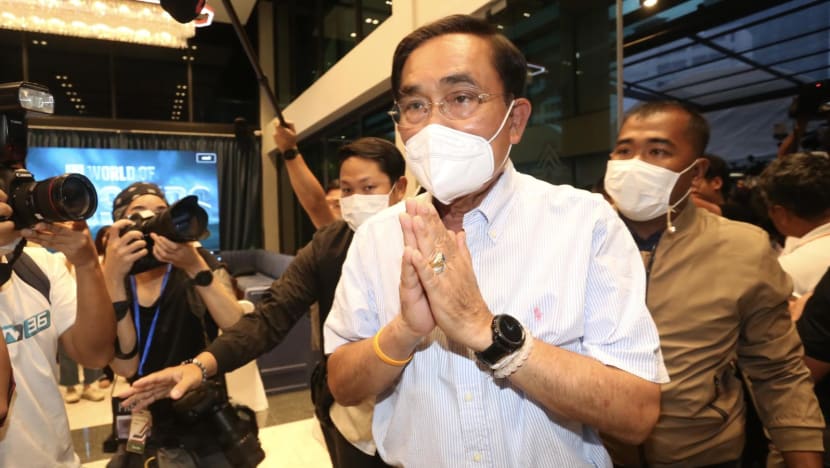 BANGKOK: Deputy leader of the United Thai Nation (UTN) Party Thanakorn Wangboonkongchana said on Monday (May 15) he does not think incumbent Prime Minister Prayut Chan-o-cha will continue his political career after their party suffered losses in the country's general election.
"He hasn't mentioned it but I think he may have to stop," Mr Thanakorn told local media.
He referred to 69-year-old Gen Prayut, who is running for the premiership under the banner of UTN.
The latest preliminary results from the Election Commission of Thailand show his rival parties Move Forward and Pheu Thai in the top two spots of the electoral race on Sunday. 
The Move Forward Party came first with 152 seats, followed by the Pheu Thai Party with 141 seats. As for UTN, it came fifth with 36 seats.
Mr Thanakorn expressed his support for Gen Prayut and shared his admiration for the retired general who has served as prime minister for more than eight years.
"He has worked for the country for his whole life. He has served the country for about eight years as prime minister. I believe Thai people nationwide know he has done so much for the country and that he has never been tainted by anything – no corruption whatsoever," said the deputy party leader.
"I believe that at least, Gen Prayut or Uncle Tu will remain in the hearts of Thais for a long time."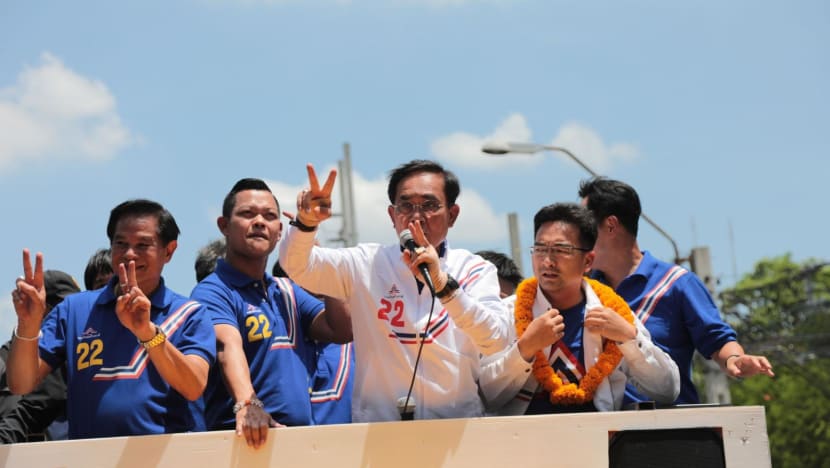 Gen Prayut became prime minister in 2014 after leading a coup d'etat to overthrow Ms Yingluck Shinawatra's democratically elected government. 
His military junta ruled Thailand for nearly five years before a general election was held in 2019 under a new constitution written by a military-appointed committee. 
At that time, Gen Prayut was the sole prime ministerial candidate of the pro-junta party Palang Pracharat. The party managed to form the government with its political allies, although it was the Pheu Thai Party that had a majority of seats in the Lower House.
Gen Prayut joined the electoral race on Sunday, hoping to stay in power after more than eight years on the job.
On Tuesday, the incumbent prime minister spoke to the media at the Government House and was asked if he will stay in politics. "No comment," he replied.
Gen Prayut later appeared in a video clip released by UTN. He thanked people for coming out to cast their votes on Sunday and maintained his party's principles.
"The votes you gave us have warmed our hearts, even though they are not enough to allow us to continue working on everything we have been doing," he said.
"Our party confirms that we will always maintain our party line and ideology, which is to uphold the nation, religion, monarchy and people, regardless of our status or role. This is a promise."
WHO CAN FORM THE GOVERNMENT
Mr Pita Limjaroenrat, the leader and prime ministerial candidate of the Move Forward Party announced on Monday he has enough support from political allies to form a majority government.
Currently, the coalition includes five opposition parties namely Move Forward, Pheu Thai, Prachachat, Thai Sang Thai and Seri Ruam Thai as well as one newcomer – the Fair Party.
Together they have 310 Members of Parliament (MPs), which is more than half of the 500-seat House of Representatives. 
However, there is still uncertainty about whether the Move Forward Party can eventually form the next government and who will win the premiership.
The selection of the prime minister under Thailand's current constitution involves both the House of Representatives and the 250-member Senate – the upper house of parliament.
The senators were selected and appointed in 2019 by the National Council for Peace and Order (NCPO) – the military government led by Gen Prayut following his coup in 2014.
For a candidate to become prime minister, the person must be approved by more than half of the combined assembly. 
This means the Move Forward Party needs to consolidate at least 376 votes – either from both Houses or only from the Lower House – in order for Mr Pita to win the premiership and form the government. 
Following the last general election in 2019, all but one senator voted for Gen Prayut's premiership.